ONE Staking Debuts on BitMax: first movers could earn an estimated annual yield of 94.56%!

Anyone looking to stake Harmony (ONE) tokens should head straight over to BitMax to check out yet another exclusive staking promotion.
Disclaimer: All of the content written on CoinMarketExpert is unbiased and based on objective analysis. The information provided on this page should not be construed as an endorsement of cryptocurrency, a service provider or offering and should neither be considered a solicitation to buy or trade cryptocurrency. Cryptocurrencies carry substantial risk and are not suitable for everyone. No representation or warranty is given as to the accuracy or completeness of this information and consequently, any person acting on it does so entirely at their own risk. See further disclaimer at the bottom of the page.
BitMax has beaten the competition to become the first cryptocurrency exchange to offer ONE staking to users.
How much will users receive for staking ONE through BitMax?
CoinMarketExpert has learnt that the estimated annual percentage rate ("APR") for staking ONE tokens is as high as 64.56% on BitMax.
If that wasn't already good enough, users currently have the opportunity earn an additional 30% bonus, effectively raising the APR to 94.56%.
Users with an Average Staking Quantity ≥ 25,000 ONE will be ranked and eligible to earn additional staking bonuses on top of regular staking rewards per the following schedule, (until the total bonus amount of 2,000,000 ONE is depleted):
| Rank | Additional Est. APR of Staking Bonuses | Bonus Cap per Participant |
| --- | --- | --- |
| Top 1-5 | +30% | 100,000 ONE |
| Top 6-15 | +10% | 50,000 ONE |
| Top 16-N | +5% | 20,000 ONE |
Source: BitMax
According to the schedule above, the first 1-5 users who fall into the first category will become eligible to receive an additional 30% bonus (on top of the estimated APR). This would effectively raise the estimated APR to 94.56%, as stated previously.
Note, that allocation of the bonus rewards is very much on a first-come-first-serve basis. The bonus cap per participant in the first tier is 100,000 ONE. The next 6-15 users will become eligible to receive +10% bonuses (over and above the estimated APR), and so forth.
The bonus portions will be distributed to users 7 days after the event has ended.
Is there a wait period for staking ONE through BitMax?
Yes, there is a 10 day wait period for regular unbonding, which means it will take a user 10 days to unstake a staked asset.
However, BitMax also offer an "instant unbonding" option so that staked tokens could be unstaked immediately at a minimal charge.
How long will the ONE staking promotion last for on BitMAx?
BitMax will run the ONE staking promotion from May 20, 10:00 a.m. EDT to June 19th, 10:00 a.m. EDT. Additional information about ONE staking may be found on BitMax website.
What's the Inflation Rate on ONE Tokens?
Harmony's economic model maintains a low inflation rate, making it an ideal staking coin.
The annual inflation is capped at 441 million ONE tokens to give validators a predictable and profitable return while making the inflation rate as small as 3%. All transaction fees are burnt which will further offset the inflation to keep Harmony ONE tokens a good "Store of Value".

Source: Harmony website
ONE token price performance
At the time of writing, the price of ONE was trading at $0.00326811, representing a decline of 89% from an all-time high of $0.03042139. However, the price of ONE token has been on a strong recovery since 13th March, and at the time of writing is up by 157% from its low of $0.00127355 in March.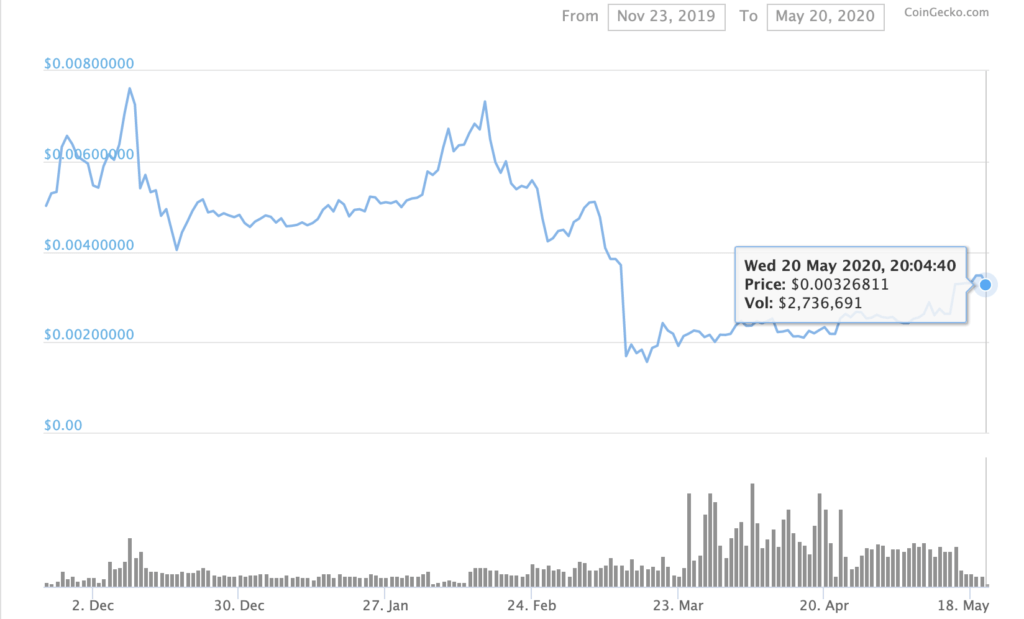 New to staking? check out our free staking guide to learn what staking is all about. We also have compiled a comprehensive list of staking providers so you can find the best staking coins for 2020.