Top 5 Cryptocurrencies for 2020: ETH, ETC, DASH, LINK, XRP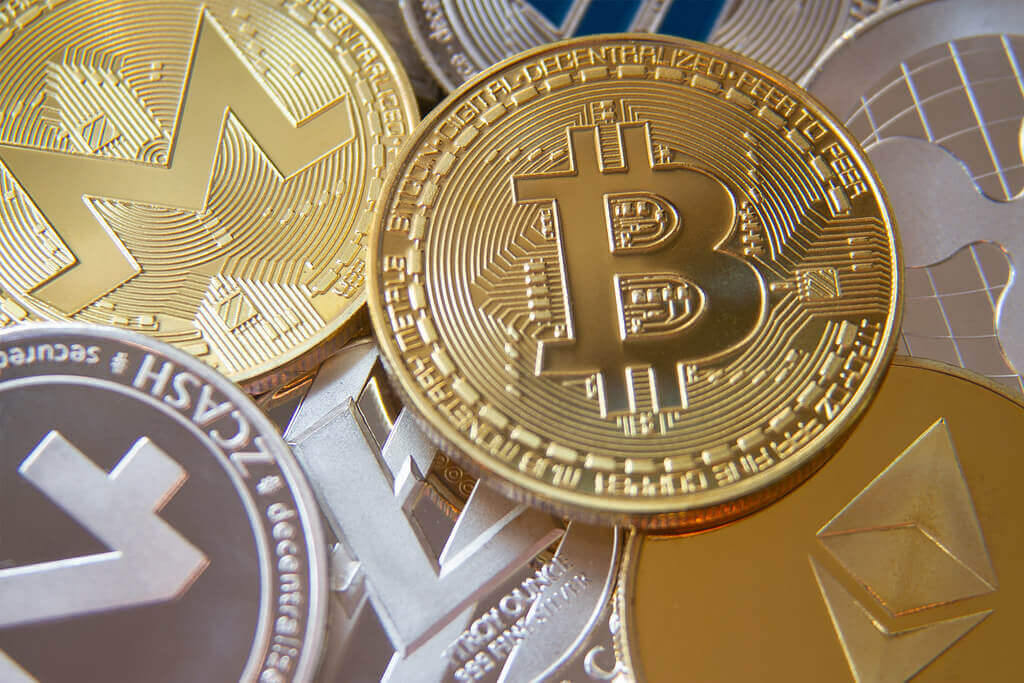 Disclaimer: All of the content written on CoinMarketExpert is unbiased and based on objective analysis. The information provided on this page should not be construed as an endorsement of cryptocurrency, a service provider or offering and should neither be considered a solicitation to buy or trade cryptocurrency. Cryptocurrencies carry substantial risk and are not suitable for everyone. See further disclaimer at the bottom of the page.
Cryptocurrencies are currently having a great run – beating the price performance of most other asset classes such as commodities, fiat currencies and shares, and with Bitcoin's halving (or 'havlening' as some of you prefer to call it) just around the corner, we believe there are 5 cryptocurrencies you may want to consider looking at more closely.
Our indepth research shows that when these 5 cryptocurrencies are grouped together into a portfolio that also consists of Bitcoin, the overall performance of the portfolio has consistently (month-on-month for the last 2 years) outperformed the solo price of Bitcoin, suggesting there is a portfolio diversification benefit.
New cryptocurrencies are also expected to enter the space while existing ones are expected to integrate developments that will improve their functionality and value. Overall, crypto investors are optimistic for a good year across the board, but which coins harbor ample promise for a bullish run?
1. Ethereum (ETH)
What is Ethereum in a nutshell?
Ethereum is the project that made us know that blockchain technology was capable of being more than a platform for digital money. It ushered in the era of smart contracts, decentralized applications, and tokenization.
Smart contracts
Smart contracts are new kind of contracts that are self-executing, self-verifying and immutable. These are the qualities that make smart contracts so revolutionary. Their self-executing and self-verifying nature eliminates the need for intermediaries like lawyers, arbitrators, regulators and so on. Also, their immutable nature means they are tamper-proof, hence highly secure.
DApps
The Ethereum platform also provides the space for developers to build decentralized applications (DApps), i.e. applications that are under no single authority and hence, they can't be censored. That means no one can change, delete, or hide user content on the platform. DApps will also solve one of the issues bedeviling today's internet usage – the pawning off of user data, which takes away the autonomy of users over their own data. In this regard, DApps are the future, since they treat user private data with the sacredness that it deserves.
Tokenization
Another one of Ethereum's game-changing innovations is the ability to tokenize assets in the platform. Tokenization means converting a real-world asset into a digital asset. Tokenized assets have more market liquidity and are easier to convert to cash. Tokenizing assets also fractionalizes them – which allows investors of all financial capabilities to invest in an asset, as opposed to the current situation where one physical asset is too expensive to be afforded by investors with modest means.
Scalability improvements
Ethereum's plan to solve its current scalability issue will also boost the value of the network. The developer team proposes to achieve this by enabling sharding, which means segmenting the Ethereum database into smaller portions so it's easier to manage and also to improve response time. The network will also switch to the faster Proof-of-Stake mechanism and facilitate more transactions per second. Solving this salability issue will boost its already present functionalities and put it ahead of the competition, which will raise its value.
And while Ethereum has competitors, its large developer and user community gives it an edge. In 2019, the platform had 1.28 million DApps users and that number is set to increase in 2020.
Ethereum is currently (at the time of writing) in second position in market capitalization with a figure of $29 billion and second only to Bitcoin, which means it's a favorite among crypto investors.
Also, the fact that it blazed the trail with these innovations gave it name recognition and a leading edge that it enjoys to this day. The team behind Ethereum adds to its clout in the crypto market. This team comprises of inventor and co-founder Vitalik Buterin (also the founder of Bitcoin magazine), Mihai Alisie, Anthony Di Iorio, and Charles Hoskinson, all who are respectable figures in the crypto community.
2. Ethereum Classic (ETC)
What is Ethereum Classic in a nutshell?
Ethereum Classic hasn't been one of the happiest backstories in crypto, so its tenacity up to this point is nothing short of impressive. The network is a result of the hard fork of the original Ethereum blockchain which occurred in June 2016. When an attack was made on the blockchain and 50 million worth of Ether stolen, the Ethereum community settled on the decision to hard fork the blockchain to facilitate the return of the stolen funds to their rightful owners.
After the attack, a section of the community felt rolling back the chain to the pre-attack condition was the way to go, while another section felt that this type of manipulation went against the 'immutability' tenet of blockchain. This section resolved to stick with the original blockchain, giving birth to Ethereum Classic.
Ethereum Classic, just like Ethereum, offers a smart contract platform. Smart contracts are contracts whose terms are self-enforcing, tamper-proof and cost-efficient to run since they don't require intermediaries.
ETC is more DApp friendly than ETH
Ethereum Classic also facilitates decentralized applications just like its sister fork but with much more improved efficiency, thanks to its Emerald platform. Emerald is equipped with a robust toolkit that makes the creation of DApps a more seamless process, e.g. by providing user interface components and standard operating procedures for developers. Developers who may have found the Ethereum platform too complicated are moving to ETC for a more straightforward and affordable means to create their applications.
Indeed, at the tail end of last year, ETC ranked only second to Bitcoin in active addresses, with 479,000 daily active addresses, trouncing Ethereum's 200,000's. The spike in user base can be attributed to the increased developer activity on the blockchain and it being listed on the world's biggest crypto exchange – Binance, for ETC futures contract trading.
Early this year, the crypto jumped up to 40% in 24 hours to trade at $11.6, which is an impressive surge of 280% from its lowest price of $3.50 last year. This bullish behavior has now placed ETC as the 15th biggest cryptocurrency in market capitalization with a valuation of $1.38 billion. This spiking in its price in such a short period points to an upward trend in the future.
Ethereum Classic also enjoys undying loyalty from Ethereum blockchain idealists who believe ETC offers the truly immutable and censorship-resistant blockchain. Its Emerald wallet provides wallet access to a complete copy of the transaction history of the blockchain, and is compatible with hardware wallets such as Ledger Nano, supports ERC-20 tokens and provides multi platform support for Windows, macOS, Linux and more. These factors facilitate easier interaction with the ETC network for users.
3. DASH
What is Dash in a nutshell?
Dash is a next-generation cryptocurrency built on the Bitcoin software. The coin was first launched as a privacy-centric cryptocurrency (a "privacycoin") based on the Bitcoin protocol with the name Darkcoin although later rebranded the platform.
This rebranding has served it well, which helps to explain why it has earned itself the 17th rank in terms of market cap at a value of $1.2 billion at the time of writing.
Faster transactions speeds than Bitcoin with better privacy
Dash hopes to solve the problem of slow transactions by providing a faster transaction turnaround. The platform was one of the first in the crypto space to adopt a proof of stake mechanism, which has enabled it to process transactions 2.5 times faster than Bitcoin.
Dash was created by Evan Duffield, who had worked as a software developer in various tech firms before his foray into cryptocurrency. Duffield had previously encountered Bitcoin in 2010 and was impressed by the technology behind the digital coin. However, he was concerned by the transaction waiting time of 10-13 minutes (on average) on the Bitcoin network. He thus used the Core code behind Bitcoin to come up with a faster cryptocurrency that provides better privacy for users.
Use of masternodes
Dash has several features that give it an edge over other cryptocurrencies. It uses 'masternodes' – which are computers that make decisions on the network. These masternodes support the PrivateSend and InstantSend functions of the network, as well as securing it. They also act as an incentive for investors and make the platform fair (hence truly decentralized) by making sure no node cheats. They also secure everyone's assets on the network.
Untraceable transactions
Private Send is another game-changing feature of Dash that allows users to exchange and send coins on the network without leaving a trackable trail. The network also has integrated with CoinJoin, which is a coin mixing service, to allow users to mix their Dash coins in several transactions. By doing so, investors can remain anonymous and retain their coins' fungibility.
With the InstantSend service, users can complete Dash transactions nearly instantaneously at point-of-sale outlets. Already, this feature is supported by mainstream vendors and wallets including Dash Core Wallet, Dash Android Wallet, Kraken, Bitrefill, My Dash Wallet and more.
Gaining commercial traction
Some of Dash's most notable achievements are the partnerships with Wall of Coins and Alt-360. With Wall of Coins, users can pay for Wells Cargo and Western Union Services using Dash coins. Dash has also introduced KuvaCash – a localized cryptocurrency, to help counter inflation in Zimbabwe.
This year, Dash expects to introduce new features such as Dash Core, Dash Platform Rollout, and DashPay, all of which are expected to lead to more significant partnerships. These features will help investors connect with other merchants and maximize their transactions' security with improved identity contracts.
4. Chainlink (LINK)
What is Chainlink in a nutshell?
Of the cryptocurrencies running on Ethereum's ERC-20 platform today, few have received as much attention as Chainlink. This explains why the crypto has catapulted to the 16th rank in market capitalization with a value of $1.334 billion in less than three years since its launch.
Chainlink – can link external data – to the blockchain
Chainlink runs on Ethereum's ERC-20 smart contracts platform. When Ethereum launched in 2015, it brought the power of blockchain to the people and local businesses and provided an avenue for users to interact with blockchain technology beyond the function of digital payments. However, Ethereum does not allow the use of external data on the blockchain, which has limited the ability and scope of smart contracts on the platform. Chainlink solves this problem by making it possible for a contract to include data from outside the chain. It does this by providing a secure and fully decentralized 'oracle' system to enable smart contracts to link to API's, interact with, and utilize data from real-world sources.
Promising commercial traction
Chainlink has also positioned itself as the 'missing link' between blockchains and the traditional banking and exchange system. As we speak, the project has an agreement with SWIFT, the world's largest provider for secure financial transactions. This partnership has provided Chainlink with access to thousands of high profile banks and financial institutions all over the world.
Chainlink also has a ton of strategic partnerships that are giving it a massive leg up in the crypto market. One of these is the search engine giant – Google, which has integrated the Chainlink approach into its smart contract adoption. Other partnerships include Oracle, the multinational computer organization that is outsourcing the Chainlink team to support Oracle's blockchain projects. Chainlink also plans to integrate Town Crier technology into its oracle network – which will position it as a technical leader for secure smart contracts.
The Chainlink concept is also being employed by a ton of crypto projects including, but not limited to Aelf, Polkadot, the Ocean Protocol, Accord, and Streamr. As the first-ever decentralized oracle, Chainlink is also the go-to solution for projects of all generations, ranging from ZeppelinOS to newcomers like the Celer network. Today, Chainlink boasts of more than 70 integrations on its platform.
The crypto market had confidence in Chainlink ever since its very launch in September 2017. The company's ICO reached its fundraising goal of $32 million at a coin price of $0.11. Today, the LINK coin is the high echelons of crypto by market cap, with a price of $3.93 at the time of writing.
The team behind Chainlink has an impressive history that has solidified its position in the crypto space. The company's CEO, Sergey Nazarov, began his career at FirstMark Capital and is well versed in financial contract enforcement. Steve Ellis, the CTO, is a software engineer best known for developing scalable payments automation software at Pivotal Labs. The team includes five other software engineers and more than a few advisors worth years of experience.
So far, Chainlink's selling point has no competitor. This, plus the positive developments and its continuous integrations positions it for considerable growth in price and value this year.
5. Ripple (XRP)
What is Ripple in a nutshell?
Launched in 2012, Ripple's crypto-asset XRP is one of the most prominent digital assets in the crypto space right now. It is currently the third-largest crypto by a market valuation of $14.47 billion, behind only Bitcoin and Ethereum.
Great commercial traction in Fintech and awesome backers
The project won the faith of the investment community from the get-go – helping it secure a single round of over $55 million from tech heavyweights like Google and Apple. It also secured funding from angel investors like Andreessen Horowitz, Lightspeed Venture, and FF Angel IV. These leaps by the investment community are a testament to their faith in Ripple's long-term profitability and potential.
Ripple was created by Ripple Labs to provide a global, secure, reliable and affordable means to exchange currencies and transfer money across borders. The idea was initially conceived by Jed McCaleb who's best known for creating Mt. Gox, eDonkey, and Overnet networks. The platform was built by renowned blockchain architects Arthur Britto and David Schwarts.
Already, Ripple established connections with over 300 banks, currency exchanges, and remittance agencies across over 40 countries and six continents. Some of these organizations include heavyweights such as Santander, Moneygram, American Express and SBI remit.
This demonstrates interest from the traditional system and the auspicious future of the crypto as it gains more traction in the future. Also, it shows that Ripple's strategy of 'cozying up' to the system is working. Unlike other cryptocurrencies that fight the system, Ripple is working with the system.
The network's native currency XRP is used as a transaction go-between and then destroyed, preventing double transactions on the network. This destruction of the coin also ensures that there will always be a constant decrease in the volume of XRPs in the market, preventing its inflation.
Ripple's unusual centralized-decentralized approach has also ensured rare stability for the coin, a rarity in the crypto market.
Superfast transaction speeds
Also, the superfast transaction speed of 1, 500 transactions per second (TPS) has also given it an edge over other cryptocurrencies like Bitcoin and even Ethereum. Its development team has also confirmed that if need be, Ripple can scale up to match VISA's transaction throughput of 50k per second.
Ripple's recent partnership with BRD Wallet could also significantly push its price in the coming months. BRD, which is one of the oldest and time-trusted crypto wallets, is highly popular with crypto users – with 2M+ downloads in more than 270 countries. This partnership will allow users to buy XRP directly from BRD at a more affordable rate than other venues.
How do ETH, ETC, DASH, LINK, XRP and Bitcoin fare together in a porftolio?
We have conducted extensive research, which you may want to read by clicking the following link, here.
Final thoughts
Based on recent strong showings and unique features that these cryptos possess, we believe these projects have great prospects. However, as with anything cryptocurrency, these cryptos are prone to unpredictable price swings. As such, we recommend that you also do your own independent research and understand your personal financial circumstances well before you invest in any cryptocurrency. Cryptocurrencies are risky and not suitable for everyone.