Hodlnaut
Security & Insurance
10.0/10
Reputable (tried and tested, reputable backers)
9.5/10
Intuitive User Experience
9.0/10
Strengths
High-interest rates
Certified Fintech
User-friendly platform
No lock-in periods or minimum deposits
Excellent customer support
Weaknesses
Limited availability of coins
Does not support FIAT deposits
No mobile app yet (iOS app launching soon)
Crypto loans available only for institutions
Hodlnaut is an emerging crypto interest-earning platform that is based out of Singapore and serves customers globally. Launched in April 2019, Hodlnaut has thus far grown from 100 to 5000+ users with a month-on-month growth rate of 20% and currently has an AUM of $250 million. In this review, we will look at the features and offerings of Hodlnaut to help you understand whether it is the right crypto lending platform for you.
Disclaimer: All of the content written on CoinMarketExpert is unbiased and based on objective analysis. The information provided on this page should not be construed as an endorsement of cryptocurrency, a service provider, or an offering and should neither be considered a solicitation to buy or trade cryptocurrency. Cryptocurrencies carry substantial risks and are not suitable for everyone. No representation or warranty is given as to the accuracy or completeness of this information and consequently, any person acting on it does so entirely at their own risk. We recommend you to visit the website of Hodlnaut for any updates that may have occurred afterward. See further disclaimer at the bottom of the page.
| | |
| --- | --- |
| Year Established | April 2019 |
| Founder(s) | Juntao Zhu and Simon Lee |
| Reputable Investors | Yes |
| Headquarters | Singapore |
| Available Countries | Worldwide* |
| Regulated | No – license pending (application under review) |
| Verification | KYC verification |
| Compensation Scheme | Optional Nexus Mutual Insurance Cover |
| Supports | Cryptocurrencies |
| Deposit Fees | Free |
| Minimum Deposit | None |
| Withdrawal Fees | Varies |
*Currently, Hodlnaut is not available in Iran, North Korea, Sudan, South Sudan, Syria, Cuba, or any other country specified by the Sanction Authority.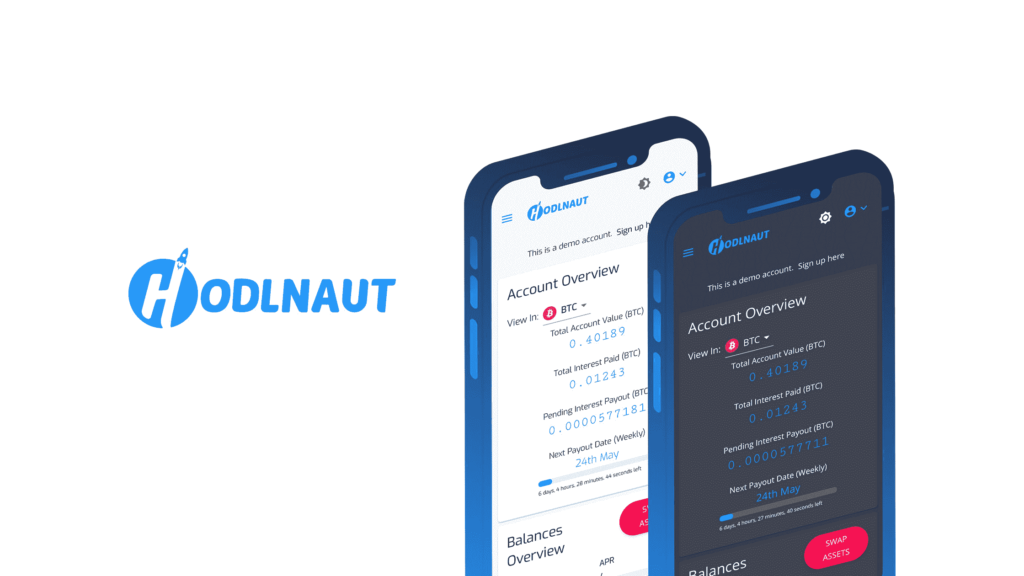 Table of contents
1. Cryptocurrencies Supported by Hodlnaut
2. Hodlnaut Deposit Methods
3. Does Hodlnaut Have any Fees?
4. Is Hodlnaut a Safe Platform?
5. What about Counterparty Risk?
6. Hodlnaut Product and Features
7. How Can You Get Started with a Hodlnaut Interest Account
8. What about Hodlnaut's Customer Service?
9. Countries Supported by Hodlnaut
10. Our Verdict on Hodlnaut
11. Frequently Asked Questions
---
Cryptocurrencies Supported by Hodlnaut
---
Hodlnaut currently supports six coins:
1. Bitcoin (BTC)
2. Ethereum (ETH)
3. Dai (DAI)
4. USD COIN (USDC)
5. Tether (USDT)
6. Wrapped Bitcoin (WBTC)
---
Hodlnaut Deposit Methods
---
Hodlnaut accepts deposits from wallet transfers. You may either copy-paste the address or scan the QR code from the exchange or wallet to make the transfer.
---
Does Hodlnaut Have Any Fees?
---
Hodnaut does not charge any deposit fees and supports even the smallest deposit possible. It doesn't charge even for the Token Swap feature which we have covered further in the review.
However, Hodlnaut does have a withdrawal fee as shown below. According to their website, the withdrawal fees are regularly updated subject to market conditions.
---
Is Hodlnaut a Safe Platform?
---
When it comes to investing in crypto, many users have concerns related to the safety of the platform. How safe is Hodlnaut as a crypto lending platform? Let us take a look.
1. SSL-encrypted Traffic
Hodlnaut has SSL-encrypted traffic and runs on Amazon Web Services (AWS), which is a secure cloud infrastructure. Hodlnaut also stores the cryptocurrencies in cold storage instead of hot storage to ensure maximum security.
2. Nexus Mutual Custody Cover
Customers can buy additional insurance through Nexus Mutual to mitigate the hacking risks. However, users have to make a purchase themselves for it. You can opt for the custody cover that covers up to $44 million with a premium of 2.6% per annum.
3. Certified Fintech
Hodlnaut is a certified fintech by Singapore Fintech Association and is a recognized blockchain by Singapore's Infocomm Media Development Authority. Hodlnaut falls under Singaporean law, and the country welcomes digital assets as well as for cryptocurrencies. Hodlnaut is subject to the Payment Services Act of January 2020, which has classified crypto as "digital payment tokens." The company is currently pursuing a license from the Monetary Authority of Singapore (MAS).
4. Secure Transactions with Address Whitelisting
The address whitelisting feature ensures that crypto is sent to only verified and trusted withdrawal addresses. Moreover, users have the option of restricting withdrawal to a list of known addresses only. The withdrawal whitelist gets approved within forty-eight hours, and according to Hodlnaut's official website, once a user enables this feature, they cannot withdraw from an address that is not added to the list. The two-factor authentication ensures that accounts are protected against any potential hacks.
---
What about Counterparty Risk?
---
Hodlnaut lends out the funds that users deposit to vetted institutions that could default their loans. This is a risk that users will have to be aware of. However, Hodlnaut takes measures to ensure that the institutions that are being lent to are credible. The company is very selective about who they lend out to and collateralizes agreements after careful vetting.
To reduce the counterparty risk, Hodlnaut lends out to corporate entities with good credit scores and keeps the loan-to-value ratio at 70% or lower. The risk of default is hence reduced, and the company lends out to more than one counterparty for reducing their counterparty risk.
---
Hodlnaut Products and Features
---
Hodlnaut Interest Account
Hodlnaut Interest Account (HIA) enables users to earn interest on their crypto holdings. The platform offers up to 10.5% APY on six supported assets: BTC, WBTC, ETH, DAI, USDT, and USDC. Hodlnaut can offer one of the highest interest rates on cryptocurrencies as it lends to established financial institutions that pay interest.
As mentioned before, the assets are lent to authorized entities after checking their background thoroughly to make sure that interest is paid timely. However, it should be noted that the interest rates offered are subject to change as per market conditions and profits from the prior month.
Hodlnaut also lends the crypto assets to decentralized protocols and disperses the interest earned after retaining a small portion. To accommodate the varying needs of partners, the firm customizes the loans accordingly.
Hodlnaut offers the following interest rates to users:
Bitcoin (BTC): 6.2%
Wrapped Bitcoin (WBTC): 6.2%
Ethereum (ETH): 6.7%
Dai (DAI): 10.5%
USD Coin (USDC): 10.5%
Tether (USDT): 10.5%
Note: The interest is deposited weekly to the user's account, and it is compounded.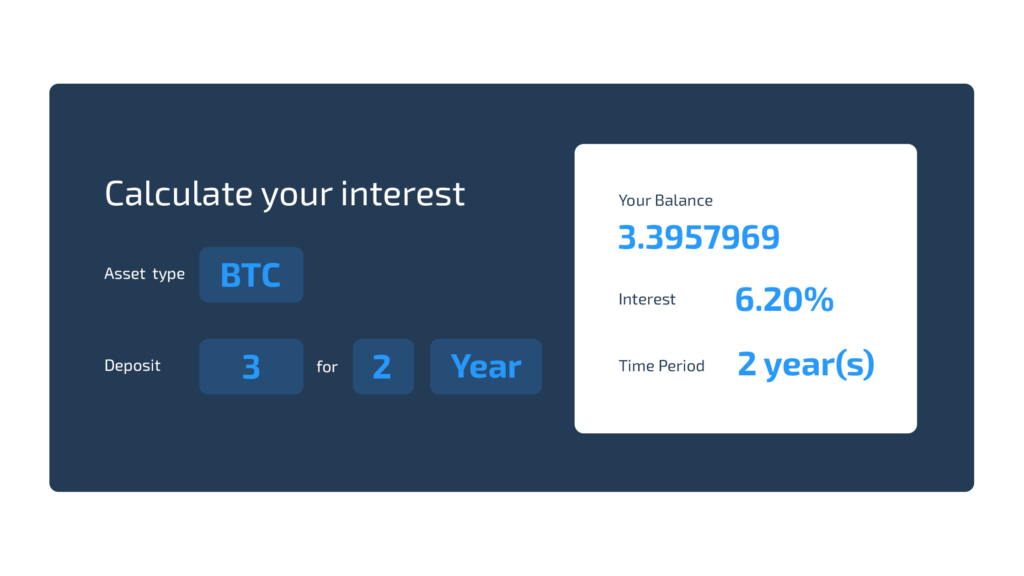 How is the interest paid out?
The platform pays interest in-kind, meaning users receive interest in the asset that they have deposited. Based on the balance for the day, the interest is accrued at the end of every day and is directly credited to the user's account. You can start earning interest immediately after you deposit crypto into your Hodlnaut Interest Account. The interest will be credited to your account every Monday, 5 pm (GMT +8).
---
How Can You Get Started with a Hodlnaut Interest Account?
---
With a Hodlnaut interest account (HIA), you can earn interest up to 10.5% APY on the supported assets. The signup process is pretty straightforward, and you can begin earning interest on crypto quickly. If you don't already have an account, go to the Hodlnaut website to start the signup process. Key in your contact information, and you will be signed in. Soon after it, your email address will be verified, and once the KYC procedure is completed, you may start depositing crypto and earning interest on it.
Go to the My Account tab in your account dashboard to check things like your balance, pending payout, and the interest accrued. You can also see the interest earned in real-time, and you can proceed to deposit/withdraw the crypto from the relevant tab. The interface is pretty user-friendly, and you can quickly check your statements and access the token swap feature.
VIP Fixed-term Loan
Apart from HIA, Hodlnaut also has another product, i.e., a VIP fixed-term loan. The fixed-term loan essentially helps users in earning the highest interest rates as they deposit their assets for a fixed duration. You will be eligible for the VIP fixed-term loan if you meet the following requirements:
Lock your crypto assets for 1, 3, or 6 months with Hodlnaut to earn a higher yield
Deposit equivalent of 100 BTC or more in a single asset class
Hold the deposited funds until the term ends
If you meet the criteria mentioned above, you qualify for the VIP fixed-term loan. For information on the latest interest rates contact the Hodlnaut team at rm@hodlnaut.com.
Note: The interest earned for the VIP interest account will depend on the amount you deposit and the current rate of interest. Moreover, if you park your crypto in the fixed-term loan, you cannot use it as collateral until the term is over.
What is the difference between a VIP fixed-term loan and HIA?
HIA and Hodlnaut fixed-term loans both have interest that is compounded daily. However, in the case of the fixed-term loan, the interest is paid in a single payout at the end of the term. HIA offers interest rates up to 10.5%, but the interest rates offered for hodlnaut fixed-term loans are even higher, thus making it a good deal.
Moreover, a fixed-term account is a profitable option with sizable returns that balances the volatility of cryptocurrencies. The best part is that you get a dedicated relationship manager to handle your account. Hodlnaut claims to have designed this product with the aim to provide the best interest rates for users. Additionally, with Hodlnaut's AUM of $250 million, a fixed-term loan also boosts asset liquidity and stability.
Institutional Loans
Hodlnaut provides crypto loans to vetted and established financial institutions. The minimum amount for borrowing is $50, 000 and the loans are open for a minimum of three months. The loan to value ratio is usually below 70% for institutional loans.
Hodlnaut Token Swap
Hodlnaut's Token Swap feature is quite popular among users. In essence, this feature enables users to trade between the supported assets on the Hodlnaut platform. With Token Swap, the user can earn interest on the crypto of their choice. It is a handy feature that users can benefit from to keep maximizing their holdings. Unfortunately, this feature is disabled in Singapore until further notice.
Hodlnaut Affiliate Program
Hodlnaut also offers an exciting affiliate program with which you can earn 10% from your friend's interest each time you refer Hodlnaut to your friends. Additionally, the person to whom you refer gets a free bonus of US$20 if their first deposit is equivalent to US$1000 or more. The user will get the bonus in the same asset in which it is deposited. Sharing the referral link is easy, and you simply have to copy it from the dashboard and send it to your friends.
---
What about Hodlnaut's Customer Service?
---
Hodlnaut has prompt customer service and provides support through emails and live chat. The response on live chat is quick, and emails are answered swiftly too. Since Hodlnaut's business hours are from 10:00 am to 7:00 pm Singapore time, the replies could be a bit delayed after that. But you will usually get a response within 24 hours from their customer support team. However, Hodlnaut can improve its support for international customers due to the difference in time zones.
With a Trustpilot rating of 4.6, one can safely say that their customer support is indeed excellent! If you require any assistance, you can always go through their resources section, which has some helpful guides as well as their extensive FAQs.
---
Countries Supported by Hodlnaut
---
Hodlnaut's features and products can be availed in all countries except for those prohibited by their Policy or Sanction Laws. Currently, Hodlnaut is not available in Iran, North Korea, Sudan, South Sudan, Syria, Cuba, or any other country specified by the Sanction Authority.
---
Our Verdict on Hodlnaut
---
Hodlnaut is a crypto lending platform that is easy to use and offers one of the highest interest rates in the market. The interface is user-friendly and adept for both new and seasoned crypto investors. Hodlnaut's token swap feature is very interesting and allows customers to earn interest in the crypto of their choice while seamlessly trading cryptocurrencies.
The customer support is prompt, and tickets are usually resolved within a couple of days. However, the platform has limited assets, which is something that can be improved. Another thing lacking is a mobile application, but Hodlnaut will soon launch its iOS application so that users can access the features from the convenience of their iPhones. In summary, Hodlnaut is a promising platform that will help you earn lucrative returns on your crypto holdings.
---
Frequently Asked Questions
---
What does Hodlnaut mean?
The term "Hodlnaut" is a combination of "HODL" and "Astronaut." Hodl is common slang in the crypto space, which refers to holding crypto assets instead of selling them.
Does Hodlnaut have any regulatory license?
Hodlnaut is based out of Singapore, and as per Singapore Law, under the Payment Services Act, cryptocurrencies are classified as "digital payment tokens." At the moment, Hodlnaut's token swap service is the only regulated activity under the Payment Services Act.
Where does Hodlnaut store the funds?
Hodlnaut uses Fireblocks' multi-party computation wallet infrastructure to store funds. When users sign up for a Hodlnaut account, they are assigned a unique address generated by Fireblocks. The deposited funds are thus secured with Fireblocks' wallet infrastructure until Hodlnaut lends it to one of their partners.
Hodlnaut also provides insurance cover of up to $44 million of their funds via Nexus Mutual's Custody Cover Smart Contract at a premium of 2.6%. As mentioned on their website, Hodlnaut conducts periodic vulnerability assessment and vulnerability testing (VAPT) on their infrastructure to strengthen their security.