Exodus Wallet
Intuitive User Experience and Design
9.5/10
Coin & Token Availability
9.5/10
Functionality (features and speed)
9.3/10
Strengths
Stylish Interface
User friendly
Supports many cryptocurrencies and fiat currencies
24/7 customer support
Integration with Trezor hardware wallet
Weaknesses
Cost (high exchange fees)
Security features: (a) No 2 Factor Authentication ( on their website Exodus claim to be exploring how to implement an advanced version of 2FA that does not rely on a 3rd party or hardware and works with a local app like Exodus.). (b) As a software wallet, Exodus can be hacked security of your Exodus wallet depends on how secure your desktop is. The integration with Trezor was a smart move for Exodus since it provides the user with an additional layer of security and compliments an area where Exodus lags behind. Therefore anyone considering Exodus for its strengths may want to also consider investing in a Trezor wallet to augment security.
Updated: October 2020
Disclaimer: All of the content written on CoinMarketExpert is unbiased and based on objective analysis. The information provided on this page should not be construed as an endorsement of cryptocurrency, a service provider or offering and should neither be considered a solicitation to buy or trade cryptocurrency. Cryptocurrencies carry substantial risk and are not suitable for everyone. Although CoinMarketExpert does its best to provide you with accurate and relevant information which is updated regularly, we also recommend you to visit Exodus.io for any updates that may have occurred afterwards. See further disclaimer located at the bottom of the page.
We have examined Exodus Wallet, which is dubbed the highest-rated desktop and mobile software wallet for buying, selling and storing Bitcoin, altcoins and numerous other cryptocurrencies.
The Wallet has gained a reputation for being stylish, user friendly and full of valuable features, making it ideal for first-timers and users who are experienced and looking for greater features to control their wealth.
Once you finish reading this review, you will have a better understanding of whether Exodus Wallet is right for you and what you should consider doing if you do go ahead with Exodus Wallet.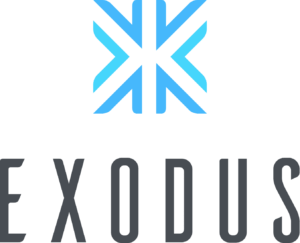 Table of Contents
What is Exodus Wallet? and what make it stand out?
Top Features
Which Cryptocurrencies can Exodus Wallet Store?
How much does Exodus charge?
Is Exodus Wallet Secure?
What are others saying about Exodus Wallet
Our Verdict on Exodus Wallet
What is Exodus Wallet? and what makes it stand out?
Exodus Wallet is a software-based multi-currency wallet that is available on both desktop and on mobile.
Launched in 2016 by JP Richardson and Daniel Castagnoli in Nebraska USA, Exodus Wallet has grown to become one of the most popular wallets by focusing on:
Design
The Exodus team have been laser focused on delivering exceptional user experience. The team have really combined their talents to build a wallet that is highly intuitive to use, stylish and functional.
The swish design is clean and attractive with the option of being customised to your liking with various themes and background colours.
And it is designed purposely to be highly user friendly, making it ideal for beginners who are starting off in the cryptocurrency space while the plethora of valuable platform features makes it attractive for those who are advanced and are looking for a wallet that provides them with greater functionality and power over their cryptocurrency wealth.
Daniel is after all an expert designer by background with experience working for large blue-chip companies such as Apple, BMW, Disney, Louis Vuitton and Nike whereas JP is a tech guru who has written the code for many cryptocurrency products.
Support
Exodus Wallet have 24/7 human customer support, which we found to be very professional, helpful and to be frank a breathe of fresh air when compared to the customer support of competing wallets.
But don't just take our word for it, a quick Google search will confirm there are many people who are mostly satisfied with Exodus customer support.
And if that wasn't enough Exodus have a comprehensive FAQ section as well as online tutorials and videos covering setting up the Exodus Wallet and its use. There is a Slack channel in addition to the typical email and help desk support for ease of communication.
Technology
Exodus Wallet is built to accommodate convenience and control, giving the user the ability to buy, sell, store over 100 cryptocurrencies and the ability to display balances in over 30 fiat currencies.
If that wasn't enough, this wallet comes with a built-in cryptocurrency exchange from ShapeShift. For those of you who are unaware, ShapeShift is a Swiss crypto exchange that has been at the forefront of providing fast exchange services. Therefore using the built-in exchange to convert from one cryptocurrency to the other is seamless.
Exodus Wallet is compatible with Windows, Mac, and Linux, operating systems and has an Android and iOS mobile application. As well as its built-in exchange, Exodus Wallet has real-time cryptocurrency charts to help you manage your assets.
Top features
1. Supports 103 cryptocurrencies
2. Balances may be displayed in over 30 fiat currencies
3. Send, receive, store, and exchange cryptocurrency
4. Built-in cryptocurrency exchange from ShapeShift
5. Compatible with Trezor hardware wallets
6. Windows, Mac, Linux, Android, and IOS availability
7. Real-time charts and portfolio tracker
8. Private key access
9. Excellent 24/7 support
Which cryptocurrencies can Exodus Wallet store?
Exodus Wallet supports 103 cryptocurrencies including some of the largest coins by market capitalization including:
Bitcoin
Ethereum
Ripple
Litecoin
Bitcoin Cash
Binance Coin
Tether
EOS
Monero
Dash
Ethereum Classic
Stellar
Tron
Some popular coins are not supported, at the time of writing this review, like Cardano (ADA) and Iota (MIOTA) so prospective users should check the full list of 103 coins supported to ensure the wallet meets their needs.
How much does Exodus charge?
Exodus Wallet is free to download, register, and use.
It doesn't take a cut of transaction fees, but fees are incurred in line with each cryptocurrency's network transaction fees. These fees go to the coin or token's blockchain network.
Exodus does calculate and set fees automatically using its dynamic pricing models to make sure transactions are delivered quickly even when blockchain networks are busy. This pricing model sometimes leads to slightly higher exchange fees.
Where Exodus Wallet makes its money is from the spread on major asset exchanges which can vary between 1% and 5% and this actual figure is listed in the exchange section on the Exodus Wallet.
Is Exodus Wallet secure?
As a software wallet Exodus Wallet doesn't need or have hardware but is compatible with Trezor hardware wallets.
The wallet is classed as a "lite" wallet which means as well as storing cryptocurrencies directly to your own device it doesn't need to download its whole blockchain to the devices, only the nodes it needs.
The storage of cryptocurrencies to a user's device means you are responsible for much of your cryptocurrency wallet security and access.
Exodus Wallet encrypts private keys and stores them locally too, so users don't have to worry about entering them. User information, secure keys, and passwords are not stored on a central server which means if they are lost locally Exodus Wallet cannot retrieve them.
Exodus Wallet uses a 12-word recovery phrase, email recovery, and a password for security. It does not use two-factor authentication (2FA) for additional security. As what is known as a "hot" software wallet, its more suitable for smaller amounts of cryptocurrencies. Hence, it is not secure for large balances held for the long term which are more suitable for cold cryptocurrency and hardware wallet storage.
The wallet is built using some open-source software, but its own code isn't open source, meaning that developers and those in the know can't examine it to fully assess the wallets security from their perspective. Users need to have a higher degree of trust, based on reputation, in this respect.
What are others saying about Exodus Wallet?
Generally, feedback across the net on the Exodus Wallet is very positive.
There have been reports that cryptocurrencies have been lost by individual users. Exodus says this may be because of local hacking and breaches on user's own computers. Exodus Wallets are only as secure as the users own device and any malware infections locally may breach the Exodus Wallet and cryptocurrency balances. Exodus Wallet software is however, regularly updated.
Exodus receives high reviews, especially for usability and support but without 2FA falls down slightly on security. The wallet has established a good reputation in a relatively short amount of time since its creation a few years ago.
Setting up and using Exodus Wallet is simple and enjoyable with its user-focused and well-designed interface. Its support team is easily accessed live through email and through chat on the Slack platform and Exodus Wallet appears open to announcing any network issues to keep its users informed.
Our Verdict on Exodus Wallet
One criticism of Exodus Wallet use is that new addresses cannot be created within the application. So, once a cryptocurrency address is added the user must continue to use that same address. This works well for beginners, but more experienced cryptocurrency users may want to change their, for example, bitcoin address. To do this a user would need to transfer all their funds out of the wallet, uninstall the software, and start again with Exodus Wallet from scratch.
Exodus Wallet is designed for the beginner, easy to use, and feature-full for those just starting out in cryptocurrencies or more experienced users. It's available on most operating systems, integrates with some hardware wallets, and supports many cryptocurrencies. It also has good, real-time, cryptocurrency charts
On the downside exchange fees may be a little higher due to its automated fee calculation and it does not have two-factor authentication for additional security. The Exodus Wallet exchange does not offer fiat currency transactions so only cryptocurrency transactions can take place. An initial cryptocurrency balance for trading in Exodus Wallet would need to be bought using fiat currency from a major exchange and transferred to the wallet. Or, users with cryptocurrency balances already can port them straight into the wallet.
Still have Questions? Or want to share your feedback on Exodus Wallet?
Let a CoinMarketExpert know
Scroll down to the 'Leave a reply' section of the website and submit any questions or feedback you may have to us.
We will do our best to promptly answer any questions you may have about the exchange and to point you in the right direction.