Bitcoin Price Analysis: BTC/USDT at a pivotal point
1 min read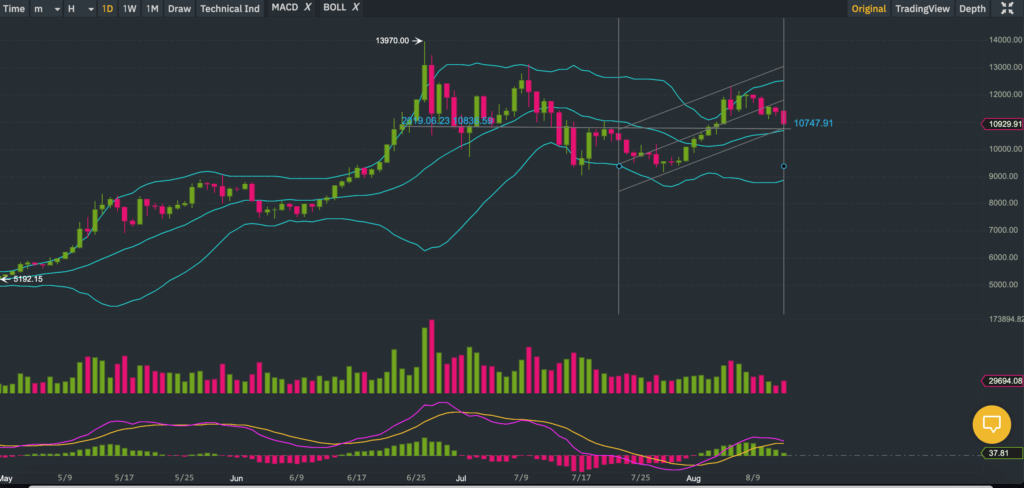 Flash Alert: Tuesday 13th August
Bitcoin price may find some support following recent declines although be aware – a close below $10,750 will see bitcoin knocked all the way back to $9,000 level.
BTC/USDT price (at the time of writing) is $10,929.91 on Binance;
BTC/USDT breached the $11,000 level today as identified on the Flash Alert on Monday 12th August);
The price of BTC/USDT fell to a low of $10,788.45 today before rebounding to $10,929.91;
BTC/USDT may see a temporary breather following recent declines. If BTC/USDT can maintain a price above $10,750 level within the next 48 to 72 hours then a rebound back to $12,000 would be very likely. However, a close below $10,750 will most certainly see BTC/USDT knocked back to $9,000 level.
If you found this flash alert to be valuable then please share your feedback with us. You may contact us on: info@coinmarketexpert.com