VeChain (VET)
[ccpw id="8155"]


Disclaimer: All of the content written on CoinMarketExpert is unbiased and based on objective analysis. The information provided on this page should not be construed as an endorsement of cryptocurrency, a service provider or offering and should neither be considered a solicitation to buy or trade cryptocurrency. Cryptocurrencies carry substantial risk and are not suitable for everyone. No representation or warranty is given as to the accuracy or completeness of this information and consequently, any person acting on it does so entirely at their own risk. See further disclaimer at the bottom of the page.
---
Where to Stake VeChain?
---
The following is a list of trusted platforms where you may buy/sell VET as well as stake VET to earn passive staking rewards with ease.
* The staked coins are locked for a fixed period of time (usually 30 days) and cannot be touched for any reason.
Binance supports the distribution of VeThor Tokens (VTHO) to holders of Vechain (VET) and distributes VeThor tokens.
💡 Visit our best staking crypto page to discover the best staking coins and the highest rewards offered by trusted cryptocurrency platforms.

📚  Read our thorough staking guide now.
---
VeChain Staking Charges
---
If you're staking VeChain (VET) through Binance, there are currently no charges.
---
VeChain Staking Rewards
---
The estimated annual staking reward (or yield) seems to have been decreasing over time.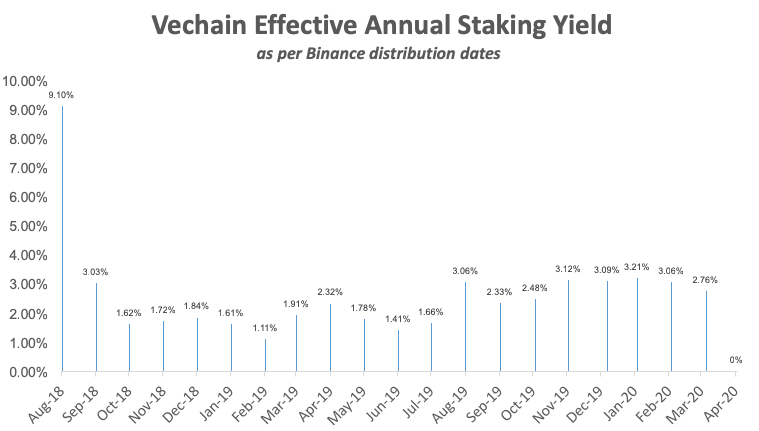 In early 2018, the annualized staking yield was significantly higher at 9.10%. However, the yield has gradually declined.
Background

VeChain was established in 2015 as VEN by Sunny Lu, a former Chief Information Officer (CIO) of Louis Vuitton in China. VEN started as a subsidiary of Bitse, which is one of the largest blockchain companies in China and among the few blockchains to already have a sizeable customer base.

Initially, VeChain's VEN token functioned on the Ethereum blockchain although in 2018 VeChain transitioned onto its own blockchain and rebranded itself as VeChainThor (VET) blockchain.
You could earn VeThor (VTHO) by either running a VET Masternode or staking your VET in a wallet. However, the easiest way to buy and stake VeChain is through a reputable crypto wallet or exchange.
After you have found a wallet or an exchange that supports VeChain staking, you will usually need to first purchase Bitcoin (BTC) and then convert your BTC to VET.
VeChain is a blockchain platform designed for the purpose of helping enterprises obtain greater transparency, traceability, and control of their supply chains.
On its website, VeChain describes itself as "the public blockchain that derives its value from activities created by members within the ecosystem solving real work economic problems."
By enhancing the visibility of global supply chains, users are able to easily trace each component of a product to understand precisely when, where, and how it was made. This helps to solve major problems associated with illegal counterfeiting and unethical practices whilst also promoting product integrity and trust. Having such a high level of depth also means enterprises will be able to precisely track their carbon footprint and adequately compensate for it.
On a broader perspective VeChain is focusing on resolving real-life economic issues that businesses face around data management (such as data authenticity management) and supply chain management (such as product quality control, identifying counterfeit goods source tracking, adherence to safety compliance standards, etc..).
The platform is composed of (a) VeChain network (VeChainThor), which is responsible for the implementation of its native Proof-of-Authority consensus protocol, and (b) its dual token system comprising of both VeThor (VTHO) and VeChain (VET) tokens.
The two-token system is essential for the VeChainThor network to function properly. VeThor (VTHO) is distributed by holding Vechain (VET) in your wallet or running a VET Masternode. This system helps segregate the cost of using blockchain from market speculation.
---
VeChain Calculator
---
To see what the estimated annual staking yield could look like next month, the following calculator has been developed, using the VTHO generation rate.
At the time of writing, every VET creates 0.00000005 VTHO with each block that is created. A new block is added to the blockchain every 10 seconds, which translates to a generation rate of 0.000432 VTHO per VET per day. This means a user who is holding 10,000 VET in their wallet stands to earn 4.32 VeThor a day.
The current default VTHO generation rate of 0.000432 may increase over time but only if all stakeholders on the blockchain take a vote. As a general rule, it is understood that the VTHO generation rate cannot decrease (but only increase) over time.
This calculator provides an indicative result based on the inputs that you provide. Do not make any purchase decisions based on this calculator. Doing so will be entirely at your own risk.
Compare VeChain staking rewards. Visit CoinMarketExpert's best staking coins page to compare the best staking rewards offered by various coins and their providers.