Coinbase
Security & Insurance
10.0/10
Reputable (tried and tested, reputable backers)
9.5/10
Intuitive User Experience
8.5/10
Strengths
Reputation (tried, tested and established)
Security & Insurance (FDIC is a big plus)
Regulated
Intuitive User Experience
Expanding services & Products
Weaknesses
Cost (safety comes at a price)
Limited availability of coins (although growing)
Slow transfers (esp when transferring out from cold storage)
Customer support (Better Business Bureau Rating of F)
Updated: January 2021
| | |
| --- | --- |
| Year Established | June 2012 |
| Founder(s) | Brian Armstrong and Fred Ehrsam |
| Reputable Investors | Yes, Click here |
| Headquarters | United States |
| Available Countries | Worldwide |
| Regulated | Yes |
| Verification | KYC Verification |
| Compensation Scheme | Yes: FDIC Insurance |
| Margin | Available |
| Built-In Wallet | Available |
| Supports | Fiat to Crypto, Crypto to Fiat,Crypto to Crypto |
| Deposit Methods | Credit Card, Debit Card, Bank Transfer, Crypto |
| Deposit Fees | Free |
| Minimum Deposit | None |
| Trading Fees | Varies |
| Withdrawal Fees | Varies |
Disclaimer: All of the content written on CoinMarketExpert is unbiased and based on objective analysis. The information provided on this page should not be construed as an endorsement of cryptocurrency, a service provider or offering and should neither be considered a solicitation to buy or trade cryptocurrency. Cryptocurrencies carry substantial risk and are not suitable for everyone. Although CoinMarketExpert does its best to provide you with accurate and relevant information which is updated regularly, we also recommend you to visit Coinbase.com for any updates that may have occurred afterwards. See further disclaimer located at the bottom of the page.
On its website, Coinbase claims to be "the most trusted exchange", while touting "clear communication" and "efficient execution" as some of their core values.
Launched in 2012, the company broke the ground in the US and is now one of the biggest crypto exchanges in the world – with support for 100+ countries and more than 30 million customers worldwide (as of October 2019).
But does Coinbase live up to its promise of being "the most trusted exchange"? In this review, we break everything down so by the end you will have a better understanding of whether Coinbase is the right exchange for you.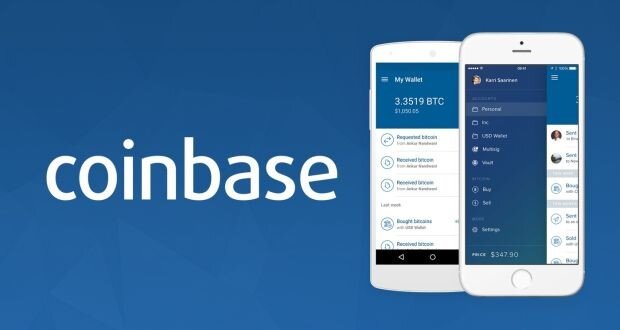 Table of contents
Fiat and cryptocurrencies supported by Coinbase
Coinbase Deposit Methods
How much does Coinbase charge?
Is Coinbase safe to use?
Coinbase Platforms and Tools
– Coinbase vs Coinbase Pro
– Coinbase Card
– Staking rewards
Coinbase Customer Support
Countries Supported by Coinbase
How to Buy Bitcoin on Coinbase
Our Verdict on Coinbase
Frequently Asked Questions
Fiat and cryptocurrencies supported by Coinbase
Coinbase currently supports USD, EUR, and GBP fiat currencies plus the following cryptocurrencies:
1. Bitcoin (BTC)
2. Ethereum (ETH)
3. Ripple (XRP)
4. Litecoin (LTC)
5. Bitcoin Cash (BCH)
6. EOS (EOS)
7. Stellar Lumens (XLM)
8. Ethereum Classic (ETC)
9. Zcash (ZEC)
10. Augor (REP)
11. Dai (DAI)
12. USD COIN (USDC)
13. Ox (ZRX)
14. Basic Attention Token (BAT)
15. Chainlink (LINK)
Coinbase Deposit Methods
Coinbase is currently accepting credit/debit cards as well as bank transfers for deposits.
How much does Coinbase charge?
Coinbase Buying and Selling Fees
1. Spread of 0.5%
For buy/sell transactions, Coinbase charges a spread of 0.50% for digital currency purchases and sales, although this is subject to market fluctuations.
2. The Coinbase Fee (which is either flat or variable)
In addition to the spread, Coinbase will charge you either a flat fee or a variable fee, depending on which one is greater. This is perhaps the most complicated to understand although we break it down for you below.
a. Flat Fee
The flat fees for the buy or sell transactions as set forth below: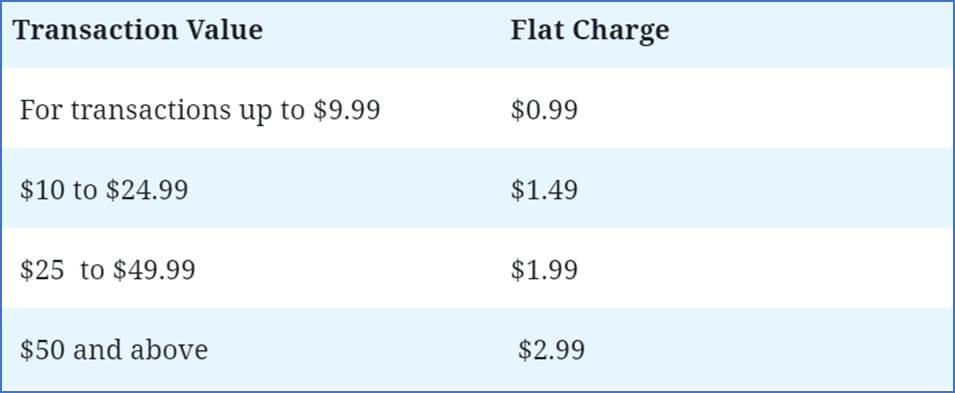 b. Variable Fee
Coinbase also charge a variable fee that depends on the payment method and country.
Here is a breakdown of the variable fee per country: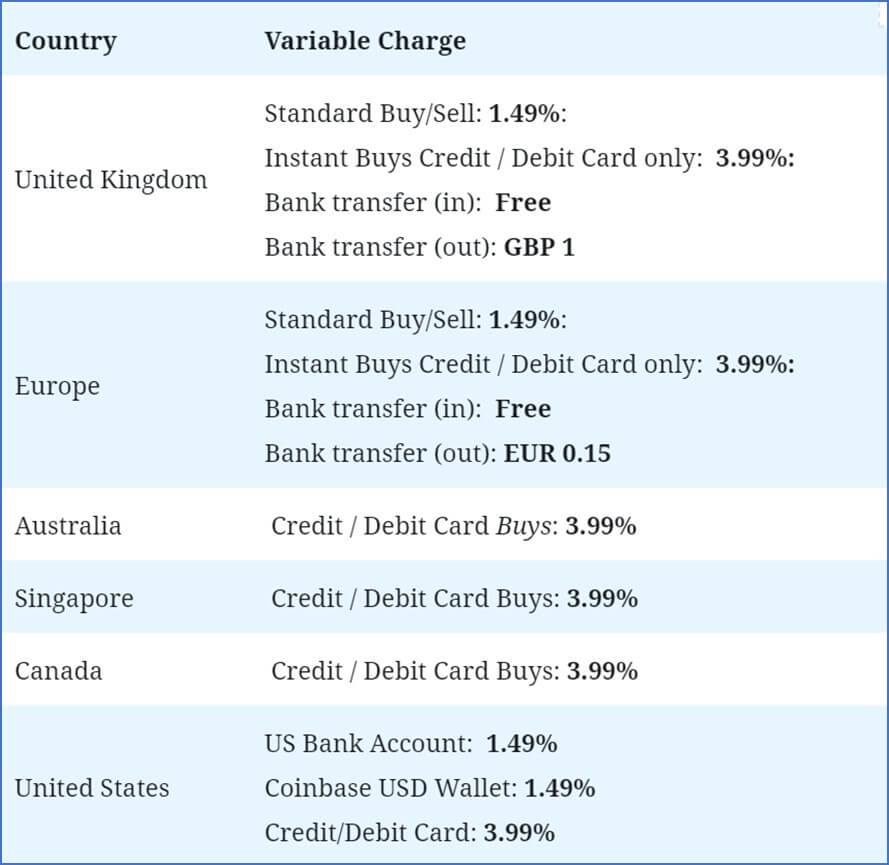 Example of Coinbase flat and variable fees
Let's break it down for you with a simple example and say you reside in the United States and are planning to buy $100 worth of Bitcoin.
The charge would be calculated as follows:

a) A flat fee on $100 would equate to $2.99 (regardless of where you reside in the world) and;
b) And a variable fee of 1.49% of the total transaction (i.e. $100) would be applicable since you are executing it in the United States and are paying with a US Bank Account or a Coinbase USD Wallet. This equates to $1.49.
Since the flat fee of $2.99 is greater than the variable fee of $1.49, Coinbase would charge you the flat fee of $2.99, and therefore waive the variable fee.
c) Now, let's keep the same scenario but instead of paying with a US Bank Account or Coinbase USD Wallet, you decide to purchase Bitcoin with a credit or debit card.
In this case, Coinbase would charge you a fee of 3.99% of the total transaction (i.e. $100) or $3.99.
Since the variable fee of $3.99 is greater than the flat fee of $2.99, Coinbase would charge you the variable fee of $3.99, and therefore waive the flat fee.
3. Deposit and Withdrawal Fees
Further to the above charges, there are deposit and withdrawal fees that you should be aware of. These are set out below.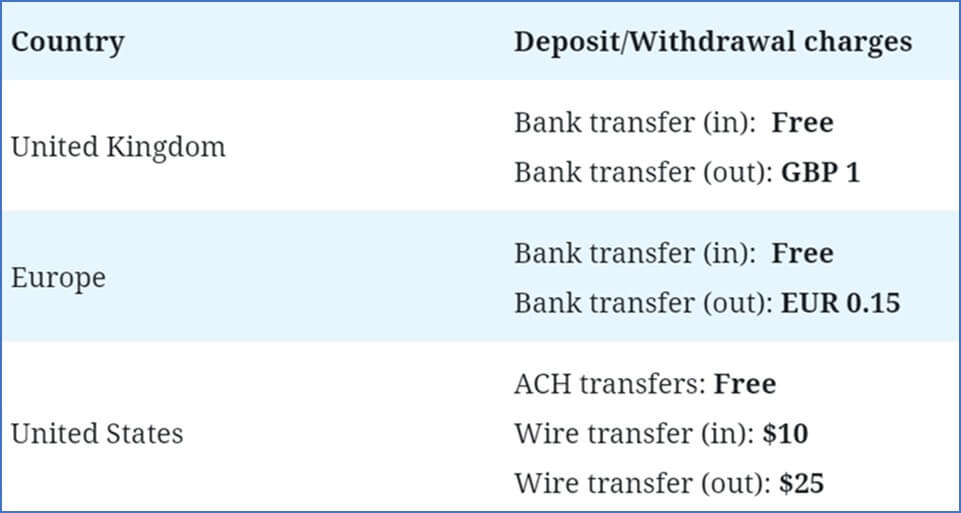 In the United Kingdom, deposits made via bank transfer to Coinbase are free while withdrawals are charged at £1 whereas deposits made via bank transfer within the Single Euro Payments Area (SEPA) are free although there is a small charge of €0.15 for withdrawals.
Deposits made in the United States through Automated Clearing House (ACH) are free although a $10 charge is applicable on wire transfer deposits and a $25 charge for wire transfer withdrawals.
In the USA, customers are charged a 4% base rate for all purchase and sale transactions although Coinbase is said to waive a portion of the Digital Currency Transaction Fee depending on the payment method used. The base rate does not apply to US Dollar deposits and withdrawals.
4. Crypto Conversion Charges
Finally, for crypto conversions from Bitcoin to Ethereum for example, Coinbase will charge a spread margin of up to 2%.
As is the case with buys and sells, the conversion rate may change to reflect market changes.
Is Coinbase safe to use?
Security is one of the major strengths of Coinbase.
Coinbase has instituted several measures to keep their customer's funds and accounts safe and protected.
1. Custodial bank accounts
To begin with, the broker keeps customer funds in custodial bank accounts – which means they are entirely separate from their operational funds. This way, "even if Coinbase were to fail as a business, the funds held in the custodial bank accounts…would be returnable to Coinbases's customers."
2. Safety Deposits and vaults
The company also keeps 98% of customers' money in safety deposits and vaults around the world. Using paper wallets (where private keys and crypto addresses are printed on paper) and hardware wallets (USB-like devices that store private keys), Coinbase ensures hackers have no chance of accessing customers' money.
3. Regulated
Coinbase holds the New York BitLicense as well as many other licenses across different U.S. states. The exchange also has the necessary licenses to transmit money.
4. Lloyds of London Insurance
The remaining 2% of customer funds that are stored online are insured by a reputable insurance firm –Lloyd's of London, ensuring customers still get their money in the event of a security breach.
5. FDIC Insurance
Furthermore, their USD Wallet is covered by the Federal Deposit Insurance Corporation up to a maximum of $250,000.
6. Multi-Factor Authentication
For customers' personal accounts' security, Coinbase presents a multiple-factor authentication method to tighten security to the highest degree possible. There's also the option to track your account's activity and get notified of any attempts to log in to your account from an unfamiliar device.
Coinbase Platforms and Tools
Coinbase vs Coinbase Pro
Coinbase offers two trading avenues: Coinbase and Coinbase Pro.
Coinbase is the company's flagship platform – allowing traders to make basic market orders and convert, buy or sell cryptos.
Conversely, Coinbase Pro, which rebranded from "GDAX/Coinbase Exchange," is the interface for experienced traders – replete with trading tools including candlestick charts, market feeds and technical indicators.
At Coinbase Pro, traders can also convert cryptos, place market, limit and stop orders, and access powerful analysis charts like depth chart, order book, volume, etc.
In a nutshell, Coinbase is for investors to buy, sell, and store their cryptocurrency. Coinbase Pro is a platform for crypto professionals to trade digital assets. The company's CEO put it this way in a 2018 blog post: "Coinbase is for everyone, Coinbase Pro is for professionals."
Coinbase Card
Coinbase is on a mission to make spending crypto as easily as money in your bank account.
UK and European customers may apply for a contactless Coinbase branded Visa debit card that allows its holders to pay for products and services anywhere in the world using crytpocurrencies such as Bitcoin, Ethereum or Litecoin (full list below).
To make this happen Coinbase has partnered with Paysafe, an authorised digital payments solutions provider regulated by the UK's Financial Conduct Authority.
Apart from being able to use the Coinbase Card across millions of locations anywhere in the world, holders may track their spending conveniently through an app, which has a variety of features including spending summaries and monthly statements to help you keep track of your crypto spending easy.
The solution is not like other pre-paid cryptocurrency cards, where users must top up their card with digital assets first prior to use. With Coinbase Card, any transactions made will automatically liquidate the crypto equivalent held in the Coinbase exchange account.
Digital Assets supported by Coinbase Card
Holders of the contactless Coinbase Visa debit card now have the choice of using 9 different crypto balances to make purchases on anything from coffee to their Christmas shopping across million of locations worldwide.
These include the following: Bitcoin (BTC), Ethereum (ETH), Bitcoin Cash (BCH), Litecoin (LTC), Ripple (XRP), Basic Attention Token (BAT), Augur's Reputation Token (REP), 0x (ZRX), and Stellar (XLM).
Coinbase Card is available across 29 countries
The card that was initially rolled out in the United Kingdom is now available across 28 additional countries, including Austria, Belgium, Bulgaria, Croatia, Cyprus, Denmark, Estonia, Finland, France, Germany, Greece, Hungary, Iceland, Ireland, Italy, Latvia, Liechtenstein, Lithuania, Luxembourg, Netherlands, Norway, Poland, Portugal, Romania, Slovakia, Slovenia, Spain and Sweden.
Coinbase are planning to expand the offering to additional markets.
Coinbase Card limits
ATM limits
In the UK customer may withdraw up to £500 (or €500 for European customers) per month from any ATM domestically or internationally.
Spending limits
There is a daily spending limit of £10,000 in the UK ( or €10,000 for European customers) and a monthly purchase limit of £20,000 / €20,000. The annual purchase limit is £100,000 / €100,000.
Coinbase Card charges
To order the card there is a one-time charge of £4.95 for UK customers (or a fee of €4.95 for European customers).
ATM withdrawals of up to £200 in the UK (or €200 in the rest of Europe) are free. Anything above this withdrawal limit will be charged 1% domestically and 2% internationally. There are other potential fees, such transaction and crypto liquidation fees, which are detailed here.
Staking Rewards on Coinbase
Apart from being able to use your crypto assets to make purchases almost anywhere in the world, Coinbase is also partnering with blockchain projects to give savers the opportunity to earn rewards on idle cryptocurrencies.
Conceptually, Coinbase appears to be building an eco-system that very much resembles a bank (or perhaps more appropriately a decentralised bank).
Coinbase has recenly partnered with Tezos to give its customers the opportunity to start earning a staking reward of up to 5% for holding Tezos (TXZ). There are some terms and conditions of course, such as an initial holding period of 35 – 40 days. Furthermore, the staking program is currently only open to U.S. customers (except New York and Hawaii). Further information about the Coinbase/Tezos staking program may be found here.
Coinbase Customer Support
Coinbase maintains an extensive knowledge base section plus a FAQs page to help customers acclimatize to their services.
They also provide the option to submit queries via email or contact them via 0808 168 4635 for UK users and +1 888 908-7930 for US and the rest of the countries.
However, our quick scan across the internet indicated an overall negative impression of the company's support.
User complaints ranged from Coinbase offering "canned responses" to problems rather than addressing the problem, to "scripted" response emails to phone numbers that had automated responses with no option to speak to a live person.
What's more, businesses-rating organization Better Business Bureau rates Coinbase with an "F" with a 1-star rating of customer reviews. Furthermore, recent reviews on Trustpilot seem to confirm that Coinbase customer support is very weak.
Countries Supported by Coinbase
As of October 2019, Coinbase supported 103 countries across six continents: 13 in Africa, 20 in Asia, New Zealand and Australia, 41 in Europe, 18 in North America, and 8 in South America.
How to Buy Bitcoin on Coinbase
Bitcoin remains the most popular cryptocurrency, and it's therefore likely that many users will want to own a fraction of the currency. If you're looking to purchase Bitcoin on the Coinbase platform, the following info will be of help:
1. First off, if you don't already have a Coinbase account, head over to their website and create your free account.

2. You will be required to verify your email address – Coinbase will send you a verification link in your email, which should lead you to your dashboard.
3. The next steps will involve setting up two-factor authentication and proving your identity by uploading a scan of your ID and a headshot.
However, if you already have an account, all you need to do is log in and follow these steps:
Click on 'Buy/Sell' and select the 'Buy' tab on your account page
Under the heading 'Cryptocurrency' select 'Bitcoin.'
Select the payment method that you will use
Enter the amount you wish to buy: either with a Bitcoin denomination or the corresponding value in your local currency
Click on 'Buy Bitcoin' button
You will then be presented with two options: 'Confirm Buy' or 'Cancel' transaction. If you need to change certain details in the order, you can go ahead and cancel the transaction. If you're satisfied with your entry, click the Confirm Buy button.
All applicable fees are displayed on the screen.
Our Verdict on Coinbase
Coinbase offers customers a chance to be part of the exciting world of cryptocurrency space: whether trading or changing one crypto to another.
It lets novice traders try their hand at crypto trading, while the more seasoned trader will appreciate the advanced trading infrastructure at Coinbase Pro.
However, Coinbase would do well to be more receptive to clients' needs – something they are failing at. Otherwise, if you manage to navigate their services, you're set to explore the world of cryptocurrency with this broker.
Frequently Asked Questions
What is the difference between an ACH Transfer vs Wire Transfer?
In the United States, Automated Clearing House (ACH) is the standard way of transferring money. This type of transfer is free of charge although it typically takes around 3-5 days to clear.
On the other hand, wire transfers are much faster, typically taking 1-2 days to clear although the speed comes at an expense, as shown in the table above.
Does Coinbase accept Paypal?
Yes, although it is only possible in the United States.
In the United States you may deposit and withdraw proceeds into a PayPal account. However, the fee is a hefty 3.99%.
What's the difference between Coinbase Instant Buys vs Standard Buys
In the UK and Europe, if you buy Bitcoin or other cryptocurrencies using a credit card you would be eligible for an instant buy, which simply means you get your Bitcoin or crypto instantly into your Coinbase account without having to wait for the payment to clear.
By getting your crypto into your account instantly, you can start trading immediately, which would be important to you if its a hot market. On the other hand, a standard buy requires clearing and that means it can take anywhere between 3-5 working days to get the crypto you purchased into your account to trade.
Still have Questions? Or want to share your feedback on Coinbase?
Let a CoinMarketExpert know
Scroll down to the 'Leave a reply' section of the website and submit any questions or feedback you may have to us.
We will do our best to promptly answer any questions you may have about the exchange and to point you in the right direction.