Bitcoin Price Analysis: BTC struggling to find ground above $8,300
2 min read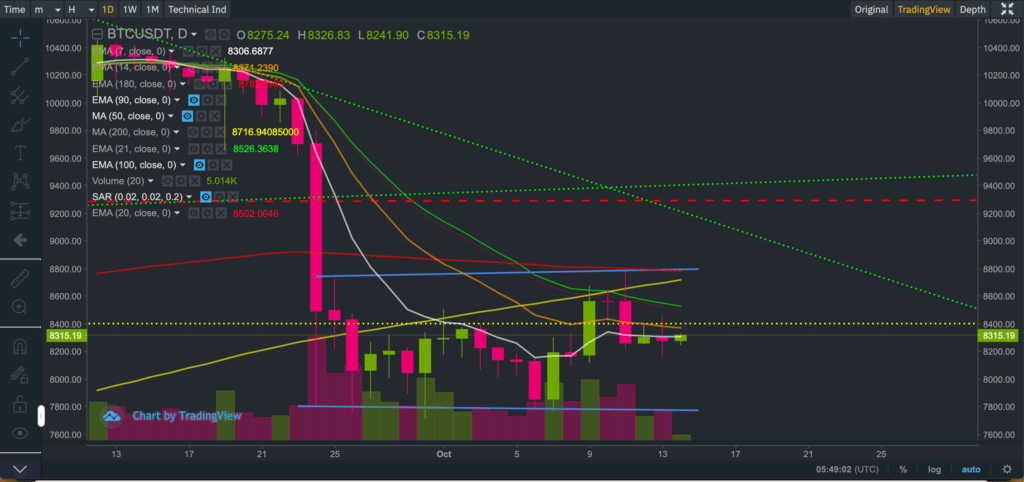 Flash Alert: Monday 14th October
Bitcoin is seen clinging onto the $8,300 level by the skin of its teeth at the moment.
And if we take a step back to see the price trend over the last 48 hours, the direction seems to be biased to the downside again with Bitcoin likely to be heading back towards channel resistance of $7,700 over the next week.
If we look at what happened over the weekend, we could see Bitcoin struggling to maintain a footing above the $8,400 level whilst so far today failing to make any solid gains past $8,300.
The price action we are seeing today is concentrated around the 7-day simple moving average, which seems to be acting somewhat as a resistance level.
And when we look at the 4-hour charts in an attempt to establish further direction for Bitcoin we can see the 7-period simple moving average having crossed through the 25-period moving average, which confirms sentiment has shifted into a bearish phase.
The dull mood follows Bitcoin's inability to close above the 200-day moving average, which is being interpreted as a major sign of weakness.
Currently the price of BTCUSDT appears range bound somewhere between $8,350 and $8,195 on the 4-hour charts.
But if we go back further, we can see BTCUSDT stuck in a wider trading channel of $8,779 and $7,710.
At the time of writing today BTCUSDT was trading at $8,315 following an earlier intra-day high of $8,326.83 and low of $8,242.
And stochastic RSI's and MACD indicators on the daily charts aren't of much help either at the moment as they continue to be misaligned.
In the greater scheme of things, the bigger picture continues to remain skewed to the downside on the weekly charts too, where we can see the 7-period moving average appearing to have just crossed through the 25-period moving average.
Our immediate view on the price trajectory of Bitcoin remains to the downside and we maintain our current target of $7,500.
We have stated on many occasions in our Flash Alerts that there is a possibility of seeing Bitcoin fall to $6,200 – $6,500 although a recent research post, which may be viewed here, indicates that such levels risk tipping Bitcoin into a more pronounced downtrend!
A follow up post to this Flash Alert is available here.
If you enjoy reading our updates and analysis then start following us on Twitter now join our new Reddit Community.
In the meantime, anyone interested in reading our previous Flash Alerts may do so here as they remain valid and provide a good trail for anyone wanting to catch up with recent price action.
Develop your understanding of trading with our free educational guide that walks you through the five rules you need to master before trading crypto.