Bitcoin Price Analysis: BTC struggles to get past 180-day EMA
2 min read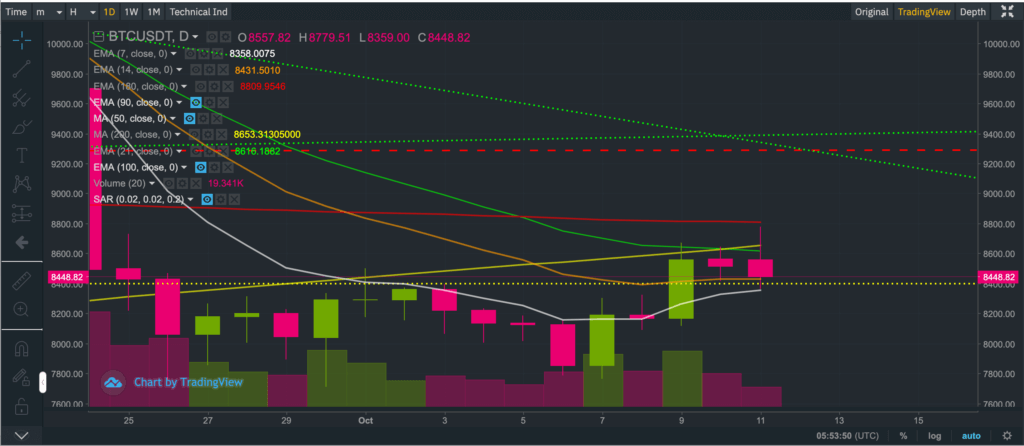 Flash Alert: Friday 11th October
Bitcoin has been trading mostly sideways over the last 24 hours.
We saw the price of Bitcoin range bound yesterday, locked between an intra-day high of $8,644 and low of $8,414. These are levels that coincide with the 14-day exponential moving average and the 200-day simple moving average.
And today, Bitcoin experienced a temporary break out, rallying past 200-day moving average in an attempt to establish further bullish direction, although failing around the 180-day EMA of $8,809, where intense selling pressure re-emerged to knock Bitcoin sharply back towards the 7-day EMA of $8,350.
At the time of writing today Bitcoin was trading at $8,448.82 following an earlier intra-day high of $8,779.51 and low of $8,359.
Meanwhile, the Stochastic RSI and MACD indicators are both emitting contradicting signals on the daily charts.
The 14-day Stochastic RSI on the daily chart is in overbought territory with bearish crossovers while in contrast the MACD (12, 26,9) on the daily chart continues to show a bullish crossover.
Bitcoin's failure to close above the 200-day moving average suggests the rebound from the recent $7,700 lows is still too frail and at risk of turning.
But despite the selling pressure we are seeing today, Bitcoin has still been able to produce higher highs over the last week so as long as Bitcoin can continue to hold its ground above $8,200 over the weekend, there is still a chance of revisiting $9,000- $9,300.
However, it is also possible the market is interpreting Bitcoin's reluctance to close above the 200-day moving average as a major sign of weakness.
And the picture continues to remain bearish on the weekly charts too where we can see the 7-period moving average appearing to have just crossed through the 25-period moving average. This suggests the rebound is at risk of turning.
And if we look at the hourly charts, we can see another descending wedge pattern forming. These patterns haven't been too kind on Bitcoin in the past.
As per our previous commentary, our immediate view on the overall price trend of Bitcoin remains bearish. Our current target is $7,500 with the possibility of seeing $6,200 – $6,500.
A follow up post to this Flash Alert is available here.
Anyone interested in reading our previous Flash Alerts may do so here as they remain valid and provide a good trail for anyone wanting to catch up with recent price action.
If you enjoy reading our updates and analysis then start following us on Twitter now join our new Reddit Community.
Develop your understanding of trading with our free educational guide that walks you through the five rules you need to master before trading crypto.