Bitcoin Price Analysis: BTC drifts marginally lower
1 min read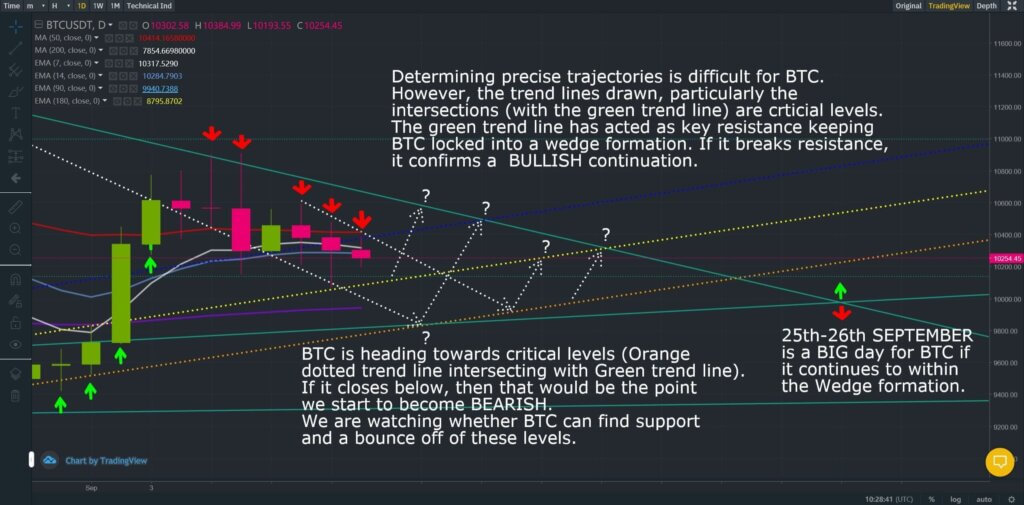 Flash Alert: Tuesday 10th September
So far Today, BTCUSDT has traded within a $191.44 range, initially hitting a low of $10,193.55 during the Asian trading session before bouncing to $10,384.99 during the European trading session.
At the time of writing, BTCUSDT was trading at $10,254 so no major moves so far today and the observations made in our Flash Alert yesterday remain valid.
A close up on the four hour charts indicates that BTCUSDT is continuing to encounter resistance around the same short-term moving averages that were previously providing support. It is also entirely possible that we will see BTCUSDT gravitate towards the $9,800 level over the coming days although we anticipate support around key trend lines drawn on the chart above. Based on the overall (big picture) trends , Bitcoin continues to remain bullish for now.
A follow up post to this Flash Alert may be found here.
If you enjoy reading our updates and analysis then start following us on Twitter now join our new Reddit Community.
If you are new to trading, you must learn to develop a mindset for it and understand how to mitigate risks. Our free educational guide on the five rules you need to master before trading crypto will surely be a valuable starting point for you.