Bitcoin Price Analysis: Big plunge avoided during the early hours!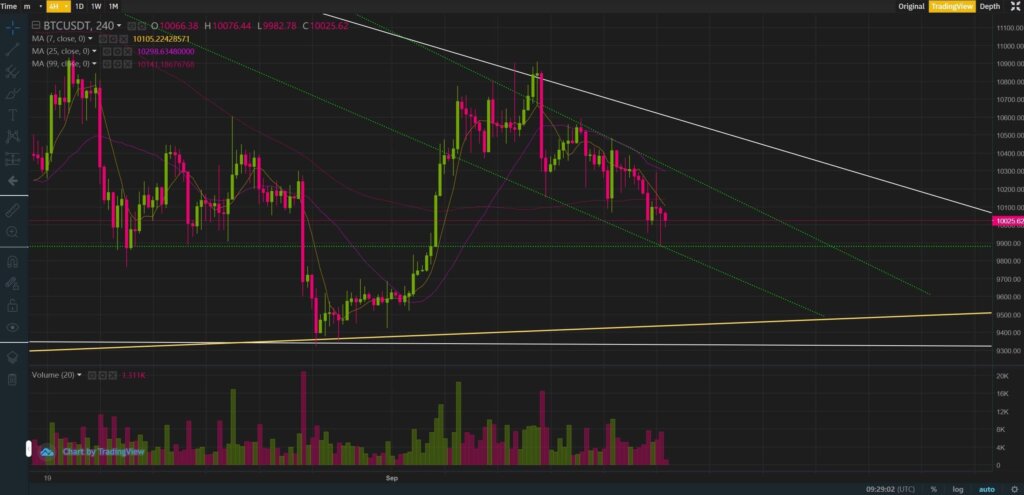 Flash Alert: Wednesday 11th September
Bitcoin has continued to descend in a somewhat orderly fashion, gravitating closer to the $9,800 level as described in our previous posts. At the time of writing BTCUSDT was trading at $10,025 following a bounce off an earlier low of $9,882.78 during the Asian session.
We note today's low of $9,882.78 coincides with levels last seen recently at the beginning of the month and again at the end of August, when major moves where instigated following a close below the $9,860-$9,880 areas. As a matter of fact, at the end of August BTCUSDT had plunged around $540 to a low of $9,320 following a close below the $9,860 level on the 4-hourly chart. At the time, BTCUSDT had found some support between $9,320 and 9,400 levels.
So far we continue to see BTCUSDT struggling to maintain gains and are keen to see whether it can retest earlier lows later today. Meanwhile, previous Flash Alerts continue to remain very relevant and may be read here.
A follow up post to this Flash Alert may be found here.
If you enjoy reading our updates and analysis then start following us on Twitter now join our new Reddit Community.
If you are new to trading, you must learn to develop a mindset for it and understand how to mitigate risks. Our free educational guide on the five rules you need to master before trading crypto will surely be a valuable starting point for you.