BabySwap: An Introduction to Binance Smart Chain's latest Baby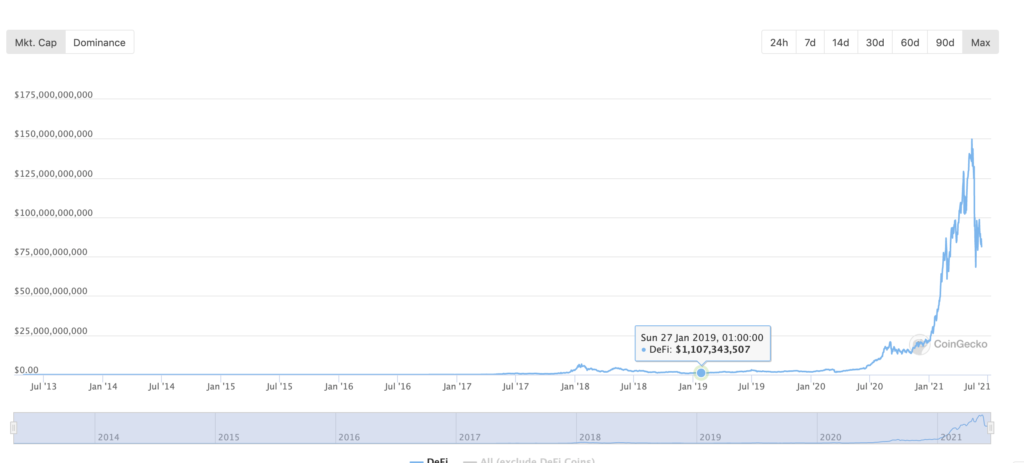 The decentralized finance ('Defi') market saw a stratospheric rise in new projects 2021 with many of them offering double-and-triple-digit annualized yields on staking and yield farming products. Many crypto investors found these returns too hard to ignore of course, which only kept fuelling what seems to be yet another bubble.
As of 11th June 2021, the total market value of Defi projects stood at a whopping $79.8 billion based on data retrieved from CoinGecko, down from a recent peak of approximately $150 billion although up by multiples from the periods seen just a year or two ago. To date, the total value of funds locked into Defi coins stood at $103.9 billion!
So with hundreds of Defi options to choose from, what should crypto investors make of Binance Smart Chain's recently launched decentralised exchange called BabySwap?
Disclaimer: All of the content written on CoinMarketExpert is unbiased and based on objective analysis. The information provided on this page should not be construed as an endorsement of cryptocurrency, a service provider or offering and should neither be considered a solicitation to buy or trade cryptocurrency. Cryptocurrencies carry substantial risk and are not suitable for everyone. No representation or warranty is given as to the accuracy or completeness of this information and consequently, any person acting on it does so entirely at their own risk. See further disclaimer at the bottom of the page.
---
What is BabySwap?
---
Operating on the Binance Smart Chain platform BabySwap is a decentralized exchange (DEX) that focuses on "baby projects"
Most startups choose Binance Smart Chain (BSC) because of its simple deployment, low gas fees, and fast transaction speeds.
But many of you may have noticed that BSC has been very active in the swapping domain. There is PancakeSwap, a decentralized exchange for swapping BEP20 tokens, and that competes with Ethereum's UniSwap by aiming to be faster and cheaper. Then there is BakerySwap, a decentralized exchange focusing on Non-Fungible-Tokens (NFTs) as well as BurgerSwap, another decentralized exchange facilitating ERC-20 to BEP20 token swaps.
After all, with this amount of food it was only a matter of time until a baby was born!
On its website, BabySwap describes itself as:
"the best AMM+NFT decentralized exchange for newborn projects on Binance Smart Chain, providing a more friendly trading experience and better project support."

BabySwap
So is BabySwap some kind of Pink Sheets platform?
Pink Sheets refers to the listings of stocks that trade over-the-counter (OTC) rather than on a major U.S. stock exchange. The companies on Pink Sheets tend to be young and underdeveloped. Traders are attracted to pink sheet stocks for their high volatility whereas long-term investors are often attracted to pink-sheet stocks in the hope that they may grow and into profit machines and eventually list on a major exchange.
But BabySwap is perhaps a little different.
On its website, BabySwap explains the value proposition for traders:
You will find potential baby projects on BabySwap early and accompany them to grow up to 'rock stars' through trading, farming, bottling, etc. Also, you will get free BABY by trade mining.

BabySwap
BabySwap isn't just a decentralized exchange where you can trade the tokens of ultra-uber high-risk baby crypto projects. The platform has an automated market maker algorithm that supports the liquidity and trading in these baby-stage crypto projects.
On its website, BabySwap explains that anyone can "list" any BEP20 token on BabySwap (without asking for permission). They just need to make sure that they add liquidity to a liquidity pool – typically in the form of 'Altcoin / USDT'.
Unlike other automated market maker (AMM) decentralized exchanges on the Binance Smart Chain, BabySwap's recommended route is Tether (USDT), not Binance Coin (BNB) or Binance USD (BUSD).
But of course, to add liquidity these baby projects may need to subscribe to the services of BabySwap, which helps them by creating 'yield farms' and 'snack pools' on their platform with high annualized rates of return or (APRs).
Naturally, the uber-high APRs offered on BabySwap yield farms and staking pools are meant to incentivize profit-hungry crypto investors to provide liquidity to those pools in return for BABY tokens.
Each farm will have its own APR, which depends on the value of LP tokens, reward multiplier, and the price of BABY tokens.
As of the time of writing, the annualised percentage rate (APR) or annualised rate of return on farming SHARK-USDT on BabySwap is 7,574.85%!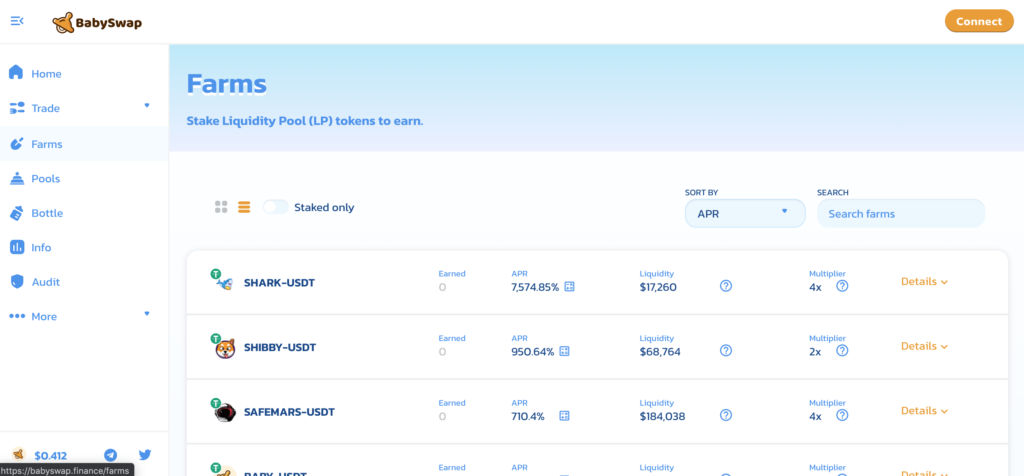 While the APR on its staking pool is as high as 604.38%!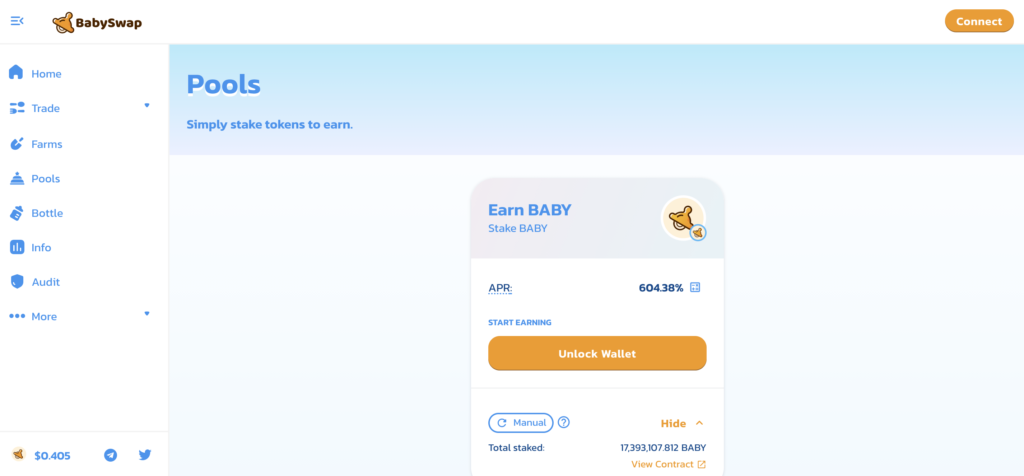 Are you now beginning to understand the big picture?
BabySwap not only supports yield farms and staking pools but also has other mechanisms such as trade mining to boost BABY.
It is difficult to shrug off the astronomical annualised rates of return that are offered to Defi investors through BabySwap. Without a doubt, it will be very interesting to see how this young platform develops over time. More importantly, we are very eager to understand more about BabySwap's internal risk management processes and procedures, which currently remain unclear.
All we can say at this juncture is that we eagerly await further information to be released to the public and remind those who are interested in giving the platform a try to remember that extremely high returns are always accompanied by extremely high risks!
🔎 Interested in crypto staking rewards? Visit our crypto staking page to discover the best staking rates offered by trusted platforms.

🔎 Visit our crypto savings page to identify the best rates of return available on crypto savings accounts.