MyCointainer in a Nutshell | Exclusive Promotions.

Established in 2018 in Tallin, Estonia, MyCointainer is an online staking and masternode platform that has been growing from strength to strength – but don't take our word for it.
If you do some passive online due diligence you will find a lot of positive comments from satisfied users both on Reddit as well as on Trustpilot (and sure you're bound to encounter the occasional adverse remarks too although the volume of positive comments far outweigh the negatives).
If you are still unsure then consider signing up for the free version of MyCointainer first to get a feel for the platform. Then if you're satisfied with the functionality and service, apply our promo code to gain one-month free access to a paid subscription in order to unlock all of the platform's benefits.
Disclaimer: All of the content written on CoinMarketExpert is unbiased and based on objective analysis. The information provided on this page should not be construed as an endorsement of cryptocurrency, a service provider or offering and should neither be considered a solicitation to buy or trade cryptocurrency. Cryptocurrencies carry substantial risk and are not suitable for everyone. No representation or warranty is given as to the accuracy or completeness of this information and consequently, any person acting on it does so entirely at their own risk. See further disclaimer at the bottom of the page.
MyCointainer is on a mission to help users generate extra passive income through staking. Users may trade cryptocurrencies on the platform although the primary purpose is to stake them to generate a passive stream of crypto income.
But, if you're new to crypto staking don't worry. You can check out our crypto staking guide to quickly get up to scratch with the subject.
In a nutshell, crypto staking is a powerful governance system that involves keeping funds in a cryptocurrency wallet (or staking pool such as MyCointainer) to help the underlying Proof-of-Stake (PoS) blockchain network operate more efficiently and securely. The nodes that are contributing to network security and good decision-making are incentivized with staking rewards.
MyCointainer also offers free educational resources to help its users understand how to stake on their platform and how to attain even larger rewards.
Regulatory Compliance
MyCointainer is an Estonian-registered company.
It is regulated by the Estonian Financial Intelligence Unit and licensed (No. FVT000255) to provide services of exchanging a virtual currency against FIAT and wallet management.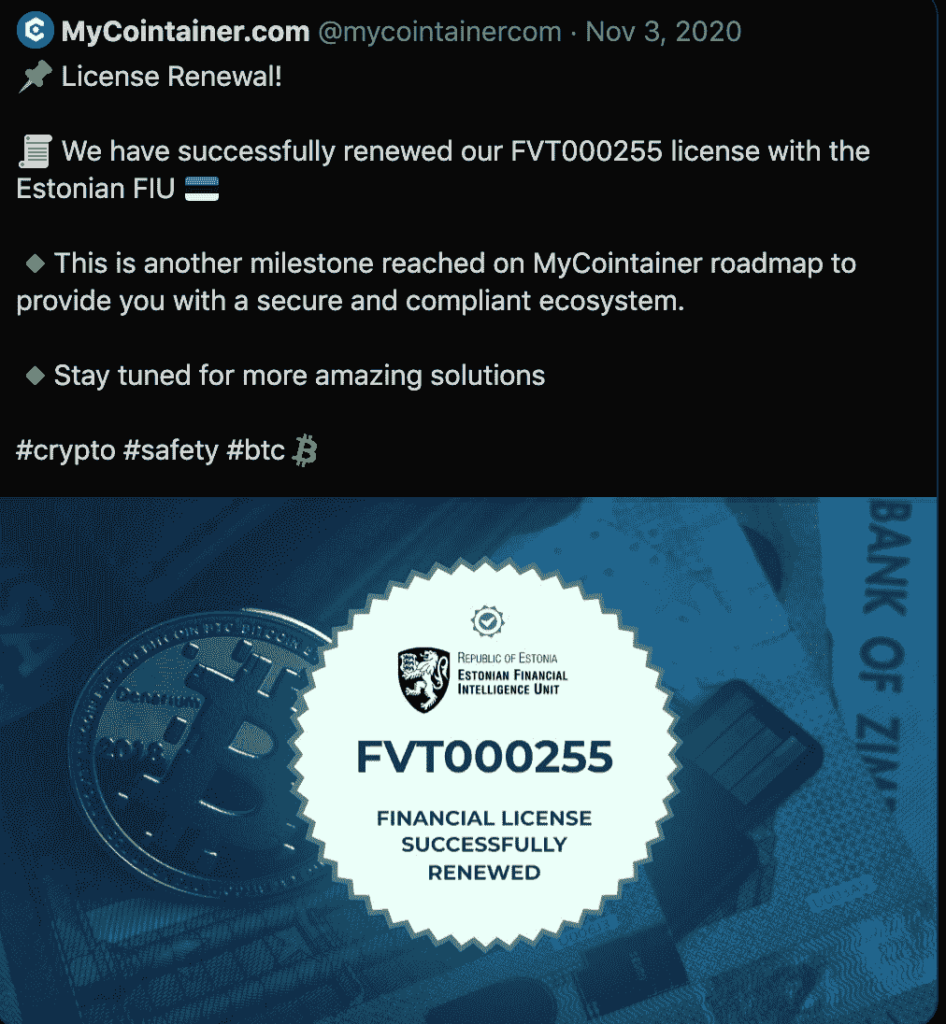 Completing a Deposit or Withdrawal from MyCointainer
Firstly, it is also good to know that MyCointainer does not have any minimum deposit requirements or any withdrawal limits.
To deposit, users simply need to select an asset from their crypto wallet and transfer it to their MyCointainer staking wallet. The process of withdrawing is also easy and completion of all withdrawals usually takes around 24 hours.
MyCointainer Power Subscription Plan
The basic subscription plan is free. However, it only gives partial benefits.
MyCointainer also provides a variety of paid plans that offer a range of services and benefits to users (such as 0 fees, VIP giveaways, extra crypto staking rewards, and more) through MyCointainer Power. The basic monthly subscription costs EUR €7.90 and goes up to EUR €29.90 depending on the level of benefits that you are seeking.
Luckily, users who apply the following code: COINMARKETEXPERT are given 1-month free staking on MyCointainer.
All you need to do is go to the website of MyCointainer and subscribe. Then, when you log in, go to "My Account" and select "Dashboard".
Then click on the icon located on the bottom left-hand side of the screen: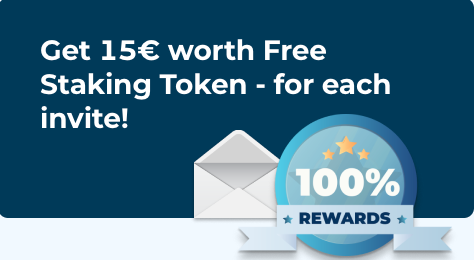 And insert the promo code: COINMARKETEXPERT
The Youtube video below also explains the process. It's uber simple!
Benefits of MyCointainer.com
Besides the rewards, MyCointainer offers a wide range of services and advantages when compared to other staking platforms.
Convenience: The application is accessible both from the Google Play store and the Apple AppStore.
User friendly: straightforward navigation as well as simple deposit and withdrawal options.
Safety: In addition to being a licensed entity, MyCointainer has added safety features such as multi-factor authentication.
Wide range of crypto staking: Users can stake 74 staking coins (and growing).
High staking rewards: MyCointainer offers some of the highest staking rewards with users earning an APR of up to 70% on certain crypto assets.
Customer support: MyCointainer has a dedicated support team to assist anyone who encounters problems staking.