Margin Staking: Crypto Staking on Steroids!

Disclaimer: All of the content written on CoinMarketExpert is unbiased and based on objective analysis. The information provided on this page should not be construed as an endorsement of cryptocurrency, a service provider or offering and should neither be considered a solicitation to buy or trade cryptocurrency. Cryptocurrencies carry substantial risk and are not suitable for everyone. No representation or warranty is given as to the accuracy or completeness of this information and consequently, any person acting on it does so entirely at their own risk. See further disclaimer at the bottom of the page.
What is Margin Staking?
Margin Staking is a new term that CoinMarketExpert has coined to describe the process of using margin or leverage to stake proof-of-stake coins. It is essentially cryptocurrency staking on steroids!
Why Margin Staking?
Through the use of borrowed cryptocurrency tokens, a user would be able to significantly raise the yield they receive from staking regular proof-of-stake tokens.
Example: estimated annual staking yield of 15%
Let's take a simple hypothetical example, whereby someone with the equivalent of $1,500 stakes a token that yields an estimated annual reward equivalent to 15% (free of charge) and each month the rewards are reinvested at the same 15% rate. After 12 months the return will be approximately 15.8% due to the effects of compounding.
Now, let's take the same example, although with margin of 10X. Under this scenario, instead of the cryptocurrency exchange providing the user with margin for crypto trading, they provide the margin for the sole purpose of staking – hence "Margin Staking"
Let's assume the cost of borrowing crypto is 9% (annualized). Therefore the difference between the cost of borrowing and the estimated annual staking yield is 6% (15% – 9%). However, since leverage of 10X is applied, the net estimated annual staking reward is much higher to the tune of 60% annually (or 78% if compounded monthly). The chart below shows the effects more clearly.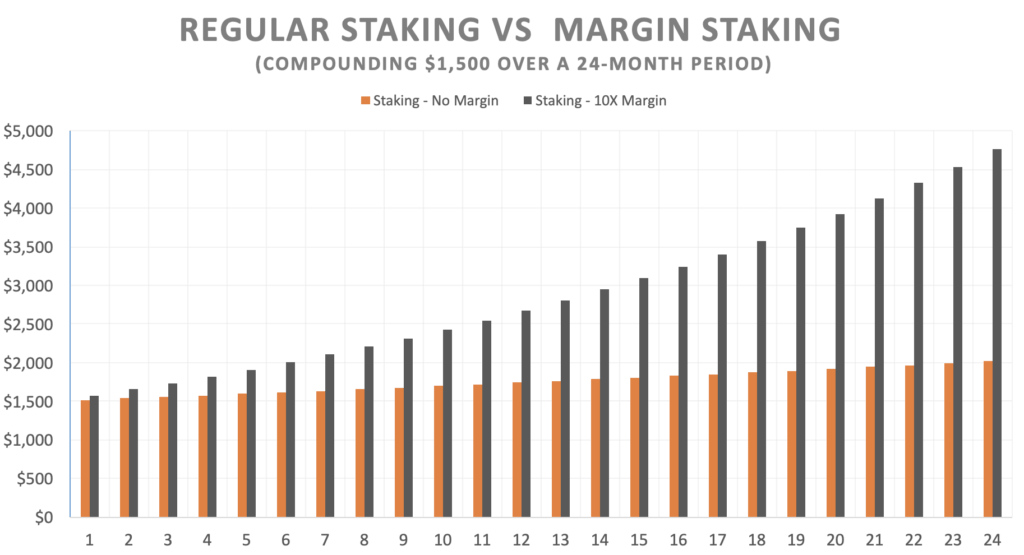 Margin Staking Risks
Cryptocurrencies are already very risky, and therefore adding margin to an already risky asset class makes this type the crypto instrument even riskier. The risks associated with cryptocurrency staking are thoroughly documented in our free staking guide,
Where to Margin Stake?
We have not identified any exchanges or platforms that offer Margin Staking as of yet. In theory, Margin Staking could be executed manually, although we believe the manual type should be avoided as the risks would be even higher. If anything, it would be prudent to wait until a cryptocurrency exchange begins to offer Margin Staking as a service since the entire process would be automated through their platform.
Exchanges or cryptocurrency platforms planning to roll out Margin Staking in the near future may want to give us a shout on info@coinmarketexpert.com
If you're interested in regular cryptocurrency staking then visit CoinMarketExpert's best staking coins page to compare the best staking rewards offered by various coins and their providers.