Bitcoin Price Analysis: BTC bullish trajectory intact despite ongoing shakeout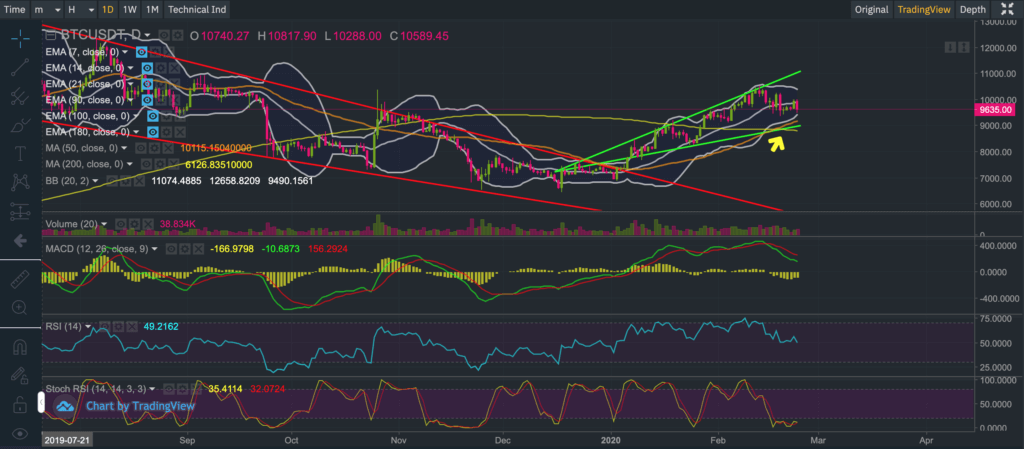 Disclaimer: All of the content written on CoinMarketExpert is unbiased and based on objective analysis. The information provided on this page should not be construed as an endorsement of cryptocurrency, a service provider or offering and should neither be considered a solicitation to buy or trade cryptocurrency. Cryptocurrencies carry substantial risk and are not suitable for everyone. See further disclaimer at the bottom of the page.
Flash Alert: Monday 24th February
What happened after our update on 17th February?
The bullish ascending channel that began in January is seemingly beginning to break down, as the overall price of Bitcoin begins to move sideways.
What does this mean? and should you be worried?
Let's take a few steps back. At the time of writing on Monday 17th February, the price of Bitcoin was trading at $9,452.62 following a weekly decline of circa 10%.
Sentiment on Tuesday saw a complete reversal, with BTCUSDT jumping 8% to an intra-day high of $10,250 in under 24-hours. BTCUSDT then attempted to surpass the $10,250 level again on Wednesday, although failure to break through its previous day high saw renewed selling pressure quickly re-emerge to knock BTCUSDT down by $900 to an intra-day low of $9,350.
Between Thursday and Sunday last week, Bitcoin made a slow and steady recovery to $9,990 before settling at $9,936. BTCUSDT then attempted to surpass the $9,990 level again today, although failure to break through its previous day high saw renewed selling pressure quickly re-emerge again to knock BTCUSDT down by $517 to an intra-day low of $9,473.
Since the overall price of Bitcoin has traded sideways on the week (and we are not seeing higher highs made on the daily charts anymore) there is some trepidation creeping back into the market.
So where do we stand from here?
A pattern is beginning to emerge, with lower highs seen over the last week and a half. We cannot discount the possibility of seeing a temporary period of lower lowers in the short term either although we believe that should not be construed as a bearish harbinger.
We want to point out it is a natural proclivity to go through a 'shake-out' phase at the beginning of a bull market cycle, particularly following a breakout of the magnitude we saw since the beginning of January. The various stages of a bull market cycle are clearly illustrated in the diagram below.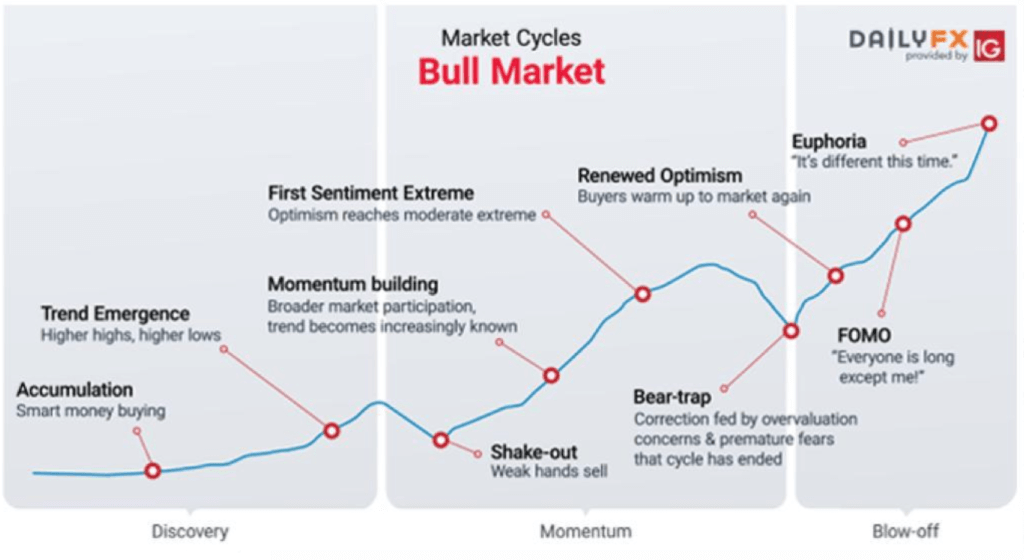 Bitcoin is likely to have entered a 'shake-out' phase that could in the worst-case scenario see a short-term drop to $9,000. However, in our base-case scenario, which we believe is a far more likely outcome, we expect to see BTCUSDT encounter strong support around the lower Bollinger band of $9,400 and the 50-day moving average of $9,500. As a matter of fact, we have already observed particularly strong buying activity emerging around the $9,500 level during last week's dip.
So in other words, we are expecting Bitcoin to trade sideways a little longer and believe this 'shake-out' period is indeed a necessary process that must pan out in order for Bitcoin to garner the 'momentum' that is required to break through a recent plateau of $10,500 and to continue on an upward trajectory.
Therefore, we fervently reiterate last week's big picture trends and our research indicating that Bitcoin is yet to enter the most bullish period of a bull market megacycle.
As per our previous updates, we reiterate to our growing audience that we do not have a crystal ball. We attempt to apply a combination of mathematics, fundamental and technical analysis to all of our updates in order to provide you with fresh and unique insights although at the end of the day there are no guarantees.
Our derived price scenarios for Bitcoin may not pan out and therefore we warn our growing audience to tread very carefully and at their own risk. Bitcoin is very risky (as you must all know by now) and past performance is not always indicative of the future.
If you enjoy reading our updates and analysis then start following us on Twitter.
Our next Bitcoin update will be published on Monday 2nd March 2020
Anyone interested in reading our previous updates may do so here as they remain valid and provide a good trail for anyone wanting to catch up.
If you're thinking about trading bitcoin then visit our bitcoin price analysis page. Here we periodically provide interesting bitcoin price insights and analyses that every crypto trader and investor should be aware of.