Bitcoin Price Analysis: The big move in BTC/USDT is materialising!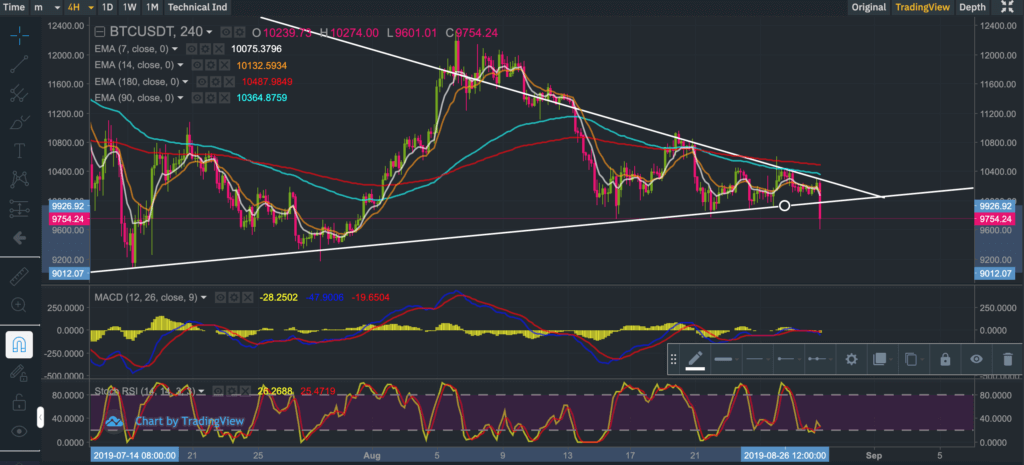 Flash Alert: Wednesday 28th August
The big move we were waiting for is materialising. You may read our previous Flash Alert dated Tuesday 27th August. This Flash Alert is a follow up that takes a closer look at the hourly BTC/USDT charts to identify key technical targets you should be aware of over the next 24 hours.
The price of BTC/USDT rose to $10,299 earlier today before plunging to $9,601 recently. BTC/USDT was trading at $9,754.24 at the time of writing following a bounce off its earlier low;
The rhetoric of our previous update was tilted to the bearish side, which has proved to be correct;
To be quite frank the breaching of the $9,850 level, where the 90-day EMA coincides on the daily chart, suggests Bitcoin is likely to suffer further selling pressure from this point;
In other words, we are even more bearish on BTC/USDT, especially over the next 24-48 hours and are eyeing $9,555 – $9,400 levels;
If BTC/USDT breaches $9,400 will see the price descend even further to $9,165 – $9,060. If support does not re-emerge at those levels and BTC/USDT is allowed to close below the $9,000 mark then we will see further declines to $8,760 – $8,567. The latter coincides with the 180-day EMA, and we all know what is very likely to happen if that level does not hold;
In the meantime, the Stochastic RSI (14,14,3,3) has just turned bearish on the daily chart and the MACD (12,26,9) has turned bearish as well;
Despite today's move in BTC/USDT, the bullish uptrend remains intact (at least for now);
With the Bitcoin halving expected in May 2020, it is possible for BTC/USDT to find a bottom sometime around October – November 2019, and by then hopefully not breach the 180-day EMA – the level that would flip the bullish uptrend into a full blown blood bath;
Historically, we have observed that it was great time to buy Bitcoin around 6 months before the halving date – which is not too far away. Read our observation for Litecoin and Bitcoin here;
A follow up post to this Flash Alert may be found here.
If you enjoy reading our updates and analysis then start following us on Twitter.
If you're thinking about trading bitcoin then visit our bitcoin price analysis page. Here we periodically provide interesting bitcoin price insights and analyses that every crypto trader and investor should be aware of.