Bitcoin Price Analysis: support seen emerging around the 50DMA
2 min read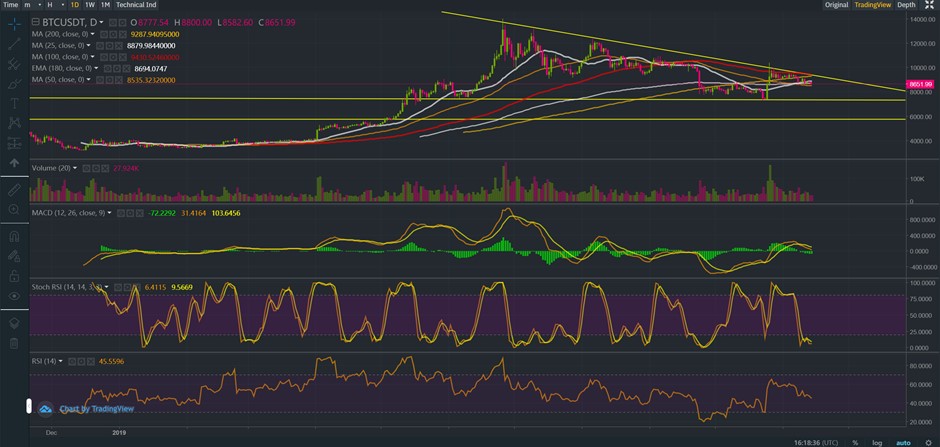 Flash Alert: Thursday 14th November
BTC nears 50-day SMA in our base-case scenario
Since our previous update on Monday, the price of Bitcoin has continued to drift lower, as anticipated, moving towards the 50-day simple moving average.
The price of BTCUSDT neared the 50-day simple moving average of $8,536 to reach an intra-day low of $8,582.6 before seeing buyers re-emerge to prop up the price to $8,651, where it is currently trading at the time of writing.
The fact we are seeing some support emerge at current levels lends some support the base case scenario provided in our Monday update – at least for the time being.
We also note the 14-day stochastic RSI is currently in oversold territory. Whilst it is currently still emitting a bearish signal, this indicator may turn bullish within the next 24-48 hours if buyers continue to support the price.
And should a bounce materialise, bullish traders will want to see sufficient momentum build up to breach the 200-day moving average, which currently resides at $9,288. If that hurdle is surpassed, we would turn our attention to the $9,500 – $9,600 levels.
At this juncture we are watching closely to see whether the base case scenario is able to hold up since sentiment is becoming jittery and remains very much skewed to the downside.
Over the last 9 hours buyers have seen buyers entering the market to support Bitcoin at around the $8,600 level although at the same time there has been some resistance at the 25-hourly moving average, which is beginning to trend lower. This castes some doubt over Bitcoin's ability to continue attracting buyers.
If our base case scenario fails to hold our attention would shift towards the worse and worst case scenarios descibed in our update on Monday.
As per our previous updates, we remind our audience that we do not have a crystal ball. We attempt to apply a combination of mathematics, fundamental and technical analysis to our updates to provide you with fresh and unique insights although at the end of the day there are no guarantees.
Our expected scenarios may be completely wrong and therefore we warn our growing audience to tread very carefully and their own risk. Bitcoin is very risky (as you must all know by now) and reiterate that past performance is never indicative of future performance.
If you enjoy reading our updates and analysis then start following us on Twitter now join our new Reddit Community.
A follow up update is available here.
Anyone interested in reading our previous updates may do so here as they remain valid and provide a good trail for anyone wanting to catch up.
Develop your understanding of trading with our free educational guide that walks you through the five rules you need to master before trading crypto.