Bitcoin Price Analysis: failure to close above $7,400 suggests resurrection of downside pressures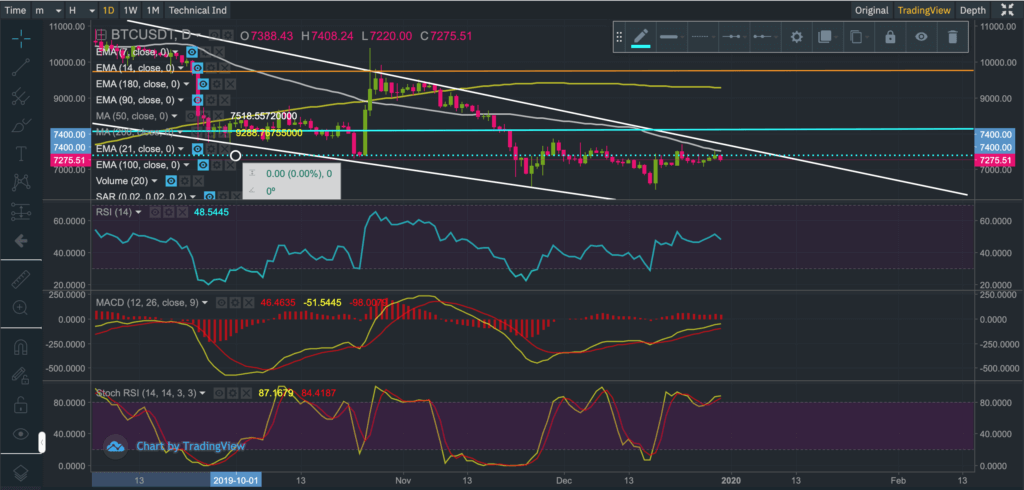 Flash Alert: Monday 30th December
What happened after our update on 16th December
At the time we had published our update, on 16th December, the price of Bitcoin was trading at $7,106. Two days later, the price had dipped to a low of $6,436, confirming our view that Bitcoin would imminently drift lower to retest the November lows.
But $6,436 is only 6.8% away from the bottom identified in our analysis. In our log price research, we had noted that Bitcoin may be experiencing a bullish consolidation within a bull market megacycle, which historically seems to begin one year before the halving date (or 'halvening' as some of you prefer to call it).
Our research noted that Bitcoin could find a bottom somewhere between $6,000 – $5,000. So when we saw the price of BTCUSDT rally by nearly 20% to $7,695 the moment it came close to the upper range price it confirmed to us that there are indeed some big buyers willing to support Bitcoin at the levels we had identified.
We also note that our fundamental research on Bitcoin's hash rate had shown a correlation between the price of Bitcoin and its hash rate. We note that if the Bitcoin hash rate reverts back to a historical level of 40M – 50M, then the price of Bitcoin could bottom somewhere between $5,700- $7,100, which isn't miles away from the observations identified in our log price analysis. But the hash rate currently is much higher, approaching 100M, which actually suggests that Bitcoin may be fundamentally undervalued even at current levels.
With the Bitcoin halving expected around 13th-14th May 2020, is BTCUSDT ready to shoot to the moon?
For us to become more bullish on the price trajectory of Bitcoin, we would want to see BTCUSDT close above $7,400 level and then breach the 50-day moving average, which currently resides around $7,500. However, that does not seem likely from where we stand at the moment.
This also implies that we do not believe Bitcoin has found a bottom just yet either – it's just too premature!
BTCUSDT has been encountering resistance around the 50-day simple moving average over the past week although some good support at the 14 and 21 exponential moving averages as well. This is interesting because these moving averages are converging, which means Bitcoin has to make a decisive move either to the upside or downside sometime soon.
Given Bitcoin's reluctance to close above $7,400 (let alone the 50-day simple moving average), we believe the probability is skewed more towards the downside at this juncture. We also note that the 14-day stochastic RSI is looking overbought as well, and this usually signals some selling pressure may be underway.
At the time of writing, the price of BTCUSDT was trading at $7,275, up from an earlier intraday low of $7,220 and down from an earlier intraday high of $7,408.
In the greater scheme of things, nobody has a crystal ball to know precisely where Bitcoin is going to fall to. However, if the research we conducted contains any validity, it could suggest Bitcoin is not too far away from a potential bottom. There is also some evidence of strong buying activity flowing back to Bitcoin as it approaches the $6,000 level.
This raises some questions over the risk/reward tradeoff of being trader versus being a HODLER. In other words, a cost averaging approach, picking up small amounts of Bitcoin on the dips, could prove worthy of consideration at this juncture.
As per our previous updates, we reiterate to our audience that we do not have a crystal ball. We attempt to apply a combination of mathematics, fundamental and technical analysis to our updates to provide you with fresh and unique insights although at the end of the day there are no guarantees.
Our derived price scenarios for Bitcoin may not pan out and therefore we warn our growing audience to tread very carefully and their own risk. Bitcoin is very risky (as you must all know by now) and past performance is not always indicative of the future.
If you enjoy reading our updates and analysis then start following us on Twitter.
The next Bitcoin update will be published on Monday 6th January 2020 and take this opportunity to wish you all a Prosperous New Year!
Anyone interested in reading our previous updates may do so here as they remain valid and provide a good trail for anyone wanting to catch up.
If you're thinking about trading bitcoin then visit our bitcoin price analysis page. Here we periodically provide interesting bitcoin price insights and analyses that every crypto trader and investor should be aware of.