Bitcoin Price Analysis: BTC/USDT poised for a big move!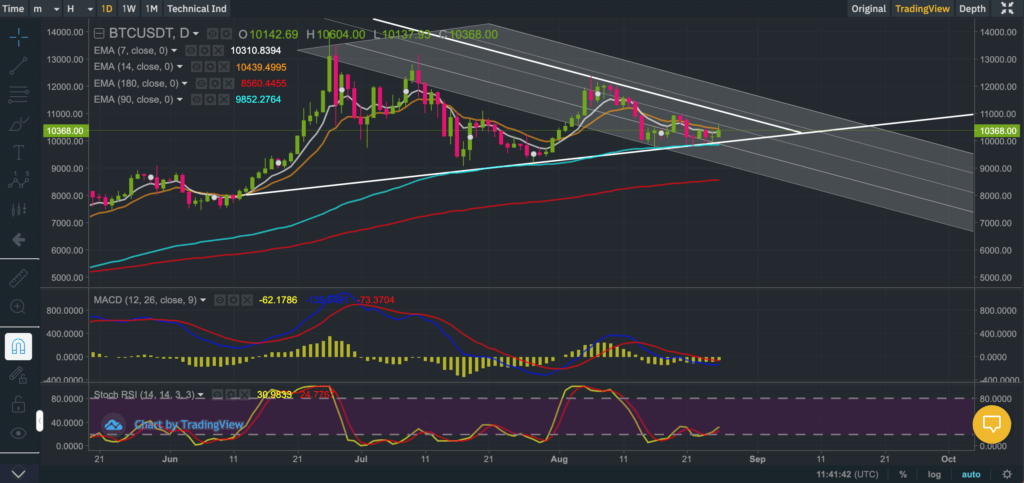 Flash Alert: Monday 26th August
The price of Bitcoin has been rangebound between $9,750 and 10,750 over the past week although very soon the bulls and the bears will have to make up their minds.
The price of BTC/USDT at the time of writing was $10,386 on Binance;
As identified on our Flash Alert on Tuesday 13th August, the price of BTC/USDT reacted to the downside after failing to find sufficient buyers to maintain the price above the pivotal $10,750 level. Immediately after breaching this technical target, we saw the price of BTC/USDT knocked all the way past $10,000 barrier and straight to the $9,750 mark were buyers had reappeared. Such move could have seen BTC/USDT fall as low as $9,000 and quite possibly instigate further selling pressure;
Currently, the longer-term bullish uptrend has remained firmly intact with the 90-day EMA firmly above the 180-day EMA;
The shorter term MACD (9,12,26) continues to remain somewhat bearish although this bearish momentum is decelerating;
The price of BTC/USDT has flirted with the 14-day EMA, which currently resides at the $10,440 level. If BTC/USDT can close above this level then that may pave way to a new bullish price trend;
The Stochastic RSI (14,14,3,3) indicator has in fact already turned bullish;
If BTC/USDT closes below the 90-day EMA of $9,852 then it is very likely that we will see further downside price pressure, which may threaten to derail the Bitcoin's uptrend – so keep a watchful eye on this level. If on the other hand, BTC/USDT is able to close above $10,440 ( the 14-day EMA) and maintain ongoing support above that level, then we will most likely see the price of BTC/USDT march higher from thereon.
A follow up post to this Flash Alert may be found here.
If you enjoy reading our updates and analysis then start following us on Twitter.
If you're thinking about trading bitcoin then visit our bitcoin price analysis page. Here we periodically provide interesting bitcoin price insights and analyses that every crypto trader and investor should be aware of.