Bitcoin Price Analysis: BTC snaps bearish streak, recovering above 7-day EMA
2 min read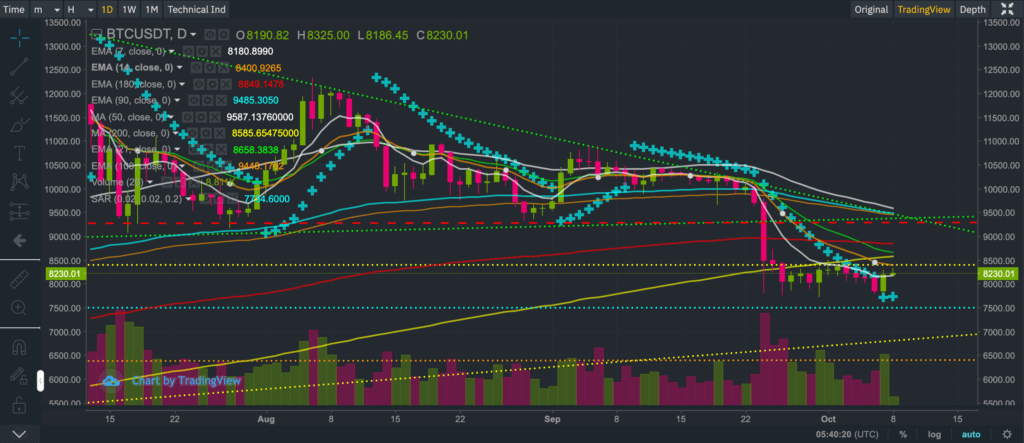 Flash Alert: Tuesday 8th October
Bitcoin snapped a four day losing streak yesterday, rebounding to an intra-day high of $8,300 before settling at $8,190.
The rebound has seen the price of Bitcoin break through the 7-day EMA, a level that had been exerting pressure on Bitcoin for the past four weeks, with decent volumes.
If the 7-day EMA of $8,183 continues to act as support for Bitcoin, the next target to test will be the 200-day moving average, which currently resides at $8,585.
Breaking the 200-day moving average would provide Bitcoin with the ammunition required to rise to around $9,300- $9,400, although once it reaches this range we anticipate significant selling pressure to re-emerge.
The overall bearish trend that Bitcoin has been stuck in since its peak in Q2 of this year is very likely to resume around the $9,300 – $9,400, so tread very carefully for now.
At the time of writing today, BTCUSDT was trading at $8,230 following an earlier intra-day high of $8,325 and low of $8,186.45.
The Stochastic RSI and MACD crossovers on the daily chart are both bullish while the 14-day RSI has moved out of oversold territory. These indicators suggest there is sufficient momentum built up to support a strong rally in Bitcoin although we would prefer to see further evidence of support above the 7-day EMA for confirmation.
Short-term bullishness is tempting for traders while HODLERS may be considering taking this opportunity to average down.
However, since the overall price trend still remains bearish, there will likely be better opportunities to pick up Bitcoin at even lower prices for those patient HODLERs.
As always, trade carefully. Apply sound risk management!
Anyone interested in reading our previous Flash Alerts may do so here as they remain valid and provide a good trail for anyone wanting to catch up with recent price action.
A follow up post to this Flash Alert may be found here
If you enjoy reading our updates and analysis then start following us on Twitter now join our new Reddit Community.
Develop your understanding of trading with our free educational guide that walks you through the five rules you need to master before trading crypto.