Bitcoin Price Analysis: BTC slips, with $8K becoming a resistance barrier
2 min read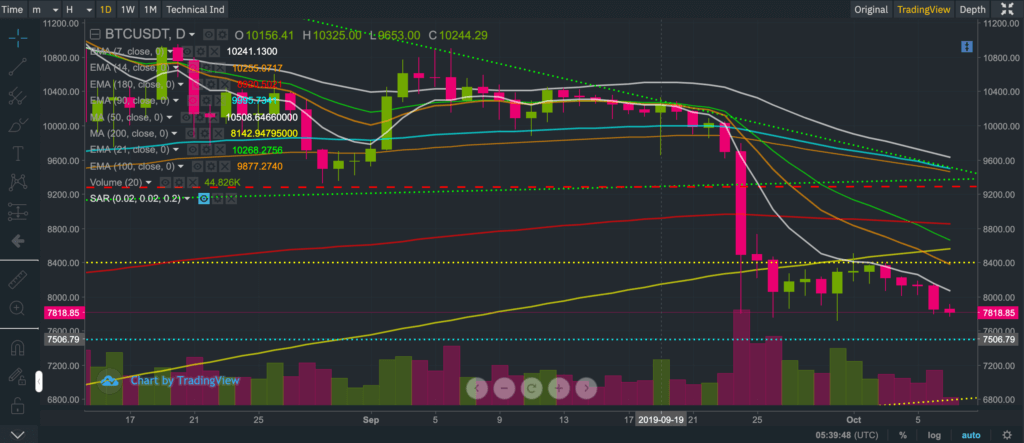 Flash Alert: Monday 7th October
The $8,000 level caved in over the weekend, despite acting as strong support on multiple occasions.
At the time of writing today, BTCUSDT was trading at $7,818 following an earlier intra-day high of $7,907.86 and low of $7,762.
There are numerous conflicting signals at the moment, with certain indicators suggesting Bitcoin may stage a strong rebound while others hinting of a pronounced decline in store.
The 14-day moving average has crossed the 200-day moving average from above. This confirms the bearish trend will continue although if history repeats itself we may see the bulls re-emerge in an attempt to regain turf.
The Stochastic RSI currently shows a slight bullish crossover on the daily chart, although given the proximity of the crossovers, they could easily turn bearish again depending on where the price of Bitcoin swings.
In the meantime, the RSI remains oversold on the daily chart while in contrast the MACD crossovers continue to show a bearish signal.
As a matter of fact, the last time MACD lines where at these level on the daily charts, a deeper and more pronounced sell off had taken place.
If BTCUSDT stages a rebound, the bulls will want to see the price recover above the 7-day EMA on the daily charts, currently at $8,073.
However, we continue to reiterate our bearish view on the overall price trend of Bitcoin. Our target for BTCUSDT is $7,500, which is an important support level.
Depending on the volumes and price action, we will re-evaluate the situation when BTCUSDT reaches $7,500. But if this level is violated then we would expect to see the price of Bitcoin test $6,200 – $6,500.
Anyone interested in reading our previous Flash Alerts may do so here as they remain valid and provide a good trail for anyone wanting to catch up with recent price action.
A follow up post to this Flash Alert may be found here.
If you enjoy reading our updates and analysis then start following us on Twitter now join our new Reddit Community.
Develop your understanding of trading with our free educational guide that walks you through the five rules you need to master before trading crypto.