Bitcoin Price Analysis: BTC stuck around 7-day MAs, suggests indecisiveness
2 min read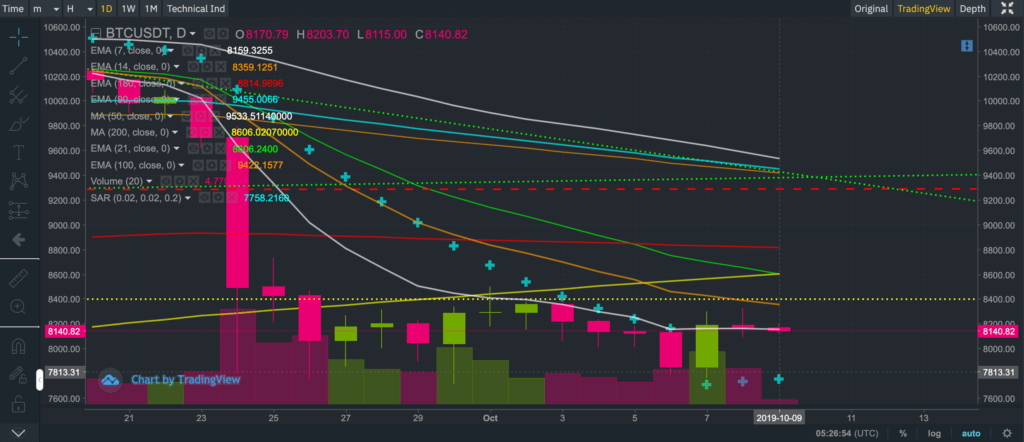 Flash Alert: Wednesday 9th October
Bitcoin currently seems to be stuck somewhere around the 7-day simple and exponential moving averages, as may be seen from the chart above.
It's not very often that you get to see such indecision.
Bulls would argue that Bitcoin finding its feet again above $8,000 level and stubbornly maintaining buyers around the 7-day moving averages is actually a show of strength.
Bears would argue that Bitcoin's inability to find solid grounding at the short-term moving averages is actually a sign of weakness and claim that Bitcoin is at risk of caving in.
Both sides have a point actually. Given the level of indecision its probably best to wait it out as it could really go both ways.
Notwithstanding, we have been (and continue to be) bearish on the overall price trajectory of Bitcoin although at the same time we are surprised that a stronger bounce hasn't materialized yet.
As a matter of fact, we had signaled the potential of a strong bounce in our update yesterday.
At the time of writing, BTCUSDT was trading at $8,140 following an earlier intra-day high of $8,203 and low of $8,115.
Anyone interested in reading our previous Flash Alerts may do so here as they remain valid and provide a good trail for anyone wanting to catch up with recent price action.
A follow up post to this Flash Alert may be found here
If you enjoy reading our updates and analysis then start following us on Twitter now join our new Reddit Community.
Develop your understanding of trading with our free educational guide that walks you through the five rules you need to master before trading crypto.