Bitcoin Price Analysis: BTC rebounds to 200-DMA although rally stalls
2 min read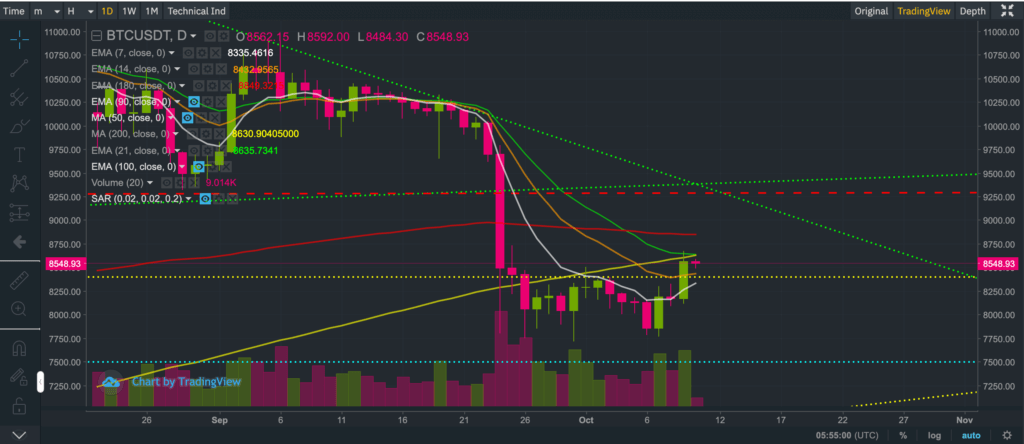 Flash Alert: Thursday 10th October
As alluded to in our recent updates, Bitcoin eventually did stage that strong rebound we were expecting, rallying towards the 200-day simple moving average yesterday before settling at a price that was marginally below.
Currently the 200-day moving average is seen acting as major resistance level for Bitcoin.
At the time of writing today, BTCUSDT was trading at $8,548.93, which resides just below the 200-day moving average of $8,630.90.
BTCUSDT had hit an earlier intra-day high of $8,592 and low of $8,484.30.
It is very likely that we will see Bitcoin rangebound today, trading somewhere between the 14-day EMA of $8,432 and the 200-day simple moving average of $8,630.90.
The relief rally has seen the 14-day Stochastic RSI move into overbought terrain, suggesting upside momentum is expected to slow, although currently the crossovers are still bullish.
Meanwhile, the MACD (12, 26,9) is currently showing a bullish crossover, suggesting sentiment is skewed more to the upside.
Over the next day or two we may see Bitcoin attempt to climb to higher grounds. But will it manage?
If BTCUSDT manages to close above the 200-day moving average, the next point of call is likely to be around the $9,300- $9,400 range, although once it reaches those levels we would expect strong selling pressure to re-emerge.
Failing to close above the 200-day moving average will likely see Bitcoin hit our first target of $7,500 much sooner of course, and quite possibly fall within the $6,200 – $6,500 range.
Overall, we continue to reiterate our bearish stance over the overall price trajectory of Bitcoin – at least for the time being.
A follow up post to this Flash Alert is available here.
Anyone interested in reading our previous Flash Alerts may do so here as they remain valid and provide a good trail for anyone wanting to catch up with recent price action.
If you enjoy reading our updates and analysis then start following us on Twitter now join our new Reddit Community.
Develop your understanding of trading with our free educational guide that walks you through the five rules you need to master before trading crypto.