Bitcoin Price Analysis: BTC plummets following triangle squeeze
2 min read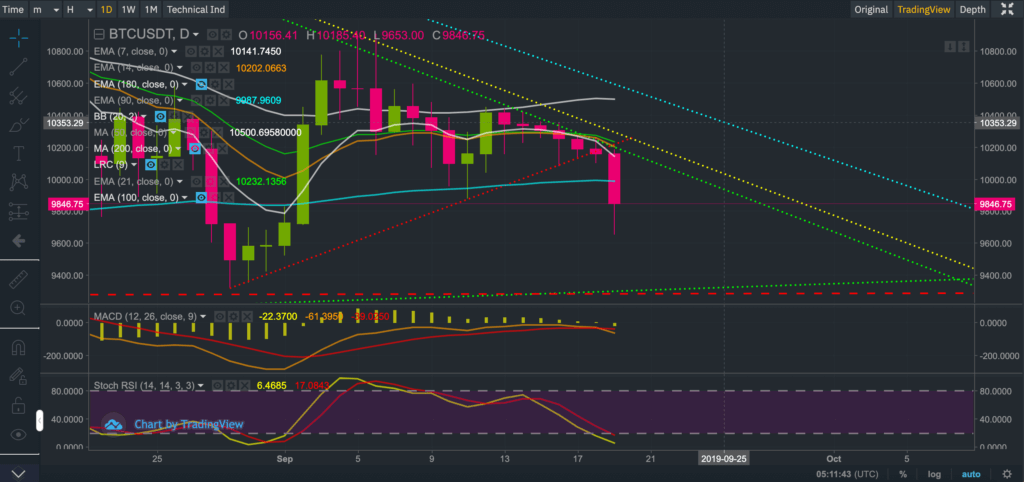 Flash Alert: Thursday 19th September
Bears prevailed overnight with BTCUSDT plummeting to an intra-day low of $9,653 during the Asian trading session following an intense tug of war with the bulls.
A few hours before the selloff we had announced our bearish conviction on Twitter: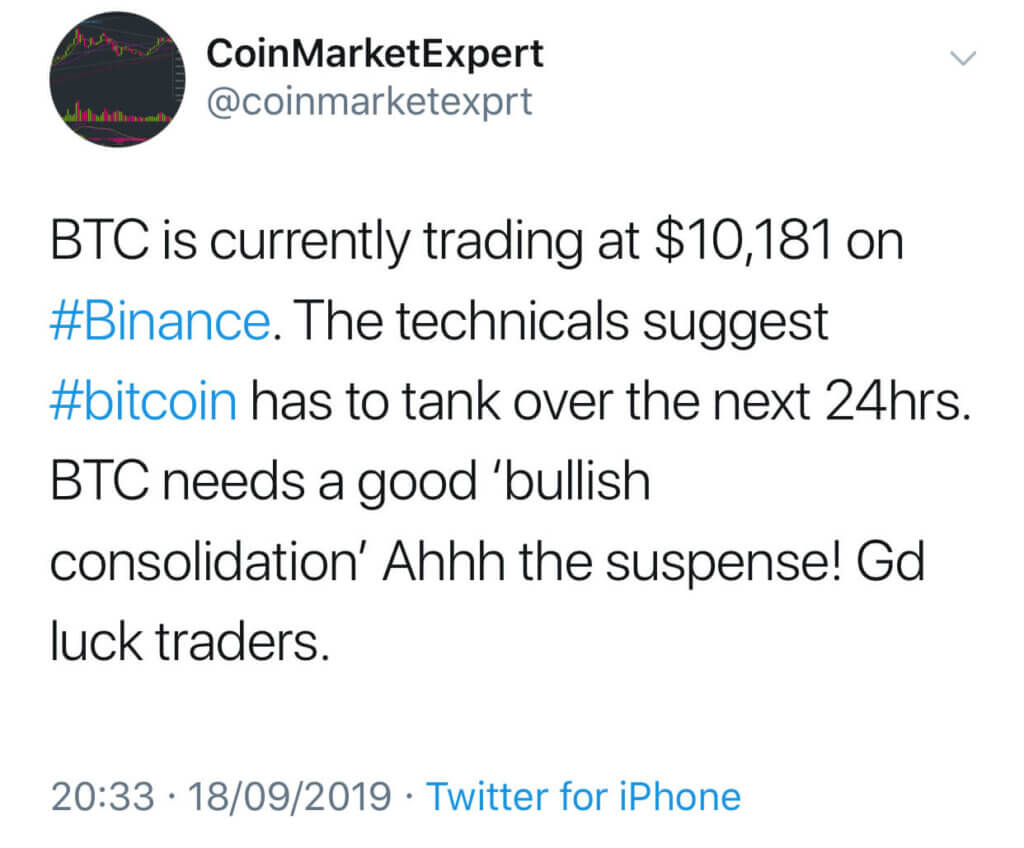 Our post on Reddit was met with many negative reactions by technical analysis skeptics.
We want to emphasis that technical analysis is an art that is valuable although it takes time and persistence to understand and perfect. And it should always be used in conjunction with other indicators and sound risk management.
Bitcoin has been trading in a symmetrical triangle formation since the beginning of the month, and this type of pattern typically signals market indecision.
Bitcoin's failure to breach resistance at the upper levels of the triangle on multiple occasions was perceived as a major sign of weakness and may have encouraged HODLERs and traders alike to take some profits, perhaps with the intention of participating in the altcoin rebound.
However, what we are seeing today is just how sensitive the rest of the market is since the selloff in Bitcoin quickly spread to the altcoin market.
Currently, Bitcoin is seen rebounding off its earlier lows. At the time of writing, BTCUSDT was trading at $9,846.
It is very likely for Bitcoin to continue its recovery today, as the Stochastic RSI is now in oversold territory, although we note the crossovers haven't yet turned bullish on the daily charts. Furthermore, Bearish crossovers on the daily MACD charts are now confirmed, so any rebound is likely to be met with renewed selling pressure along the way.
Traders will be eager to see whether BTCUSDT can regain ground above the 90-day exponential moving average, currently around $9,988 mark.
In the meantime, our previous Flash Alerts may read here as they provide a good trail for anyone wanting to catch up with recent price action.
A follow up post to this Flash Alert may be found here.
If you enjoy reading our updates and analysis then start following us on Twitter now join our new Reddit Community.
Develop your understanding of trading with our free educational guide that walks you through the five rules you need to master before trading crypto.