Bitcoin Price Analysis: BTC bounces back to $10,000
2 min read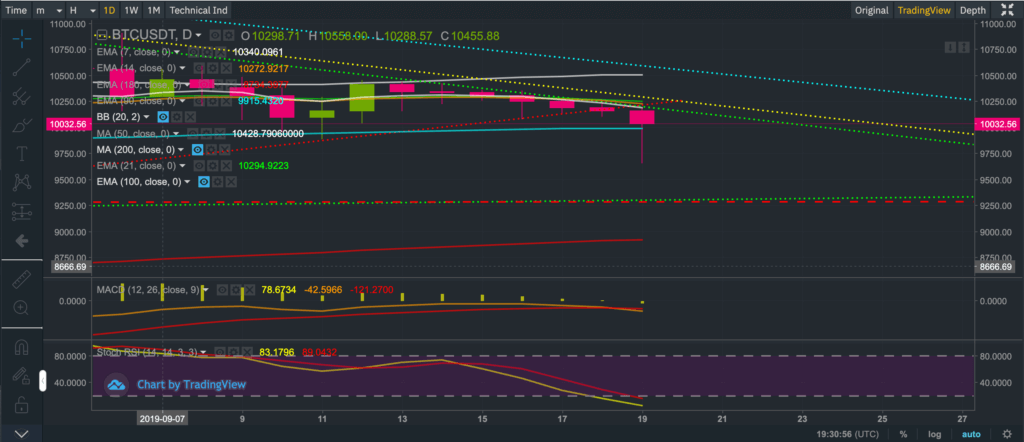 Flash Alert: Thursday 19th September (end of day update)
Bitcoin continued on a path to recovery following a tumultuous plunge to $9,653 during the Asian trading session earlier today.
At the time of writing, BTCUSDT was trading at $10,032. A rebound of this magnitude is typically unusual following such a tumultuous drop but it may be exactly what Bitcoin needs for the bullish trend that started in Q1 of this year to resume.
We are waiting to see whether BTCUSDT is capable of climbing to its 7, 14, 21 exponential moving averages, which currently reside between $10,272 – $10,340.
If BTCUSDT rises to its short-term exponential moving averages and manages to maintain support above those levels, then we will most likely see an explosive rally materialise, with $10,500 the next easy target.
In the meantime, we note the bearish crossovers that we saw earlier in the day for MACD could turn bullish the moment the price reaches its short-term exponential moving averages. Furthermore, the stochastic RSI, which is already in oversold territory, could see bullish crossovers form at that point as well.
There is hardly ever a dull moment with Bitcoin! Traders, be careful out there!
Anyone interested in reading our previous Flash Alerts may do so here as they continue to remain valid and provide a good trail for anyone wanting to catch up with recent price action.
A follow up post to this Flash Alert may be found here.
If you enjoy reading our updates and analysis then start following us on Twitter now join our new Reddit Community.
Develop your understanding of trading with our free educational guide that walks you through the five rules you need to master before trading crypto.