Bitcoin Price Analysis: time for bulls and bears to deliberate
2 min read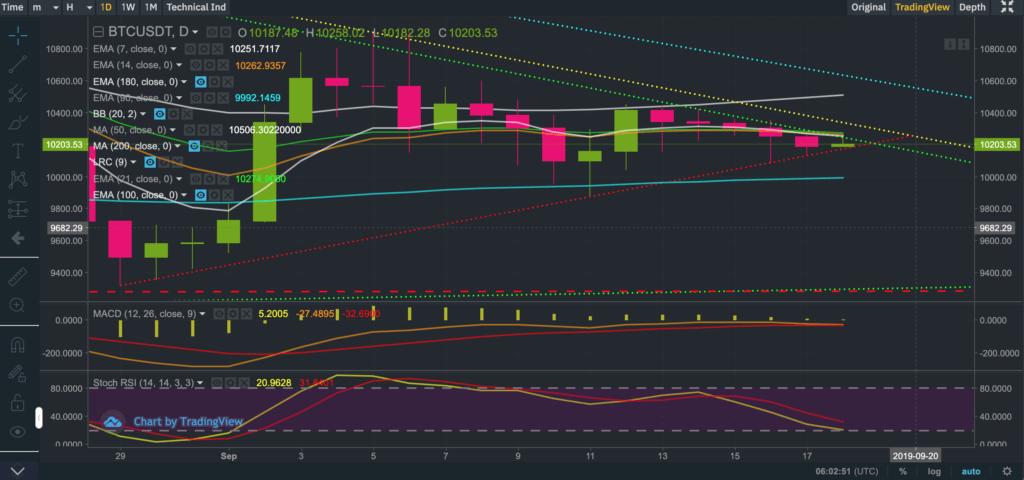 Flash Alert: Wednesday 18th September
Bitcoin has been religiously trading between support and resistance levels of the symmetrical triangle formation.
BTCUSDT traded in a range of $147 reaching a high of $10,275 and a low $10,128 yesterday whilst today we are seeing BTCUSDT trade in a narrower range of $103, with gains capped at a high of $10,258 and lows of $10,182.
As the chart above illustrates, resistance coincides with the 7,14, 21 exponential moving averages as well as the upper line of the symmetrical triangle formation whereas support is seen precisely at the lower lines.
With BTCUSDT now at the very end of this formation, we expect the bulls and bears to deliberate on a direction. It is possible the Federal Reserve interest rate decision later today could act as a catalyst for a major move in Bitcoin.
The Federal Reserve is expected to cut rates by 25 basis points later today.
Anyone planning to trade Bitcoin today may want to wait on the sidelines until a major breakout occurs since this move will confirm the new short-term direction.
Others may be inclined for a riskier strategy and take a direction before any breakout occurs, placing guaranteed stop losses outside of key support or resistance levels (depending on whether its a bullish/long or bearish/short view that is being taken) to ride any spikes that are likely to occur when a breakout does happen. The payout of this strategy is binary.
Traders that are bullish on the price of Bitcoin may want to see whether BTCUSDT can garner more buyers above its 7, 14, 21 exponential moving averages on the daily charts whereas bears will want to see whether support at the lower ascending levels on the symmetrical triangle formation (red dotted line) fail.
We note that our favorite MACD and the Stochastic RSI indicators continue to send conflicting signals, with the former showing a decelerating bullish crossover and the latter approaching oversold territory although the crossovers continue to emit a bearish signal.
Our previous Flash Alerts remain valid and may be read here. They also provide a good trail for anyone wanting to catch up with recent price action.
A follow up post to this Flash Alert may be found here.
If you enjoy reading our updates and analysis then start following us on Twitter now join our new Reddit Community.
Develop your understanding of trading with our free educational guide that walks you through the five rules you need to master before trading crypto.