Bitcoin Price Analysis: BTC flirts with death cross on its 11th anniversary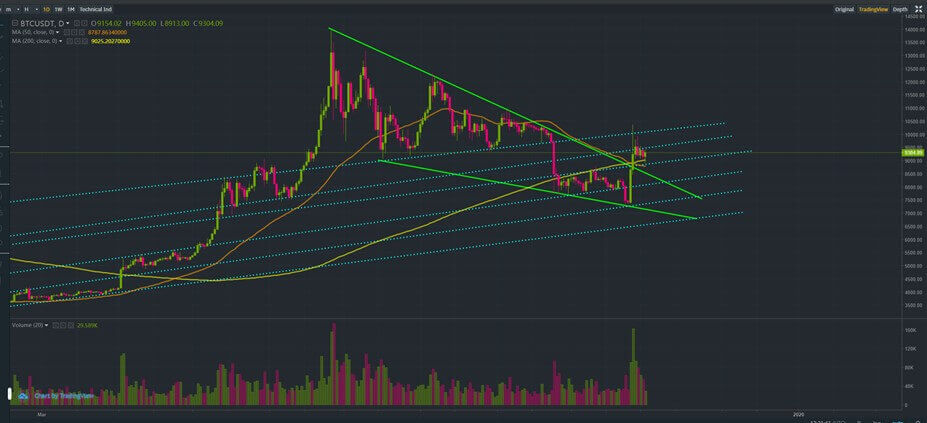 Flash Alert: Thursday 31st October
Bitcoin flirting with death cross raises tension
Anxiety has been building up as the price of Bitcoin partially retraced gains made earlier this week, temporarily dipping below the 200-day simple moving average of $9,024 today.
During the early trading period the price of Bitcoin temporarily breached the 200-day moving average, raising tensions for bullish traders who began eyeing the 50-day simple moving average of $8,783 – deemed the last level of defense.
Luckily for the bulls, sentiment recovered around midday today, with the price of Bitcoin seen rising past the $9,400 level within a short period of time, giving the bulls the upper hand again.
Price action is being watched very closely at the moment since the breaching of the 50-day simple moving average would put the bears firmly back in charge.
The blue dotted lines we plotted on the chart above identifies key historical levels that have either acted as support or resistance levels for BTCUSDT. Whether by coincidence or not, the channel line is running very close to the 50-day simple moving average (support) and the upper limit (resistance), appearing around the $9,490-$9,500 – therefore bulls will be expecting Bitcoin to break through these levels for further upside confirmation.
At the time or writing this update, the price of BTCUSDT was trading at $9,304 following an earlier intra-day high of $9,405 and low of $8,913.
Bitcoin futures market remain in contango
If we look at Bitcoin futures price traded on CME and on ICE's Bakkt, we may see the price remaining in contango, suggesting market participants expect the spot price to move higher over time.
We haven't analysed the daily gradient changes although so far the bias for Bitcoin remains tilted towards the upside.
Kraken BD is bullish on Bitcoin
In the meantime, we note the Director of Business Development at the Kraken Digital Asset Exchange, Dan Hedl recently Tweeted that Bitcoin is "perfectly positioned for a super cycle."
Whilst the 'wolf of wall street' themed Tweet risks emitting the unintended message, it caught our attention because our in house research, which had analysed Bitcoin's historical log price chart performance, had concluded that Bitcoin appears to be in a bull market mega cycle.
Potential halvening implications for Bitcoin Cash
Dan also warned on Twitter that "the halvening will be catastrophic for Bitcoin Cash".
He explained that as the block reward halves, Bitcoin Cash miners will become unprofitable and many of them will switch to Bitcoin (BTC) since the hashing algorithm is the same. This means the BCH network could become vulnerable to a 51% attack.
Bitcoin 11th anniversary
Last but not least, we note that Bitcoin turns 11 years old this Halloween. The white paper called "Bitcoin: A Peer-to-Peer Electronic Cash System" was published by its pseudonymous founder Satoshi Nakamoto on October 31st 2008.
Our take on Bitcoin
We recently turned bullish on Bitcoin, as may be seen in our previous report issued on Monday.
Bitcoin's bounce from today's low is encouraging and indicates to us that it remains supported.
However, at the same time we urge our growing audience to not ignore the bearish death cross formation. As long as the price of Bitcoin remains above the death cross region the 50 and 200 day simple moving averages will start to converge again to form a golden cross, which is typically a harbinger of further gains.
We stress typically, because we have all seen what happened to the price of Bitcoin when the death cross initially appeared.
In the meantime, we reiterate that we do not have a crystal ball and past performance is not indicative of future performance.
If you enjoy reading our updates and analysis start following us on Twitter.
A follow up update is available here.
Anyone interested in reading our previous updates may do so here as they remain valid and provide a good trail for anyone wanting to catch up.
If you're thinking about trading bitcoin then visit our bitcoin price analysis page. Here we periodically provide interesting bitcoin price insights and analyses that every crypto trader and investor should be aware of.