Bitcoin Price Analysis: BTC trades sideways after avoiding potential exodus!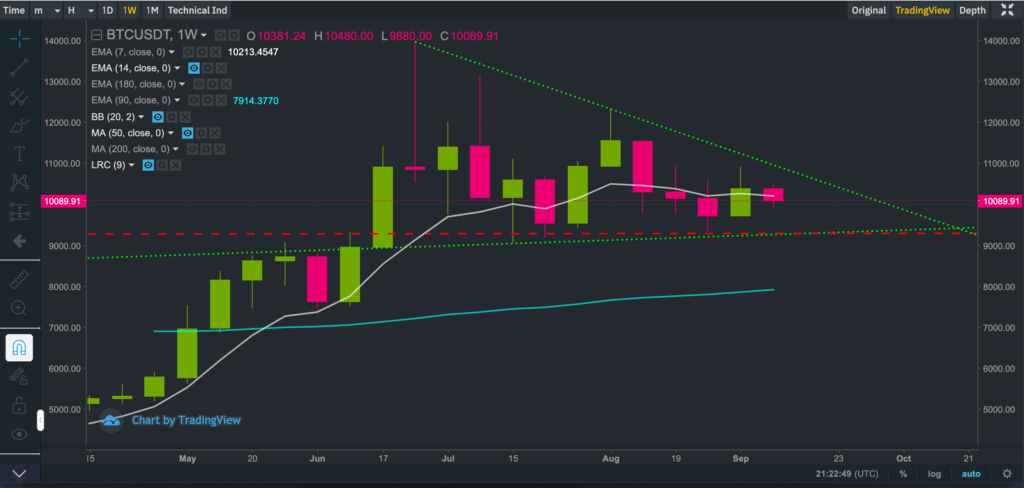 Flash Alert: Wednesday 11th September (end of day update)
Bitcoin traded sideways for most of the day following an early morning slide that saw BTC a hairline away from pivotal levels.
Bitcoin traded at $10,089.91 at the time of writing following a rebound from an earlier low of $9,880. This is a low that was seen on two occasions recently – once at the beginning of the month and another at the end of August – and on both occasions major moves were instigated after the price of Bitcoin had closed through the $9,860-$9,880 levels.
At the end of August BTCUSDT had plummeted around $540 to a low of $9,320 following a close below the $9,860 level on the 4-hourly chart. BTCUSDT had consequently found support between $9,320 and 9,400 levels before making a gradual recovery.
In the meantime, we are observing that Bitcoin is finding some support above its 200 period moving average on the hourly charts. This suggests BTCUSDT may experience a temporary reprieve and possibly retest $10,300 some time after the release of this post.
We note, nonetheless, the short-term bias remains very much tilted to the downside, so any gains are likely to see renewed selling pressure.
Our overall view on BTCUSDT remains bullish since the overall trend seen since Q1 has not been violated, despite recent trepidation and bearish views in the media. If anything, it is possible a good knock back to the $9,320-$9,400 levels could help Bitcoin stage a powerful rebound with sufficient momentum to smash through the resistance levels that have held it hostage within the current descending wedge formation.
Meanwhile, previous Flash Alerts continue to remain very relevant and may be viewed here.
A follow up post to this Flash Alert may be found here.
If you enjoy reading our updates and analysis then start following us on Twitter now join our new Reddit Community.
If you're thinking about trading bitcoin then visit our bitcoin price analysis page. Here we periodically provide interesting bitcoin price insights and analyses that every crypto trader and investor should be aware of.