Winklevoss twins claim Bitcoin is materially 'Undervalued'
"Our thesis is that bitcoin is gold 2.0 and so until it has a market cap of $7 trillion, which is the size of gold, it's a very under-valued asset, so I think people are waking up to that," said Tyler Winklevoss in a recent interview with CNBC.
The media has been littered with price predictions for Bitcoin, with many referring to it as a 'digital currency' and others as 'digital gold' or 'gold 2.0' in a bid to inflate the price.
The latter seems to be more frequently referenced during periods when the price of Bitcoin is rising to intentionally create a connection between the price of Bitcoin and the value of gold.
So in true spirit, CoinMarketExpert has re-engineered a popular analysis that relates the historical market capitalisations for both gold and Bitcoin.
What is a gold market capitalisation?
Let it be known that we have never (nor ever heard of any decent city banker for that matter) make reference to a 'gold market capitalisation'. But times are clearly changing!
The World Gold Council estimates around 190,040 metric tonnes of gold has been mined throughout history – and this supply isn't growing apparently.
So if we use that as a proxy for 'circulation supply' and apply the latest gold spot price of $1,395.39 per ounce, a hypothetical gold 'market capitalisation' of $8.5 trillion is derived (since there are 32,150.75 troy ounces in 1 metric tonne).
Note, the market capitalisation of gold is currently NOT $7 trillion as the spot price has continued to increase.
The Gold / Bitcoin market capitalisation ratio
If we divide the market capitalisation of gold with the same for Bitcoin, it it possible to obtain a historical gold/bitcoin market capitalisation ratio.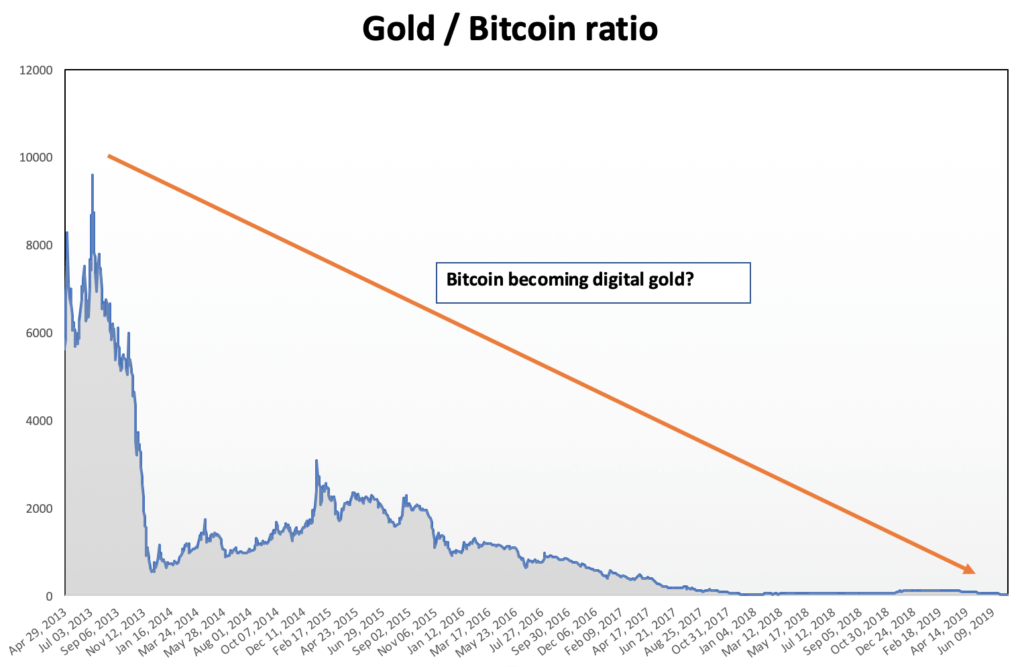 The graph shows this ratio declining over time, indicating the gap between the value of gold and Bitcoin is narrowing.
And if we take a closer look at the next graph, it is possible to see the ratio falling close to 38x on 9th July 2019, and as we write this article, it has narrowed even further to 37x as the price of Bitcoin continues to outperform the price of gold.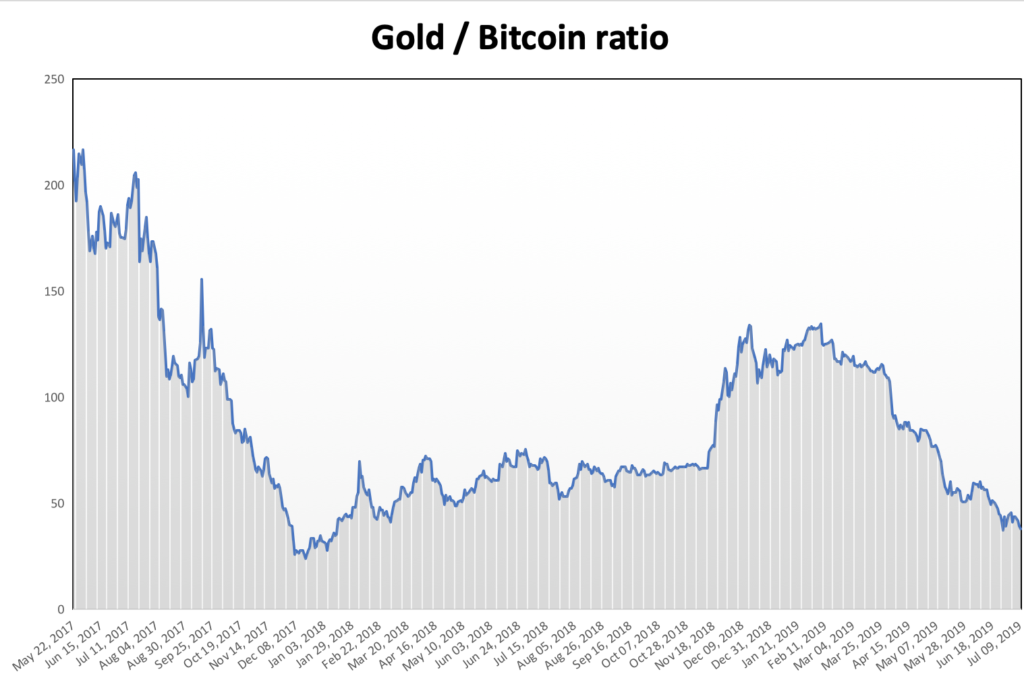 So what does this mean?
Certain individuals will claim this trend is evidence of Bitcoin becoming 'digital gold' although the same reasoning could be applied to anything that is rising rapidly in value.
For example, the share price of Apple and Google has increased significantly over the past decade too although you do not hear anyone claiming that Apple or Google will replace gold as a store of value – although some of you may beg to differ. The point we are attempting to illustrate here is that it is very easy to create stories from data and charts.
In the greater scheme of things, as long as market participants continue to believe that Bitcoin is really ' digital gold' then there is nothing stopping it from becoming a self-fulfilling prophecy.
3000% upside for Bitcoin
Based on the current gold market capitalisation of $8.5 trillion and a Bitcoin circulation supply of 17.8M, we may see the price of each Bitcoin eventually rising to $478,709 or more conservatively $405,000 (if we apply the max circulation supply of 21M). That's a stratospheric gain of 3,000% – 3,500% from the current price of $13,055!
Are these Bitcoin price predictions realistic?
As long as the crowd continues to buy into the view that Bitcoin is 'digital gold', it may become a self-fulfilling prophecy.
Put another way, as long as the masses continue to believe it – as long as Bitcoin liquidity is tight – it may very well become the case.
But here's a question for you: would you rather hold a digital currency such as Bitcoin? or would you rather own something tangible such as gold all else equal?
Gold is less accessible to people in under served markets. It is not easily transferable from one brokerage to the other and you currently cannot get a gold-to-fiat debit card to pay for items.
On the other hand, Bitcoin is perhaps more accessible to the unbanked living in underserved and emerging markets facing political unrest, rising inflation, currency devaluation and expropriation of funds. Therefore from that perspective, it may be perceived as a store of value (of the last resort).
And for that reason alone Bitcoin is perceived as the next best thing to gold – and from this aspect (whether misguided or not) we can understand why certain people consider Bitcoin to be 'digital gold'.
If you enjoy reading our updates and analysis then start following us on Twitter now join our new Reddit Community.