Top 5 Crypto Projects With the Highest Staking Yields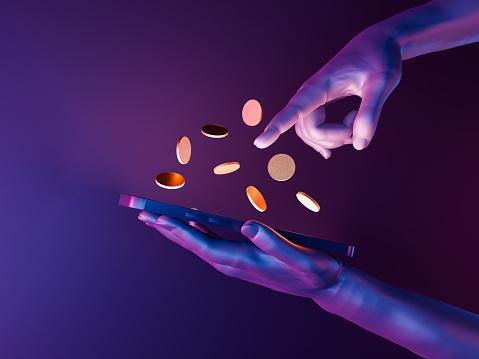 As the year ends, making strategic crypto investments will determine the color of your crypto portfolio — a glowing green or a whiplash of red. Buying and selling crypto alone may not be enough to help you maximize crypto profits. If you'd love to switch up your crypto experience and make even more profits, you'll need to jump on the top crypto staking projects with the highest yields.
Think of staking rewards as a sort of interest or dividend on savings accounts with a slightly greater risk. These staking rewards come in the form of passive income paid to persons who help validate and regulate cryptocurrency transactions. This article looks at the top five crypto projects with the highest staking yields.
But first, what is crypto staking, and how profitable is it?
What is Crypto Staking?
Crypto staking is the act of locking up a certain amount of your cryptocurrency for a time period in order to contribute or help maintain the security of a blockchain network. In return, you receive staking rewards in the form of additional tokens or coins. Staking is an integral part of cryptocurrencies or blockchain networks that operate the "proof of stake" consensus mechanism.
In such a system, the crypto owner helps validate new blocks or transactions in the crypto's blockchain network. Such owners must own a minimum number of coins to authenticate transactions before they can be enlisted as validators. A recent example is Ethereum's new proof-of-stake system that requires prospective validators to have at least 36 ETH to be eligible as Ethereum validators.
Persons who do not have enough coins are required to become a validate but would like to pledge their coins can do so through validators and earn an agreed percentage of rewards earned. These persons can stake their coins with a crypto exchange or a crypto staking platform. Some of the best crypto staking platforms for high yields, as listed on our crypto staking page, include Binance, AscendEX, YouHodler, ChangeX, and Nexo.
How Profitable is Crypto Staking?
Crypto staking rewards vary depending on the crypto staking platform, the crypto project or cryptocurrency being stakes, and the number of people staking a coin. Even big coins like Ethereum Polkadot and Cardano aren't the best in terms of staking yields, as their rewards vary from 5% to 20%. However, with smaller cryptocurrencies, the rewards are typically much higher, sometimes above 100%.
Another defining factor when staking with a crypto exchange is the difference in how rewards are shared. Some platforms take a cut, while others may deliver all the rewards to you. Staking rules vary, and so do the rewards they offer.
Some platforms have a fixed yield for a defined lock-up term with a maximum rewards threshold, while other platforms adjust their yields daily depending on the staking rewards left in the staking pool. Usually, the more people staking on a cryptocurrency, the lower the rewards.
5 Crypto Projects With the Highest Staking Rewards
1. Stonk
Stonk is a play-to-earn platform that plays host to simple but exciting Fantasy Crypto Games. These games offer a fresh breath in the cryptocurrency market as they promote regulated, auditable and healthy competition amongst players to win cryptocurrencies like Ethereum. In the main, the players predict and play various fantasy games based on current market events and their original analysis of the issues.
Stonk's exceptional utility is its democratization of market predictions, incentivizing players and building out an army of crypto analysts. $AEGIS, the platform's utility token, is designed to serve various functions such as buying NFTs, building NFT armies, voting on the platform, and compensating players who accurately predict the crypto market, beating their opponents across the platform's trading games. The only platform to stake AEGIS is AscendEX, with an incredible crypto staking yield of 1884.80%.
2. Gods Unchained
Gods Unchained is a play-to-earn platform powered by $GODS token and boasts staking pools with over 90% returns. One of the most exceptional features of Gods Unchained is that it offers its crypto owners complete ownership of in-game items – something you would hardly find on other P2E platforms.
This platform has witnessed over 52 million exchanges and over $570,000 in the tournament prize pool. Huobi Earn is the best platform to stake GODS, and you can get up to 100% in staking rewards across various staking platforms.
3. Axie Infinity
Axie Infinity is a household name when it comes to play-to-earn and gameFi. This gaming platform provides a digital space where players can own adventurous pets called Axies, which they can in turn, use to battle and earn AXS, the utility token. AXS can earn passive income by playing various games in the Axie Infinity Universe, earning AXS, and staking.
AXS offers over 50% staking rewards for its various pools and has remained a top choice for staking crypto. When you stake AXS, you will be rewarded up to 145.69% in staking yields. To date, Axie Infinity's staking dashboard is rated as the best platform to stake AXS. However, according to our data, Axie Infinity staking rewards on AscendEX is up to 145.69%, between 34.00%-36.00% on YouHodler, up to 4.00% Nexo and around 50% on Bitrue.
4. Panther Protocol
Panther Protocol is a DeFi project designed to enhance privacy for today's blockchain protocols. Unlike Zcash or Monero, Panther Protocol does not serve to maintain anonymity for its host blockchain network; instead, it enables crypto users to enter transactions on chains such as Polygon and Ethereum with 100% anonymity.
The project is powered by the $ZKP token, its native token, and is currently available for staking on Panther Protocol's designated staking platform. Staking $ZKP will offer 100% yield per annum, and the staking platform is compatible with Metamask and other most crypto wallets in use today.
5. Osmosis
Osmosis is a Defi platform that allows users to create, design, construct and deploy automated market markers (AMM) and build out interchain decentralized applications and marketplaces. It is one of the leading DeGi that offers the highest staking yields, with over 50% APY for a single pool alone, not to mention several others. It is regarded as a top gunner in the interchain DeFi market and a leading AMM protocol that helps to scale blockchain networks by increasing permissionless and automatic trading between crypto buyers and sellers.
Osmosis boasts a superfluid staking feature that helps power OSMO, its native token, for enhanced staking and liquidity. With staking yields up to 84%, Osmosis's AMM tools and use cases have earned it a top spot among the leading crypto projects with the highest staking rewards. Interested persons can stake their OSMO tokens on Trust Wallet.
Bottom Line
Though we have identified the top crypto projects with the best staking rewards, you may do well to DYOR research. Obtaining the best crypto staking projects may not be as complicated as it appears. Several platforms are ready to offer you the best crypto staking rewards, and that's precisely what we've tried to highlight in this article. With the information shared here, you may as well get ready to get your crypto portfolio in full green.
Happy staking!