SingularityNet's Staking DApp moves into open beta!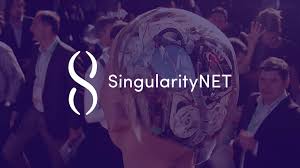 Disclaimer: All of the content written on CoinMarketExpert is unbiased and based on objective analysis. The information provided on this page should not be construed as an endorsement of cryptocurrency, a service provider or offering and should neither be considered a solicitation to buy or trade cryptocurrency. Cryptocurrencies carry substantial risk and are not suitable for everyone. No representation or warranty is given as to the accuracy or completeness of this information and consequently, any person acting on it does so entirely at their own risk. See further disclaimer at the bottom of the page.
Updated 8th April 2020
SingularityNET, the decentralized network that is on a mission to build the world's first AI marketplace, on Tuesday 7th April announced that their much-awaited Staking DApp has moved into open beta.
Estimating the annual yield
Extrapolating the staking reward into an estimated annual yield was a bit of a challenge on the first day of the announcement.
However, following some investigation, we were able to nail down what a hypothetical annualized yield could look like.
SingularityNet's reward pool consists of 100,000 AGI tokens. Using SingularityNet's online staking calculator we may see that the number of AGI tokens that are currently staked by the community is 41,150,675 ( the "current pool size" ). Therefore, if we, for example, decided to stake an additional 41,150,675 tokens we would be entitled to 50% of the 100,000 AGI tokens. That would be equivalent to 50,000 AGI tokens over a 30-day window. All else equal, this would mathematically translate into an annualized yield of approximately 1.5% currently.
The above is only an indicative example. In reality, the staked amounts may vary since certain users may stake 50K tokens whereas others may only stake 5K tokens.
You may see for yourself how SingularityNet's estimated staking yield compares with other staking providers that we are tracking.
Staking mechanics of the open beta
AGI token staking will occur in 30-day windows. The initial call for staking opened on 7th April at 9:00 AM GMT and will last until 14th April. Following this period, the staking window of 30 days will officially begin.
At the end of the window (37 days from 7th April), a second 30-day staking window will become available to the public. The original stake plus the staking rewards that were earned during the first staking period will (by default) automatically be rolled over into the second 30-day window. Users will have the option to opt-out of automatic rollovers.
The reward pool for each 30-day staking window has been initially set to 100,000 AGI tokens.
Why Stake AGI Coin?
To support the developed of AGI's blockchain network
When you stake AGI tokens, you are supporting the operations of SingularityNet's blockchain network. If you are new to staking, have a look at our free comprehensive guide.
The role of staking in the SingariltyNet platform ecosystem is tied to its fiat-crypto gateway.
The first half of SingularityNet's fiat-crypto gateway is already in place with a PayPal interface developed on the platform to allow users to purchase their AI services using fiat money.
The second half of the fiat-crypto gateway is planned for release later this year. Once this part of the project has been completed, it will allow AI service providers to automatically convert the AGI tokens they earn on the platform into fiat currency.
In the meantime, more information regarding SingularityNet's open beta Staking DApp may be found on its website and signing up is absolutely free of charge and simple!
Potential price appreciation (over and above the staking rewards)
At the time of writing, AGI/USD was trading at $0.013220 with a 24-hour trading volume of approximately $253K.
AGI's coin price has taken a bashing over the last year, falling 98% from an all-time high of $0.950230. However, at the same time, the current price is up 78% from an all-time low of $0.00747159.
Since the beginning of the month, the price of AGI/USD has risen nearly 15% from $0.01159433 in conjunction with rising trading volumes. This is typically construed as a positive sign of a recovery.
Now that SingularityNet's staking DApp is finally open to the public, the price of AGI token may very well continue on a path to recovery, as new users buy and HODL the coin in return for attractive staking rewards.
Of course, we do not have a crystal ball. Crypto prices are highly volatile and speculative although this observation has not been too uncommon across other staking projects (such as Tezos for instance).