Pool-X BurningDrop Program Supports KTSt Genesis Mining

IDG-backed cryptocurrency exchange KuCoin has unveiled that its Pool-X platform will be launching BurningDrop and that it will provide services for the Kratos Genesis token (KTSt) Distribution.
Disclaimer: All of the content written on CoinMarketExpert is unbiased and based on objective analysis. The information provided on this page should not be construed as an endorsement of cryptocurrency, a service provider or offering and should neither be considered a solicitation to buy or trade cryptocurrency. Cryptocurrencies carry substantial risk and are not suitable for everyone. No representation or warranty is given as to the accuracy or completeness of this information and consequently, any person acting on it does so entirely at their own risk. See further disclaimer at the bottom of the page.
From 16th September 20:00 (UTC+8) to 24th September (UTC+8), users will have the opportunity to participate in KTSt via BurningDrop and improve their computing power by burning POL, which is the native token of Pool-X. Users may join KTSt Genesis Mining through Pool-X.
"Since the launch of Pool-X, the platform has been providing the staking and liquidity exchange services for over 50 projects and 380,000 users across the world. To satisfy the increasing demands on liquidity staking and to enrich the ecosystem of the platform, Pool-X will be launching BurningDrop and will provide services for Kratos Genesis token (KTSt) Distribution."

KuCoin
All KTSt mining rewards will be distributed in one go on 25th September. The total amount of KTSt that will be distributed is 100 million.
Following the BurningDrop Distribution, KTSt holders will be able to vote through the test nodes of the Kratos beta network on Pool-X to participate in its governance.
It is understood that KTSt Genesis Mining will be split into a KCS Staking Round with a total KTSt distribution of 95 million tokens as well as a BTC/ETH/ATOM Staking Round with a total KTSt distribution of 5 million tokens.
With the KCS Staking Round, there will be two phases: the Subscription Period and the POL-Burning Accelerating Period.
During the Subscription Period, users will be able to place their KCS tokens into five different Staking Products. When the Subscription Period ends, users will be able to calculate their "Initial Allocation" of KTSt according to the overall staking amount of KCS in the pool.
During the Accelerating Period, users will attain an "Accelerating Coefficient" which will determine the final allocation of KTSt. Following the Accelerating Period, users will be awarded the actual amount of KTSt, calculated by a certain algorithm of "Initial Allocation", "Accelerating Coefficient" and "Final Allocation". Additional details will be available on Pool-X' website.
KCS Staking Round Timeline(UTC+8):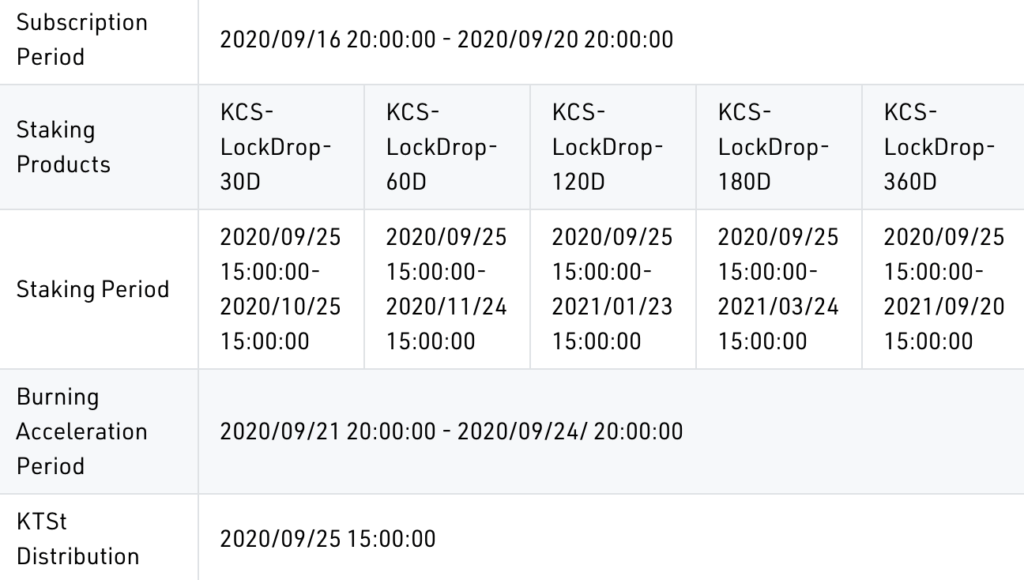 BTC/ETH/ATOM Staking Round Timeline (UTC+8):