Bitcoin price analysis: BTC/USDT losing traction & may revisit $11,000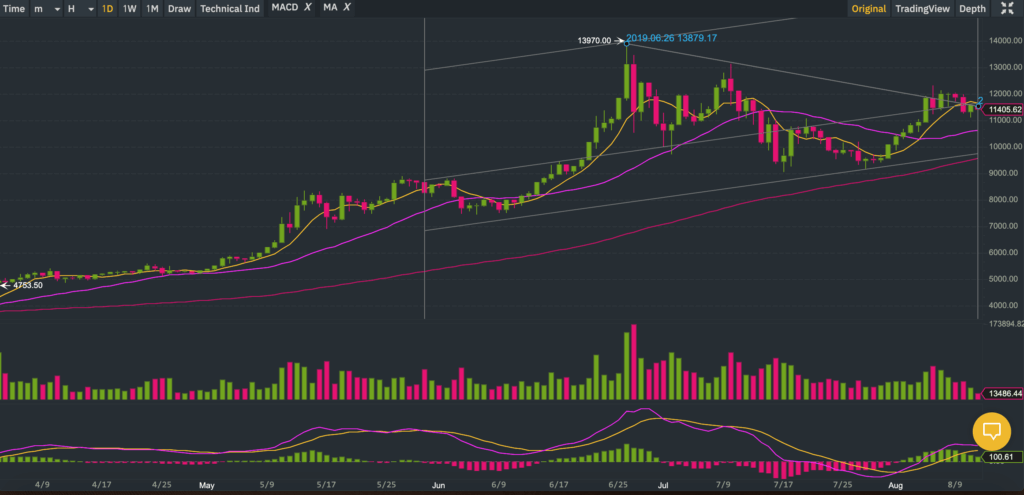 Flash Alert: Monday 12th August
Bitcoin price may revisit $11,000 level
BTC/USDT price (at the time of writing) is $11,405.62 on Binance;
BTC/USDT momentum has continued to fizzle (as identified on my previous Flash Alert on Wednesday 7th August);
The price of BTC/USDT is seen struggling at 7-day moving average of $11,717.8, which coincides with the regression line mid point;
Failing to close above the 7-day moving average by Wednesday may see the price of BTC/USDT retreat below the $11,000 level to hit potential support around the $10,800 – $10,950 range;
Bullish Moving Average Convergence Divergence (MACD) crossover is beginning to lose momentum;
Notwithstanding the small short-term pull back we have seen over the past week, the long-term bullish uptrend remains intact;
Short term technicals for BTC/USDT are turning bearish and further downside looking likely; BTC/USDT may breach $11,000 within this week.
A follow up to this Flash Alert is found here.
If you enjoy reading our updates and analysis then start following us on Twitter.
If you're thinking about trading bitcoin then visit our bitcoin price analysis page. Here we periodically provide interesting bitcoin price insights and analyses that every crypto trader and investor should be aware of.