Bitcoin price analysis: BTC/USDT hits $12,000 level but momentum fizzles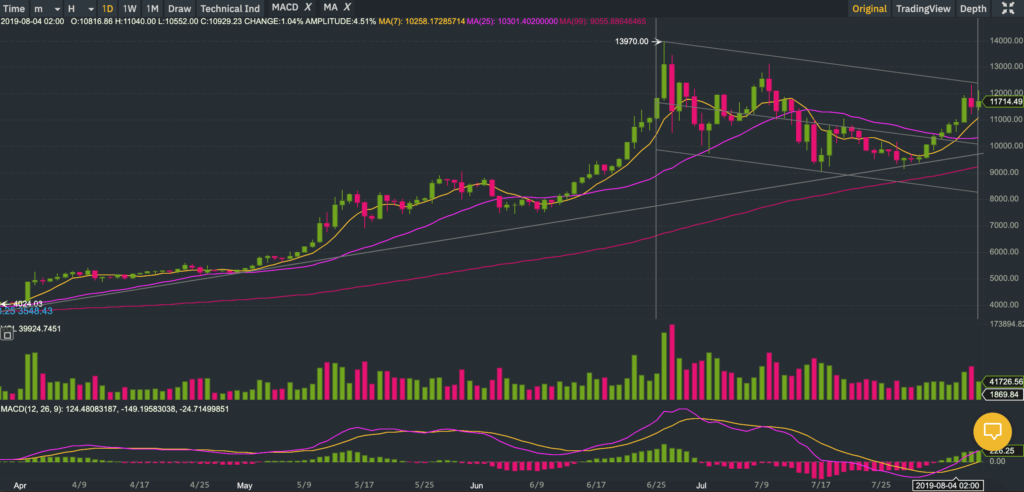 Flash Alert: Wednesday 7th August
Bitcoin price trend remains bullish
BTC/USDT price (at the time of writing) is $11,714.49 on Binance;
BTC/USDT managed to hit $12,000 level (as identified on my previous Flash Alert on Saturday 3rd August) helped by intensifying trade war between the U.S. and China as well as increasing geopolitical tensions across the rest of Asia, including Hong Kong;
On Tuesday 6th August, BTC/USDT had climbed to an intra-day high of $12,330.7 before retreating below the $12,000 level again;
BTC/USDT had attempted to settle above $12,000 level for a second time on Wednesday 7th August, climbing to $12,141.7 before being met with renewed selling pressure and retreating to $11,714.49 as at the time of writing;
Overall long term uptrend remains intact;
Bullish Moving Average Convergence Divergence (MACD) crossover remains intact;
There is still some time for BTC/USDT to prove itself although if the pair continues to struggle to close above the psychological $12,000 level we may see a small short-term pullback.
A follow up to this Flash Alert is found here.
If you enjoy reading our updates and analysis then start following us on Twitter.
If you're thinking about trading bitcoin then visit our bitcoin price analysis page. Here we periodically provide interesting bitcoin price insights and analyses that every crypto trader and investor should be aware of.