Bitcoin Price Analysis: BTC stubbornly maintains $10,300 level
2 min read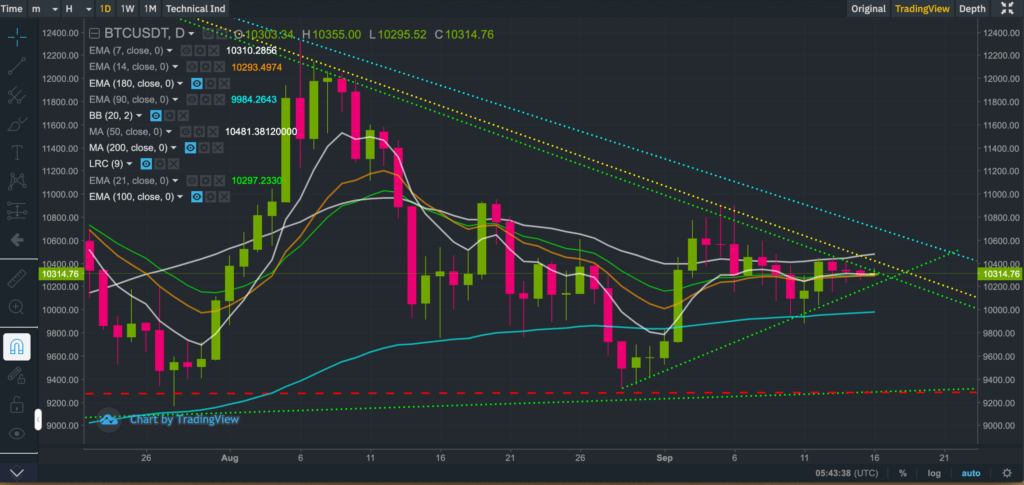 Flash Alert: Monday 16th September
Bitcoin has continued to trade stubbornly around the $10,300 level with strong support seen at its 7, 14, and 21 exponential moving averages.
At the time of writing, BTCUSDT was trading at $10,315 following an earlier high of $10,355 and low of $10,295.52.
Over the last 5 days Bitcoin has seen higher lows and during the previous four sessions seen lower highs. The short-term pattern is beginning to appear more like a symmetrical triangle, which typically signals market indecision. Therefore anyone planning to trade Bitcoin may want to wait for a breakout to occur.
Traders that are bullish on the price of Bitcoin may want to wait to see whether BTCUSDT can close above the 50-day moving average, currently at $10,481. That means breaching the yellow dotted resistance line.
On the other hand, if support at the 7, 14 and 21 exponential moving averages fails on the daily charts, a sharp sell off is likely to ensue. If support fails, then the next level to watch for is around the $10,220, which coincides with the ascending green dotted line that has acted as support on many occasions since the end of August. Failing $10,220, the price may test the 90-day exponential moving average of $9,983.
In the meantime, we note there are conflicting signals between the MACD and stochastic RSI with the former maintaining a bullish crossover and the latter providing a bearish signal.
Our previous Flash Alerts may read here as they provide a good trail for anyone wanting to catch up with recent price action.
A follow up post to this Flash Alert may be found here.
If you enjoy reading our updates and analysis then start following us on Twitter now join our new Reddit Community.
Develop your understanding of trading with our free educational guide that walks you through the five rules you need to master before trading crypto.