Bitcoin Price Analysis: BTC relief rally decelerates at 200 DMA
2 min read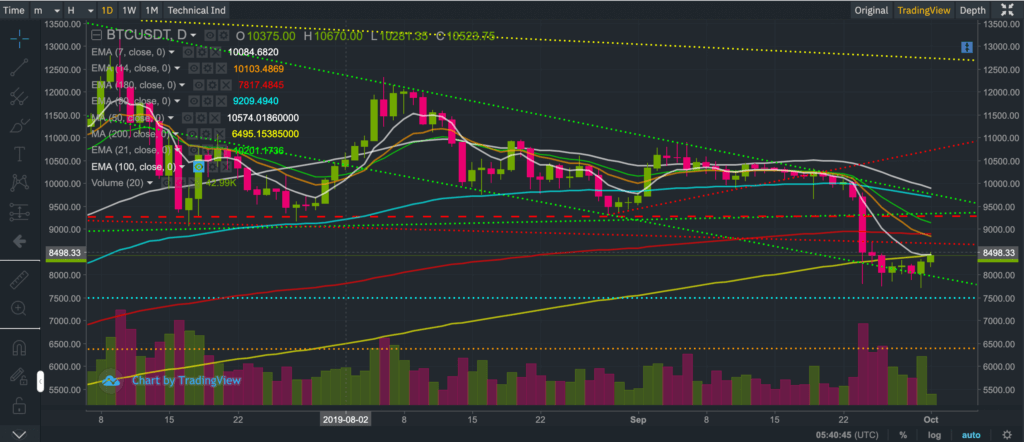 Flash Alert: Tuesday 1st October
It has been an interesting 24 hours with Bitcoin seen staging a relief rally following steep declines over the past week.
With the RSI in deep oversold territory, a bounce of this magnitude was perhaps a little overdue.
But Bitcoin's relief bounce, which started yesterday late afternoon in Europe, has seen momentum decelerate around the 200-day moving average with resistance at the $8,500 level.
At the time of writing today, BTCUSDT was trading at $8,498.33 following an earlier intra-day low of $8,173 and high of $8,500.
Traders today will be looking to see whether BTCUSDT can find support at the 200-day moving average, currently at $8,440.
If Bitcoin manages to find ground under its feet at the pivotal 200-day moving average, we may see the bearish tide begin to recede.
But for the time being, our overall view remains cautious and skewed to the bearish side.
As per our previous posts, we reiterate that we will continue to evaluate whether Bitcoin's recent declines will act as a springboard to help it potentially reach new record highs. We have after all thoroughly documented Bitcoin's historical price performance pre-and-post halving and are eager to understand whether BTC will have a similar reaction to the upcoming halving in May 2020.
In the meantime, anyone interested in reading our previous Flash Alerts may do so here as they continue to remain valid and provide a good trail for anyone wanting to catch up with recent price action.
A follow up post to this Flash Alert may be found here.
If you found this flash alert to be valuable then please do let us know. You may contact us on: info@coinmarketexpert.com or alternatively please share your feedback with us on Twitter
We have also just started our own Reddit Community: r/CoinMarketExpertCom, so become a member now to stay up to date with our price analyses, research posts and educational guides.
Develop your understanding of trading with our free educational guide that walks you through the five rules you need to master before trading crypto.