Bitcoin Price Analysis: BTC could be gearing up for a stratospheric rally!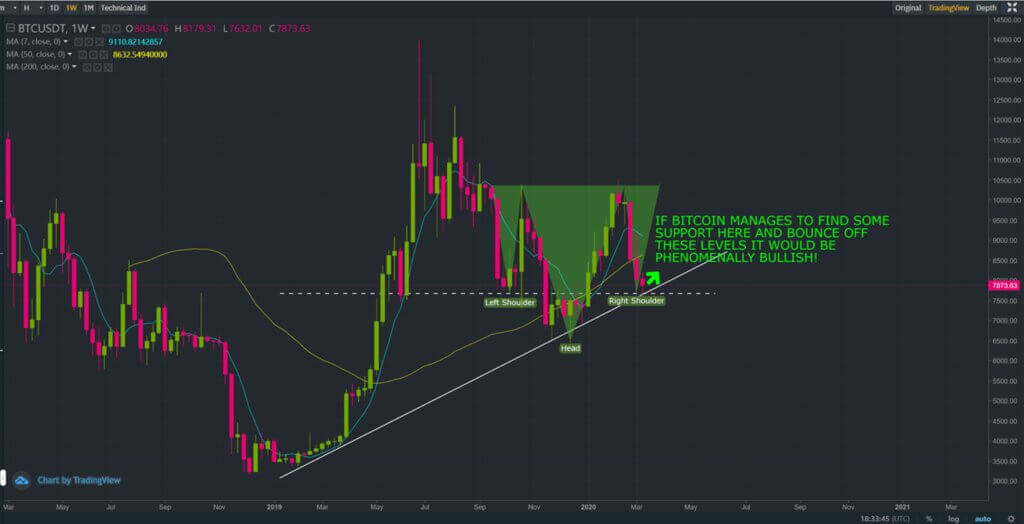 Disclaimer: All of the content written on CoinMarketExpert is unbiased and based on objective analysis. The information provided on this page should not be construed as an endorsement of cryptocurrency, a service provider or offering and should neither be considered a solicitation to buy or trade cryptocurrency. Cryptocurrencies carry substantial risk and are not suitable for everyone. See further disclaimer at the bottom of the page.
Flash Alert: Tuesday 10th March
What happened after our Bitcoin Daily Diary on 6th March?
The price of Bitcoin plunged 16.8% from $9,170 on 6th March to a low of $7,632 three days later. This bearish outcome kept creeping up in our potential scenarios last week.
Last week we had provided a series of extensive updates filled with research, educational insights and various possible outcomes for Bitcoin. We had noted in our Bitcoin Daily Diary on 6th March that one of the potential outcomes could be a reverse head and shoulders ('H&S') pattern.
"You could also say Bitcoin is in the process of forming a reverse head and shoulder pattern. This would be bearish in the short term as it suggests Bitcoin would have to correct to anywhere between $7,800 – $7,300 before going into overdrive and spiking higher."

Source: 6th March Bitcoin Daily Dairy
We also pointed out that there was a CME futures price gap in the March contract between $7,750 – $7,850 that had not been filled (at the time of writing) and also observed that weekly buy volumes had been relatively low, which could be a red flag.
Interestingly, the CME gap just got filled yesterday when BTCUSDT fell to a low of $7,632!
So where do we stand from here?
We note that the golden cross that occurred on 17th-18th February 2020 remains intact on the daily charts.
Furthermore, if we look at the weekly chart (below), we may clearly see that the price of Bitcoin remains in an uptrend.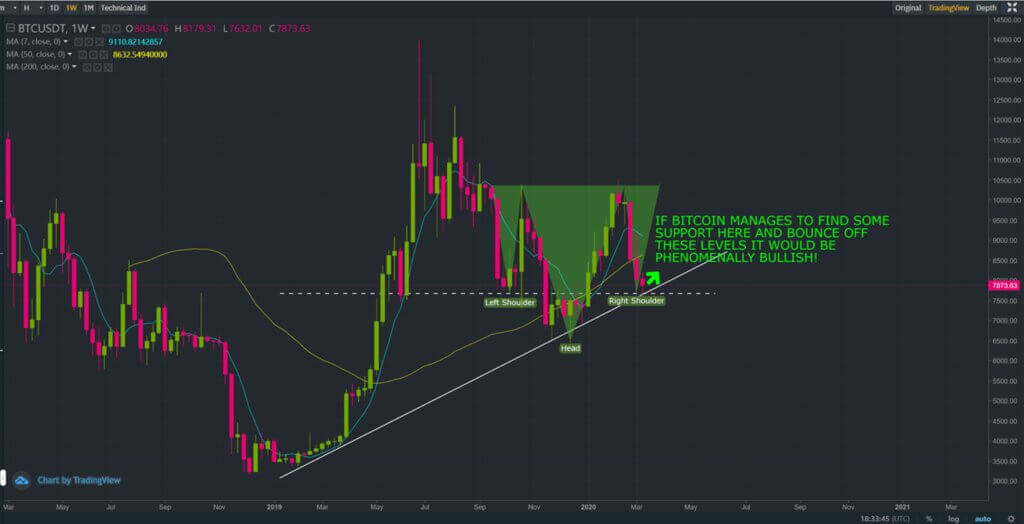 With the CME gap finally filled we are looking for evidence of strong buying volumes re-emerging to keep the price of Bitcoin supported above $7,600- $7,700. If it does we believe it could be extremely bullish for Bitcoin!
In the meantime, we note that Bitcoin CME futures remain in contango, suggesting the market is expecting the price of Bitcoin (in the future) to continue rising.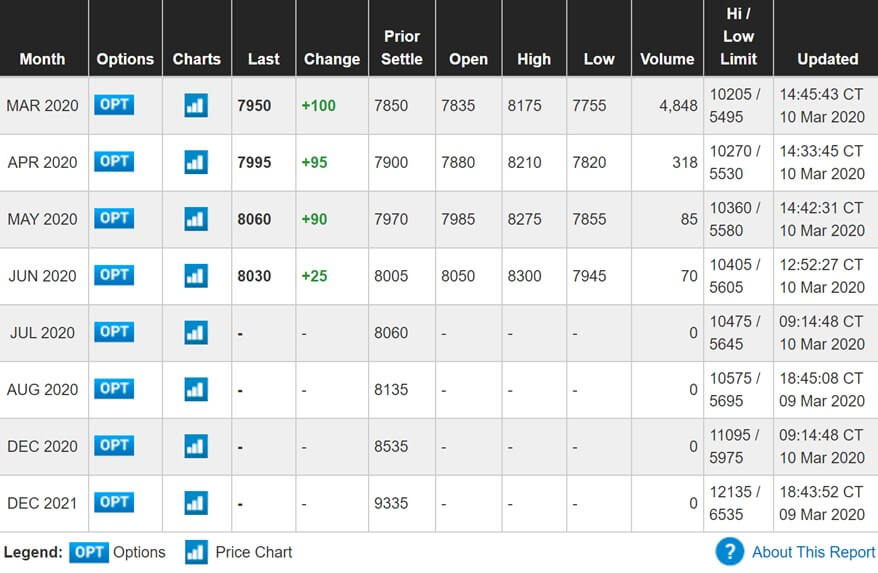 And we note that a material CME price gap appeared in the March contract on Monday between $8,280-$9,060.
Based on the research and the reverse head and shoulders pattern that appears to be currently forming, we believe that if the price of Bitcoin hits $8,280 a sharp momentum rally could potentially become ignited!
61 days until the Bitcoin halving in May 2020
The three charts (below) illustrate the pre-halving performance of Bitcoin in the run-up to 2012 and 2016 halving dates (as well as the halving in May 2020).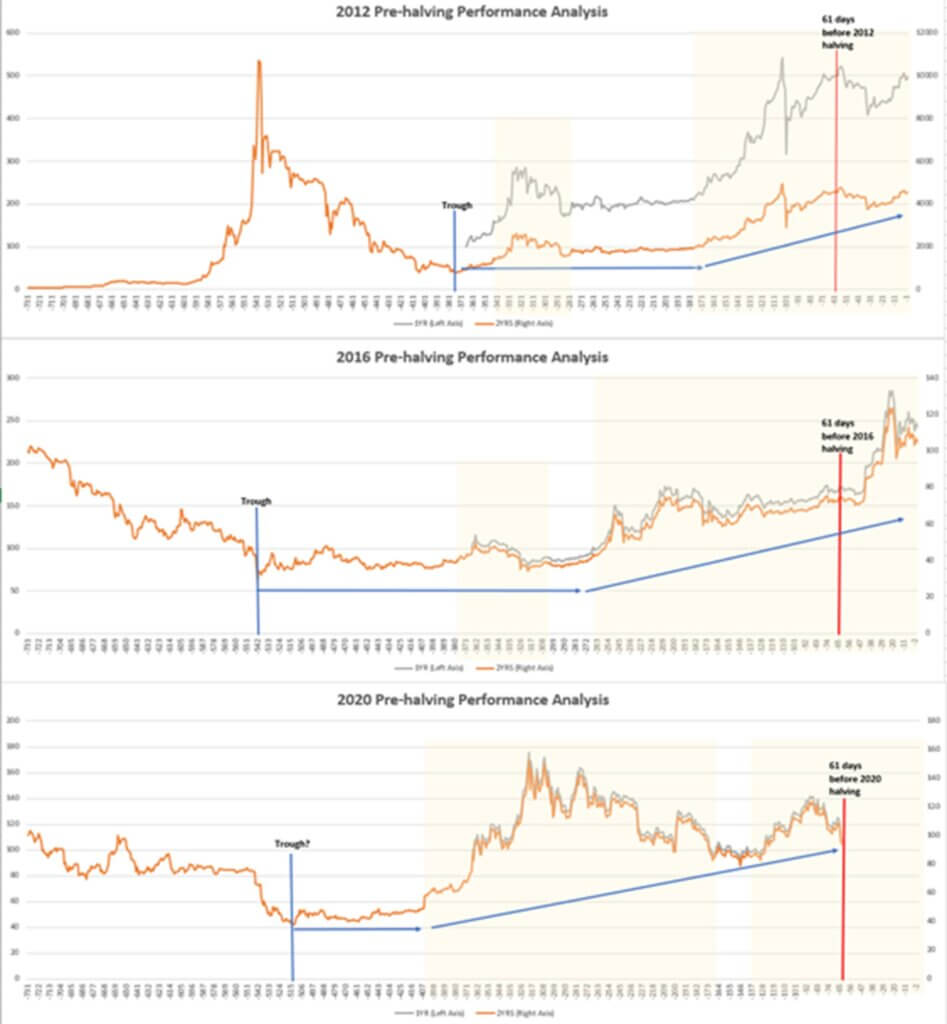 During the previous two halvings in 2012 and 2016, we observe the price of Bitcoin going through steep shakeouts prior to the halving dates. The timing of the previous shakeouts is not consistent although still valuable since it adds some context to the price action that we are seeing at the moment.
Furthermore, we also note the underlying recovery trends (during the previous halvings in 2012 and 2016) had continued to remain bullish despite the steep shakeouts that occurred immediately prior to the halving dates. Again, this also adds some context to the existing price action and we can easily begin to see a potential repetitive pattern occurring just prior to Bitcoin's halving dates.
We must always maintain a skeptical mindset since past performance is not indicative of future performance. However, at the same time, there is no harm in looking for evidence of repetitive patterns. Based on what we are seeing, this could pan out to be extremely bullish for Bitcoin – so take note!
If we had to take a punt we would say that Bitcoin is currently gearing up for a stratospheric rally! We can't be sure of course but the research and trends seem to suggest there is a high probability of this bullish scenario panning out.
We hope you found our Bitcoin commentaries interesting and educational. As always, trade safely, and at your own risk.
We dedicate our time to making our commentaries educational and insightful so that you can obtain different angles that improve your decision-making, so please do show us some love by following us on Twitter.
The next Bitcoin commentary will be published on Wednesday 25th March 2020.
If you're thinking about trading bitcoin then visit our bitcoin price analysis page. Here we periodically provide interesting bitcoin price insights and analyses that every crypto trader and investor should be aware of.