Bitcoin Price Analysis: $10K becomes a resistance barrier
2 min read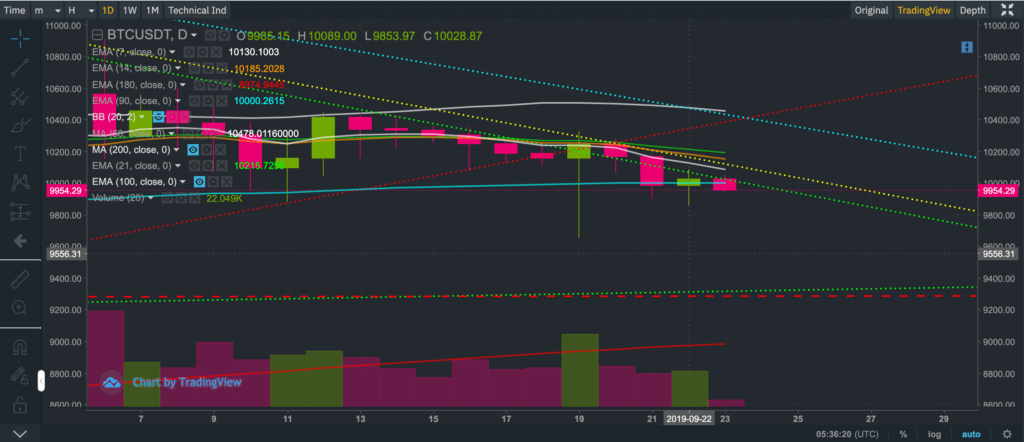 Flash Alert: Monday 23rd September
Bitcoin has continued to drift lower since our last update on Friday, with the price seen putting up a good fight to remain afloat the $10,000 level before eventually succumbing to the bears.
In our previous update we had mentioned that " [Bitcoin] failing to regain ground above its short term moving averages indicates the bias still very much remains to the downside at least for now.…If the bears prevail (since that's where the bias remains at the time of writing) then Bitcoin would slip back towards the 90-day exponential moving average of $10,000. And if it breaches yesterday's low $9,653, the next point of call would most likely be the $9,400 – $9,500 levels, which are the lows seen at the end of last month."
We continue to see bearish sentiment reviving along the 7, 14, and 21 exponential moving averages, with the price of Bitcoin being clearly pushed lower each time there is a bounce on the 15-minute charts. This suggests the rhetoric for Bitcoin remains skewed to the downside for now.
In the meantime, we note both MACD and the stochastic RSI are currently emitting bearish signals, although the latter has been sitting in 'oversold' territory for nearly 5 days now.
At the time of writing BTCUSDT was trading at $9,954 following an earlier intra-day low of $9,866 and a high of $10,049.99
But Bitcoin isn't the only one suffering from losses today, with Bitcoin Cash, Ether, Ripple and EOS among the large caps seen hemorrhaging against other USD denominated stablecoins. Bucking the negative trend nonetheless is Litecoin, which is currently up 1% to $73.13 at the time of writing.
The new sea of red coincides with the debut of Bakkt's physically delivered Bitcoin futures, which has been long awaited. The company, which is backed by the Intercontinental Exchange, is a major milestone since it represents the first federally regulated market for buying and selling Bitcoin. And the platform creates an ideal end-to-end ecosystem for encouraging conservative investors who have not participated in Bitcoin yet, the opportunity to start doing so in a compliant manner.
Anyone interested in reading our previous Flash Alerts may do so here as they continue to remain valid and provide a good trail for anyone wanting to catch up with recent price action.
A follow up post to this Flash Alert may be found here.
If you enjoy reading our updates and analysis then start following us on Twitter now join our new Reddit Community.
Develop your understanding of trading with our free educational guide that walks you through the five rules you need to master before trading crypto.