Bitcoin Price Analysis: BTC bounce fizzles at $7,850
3 min read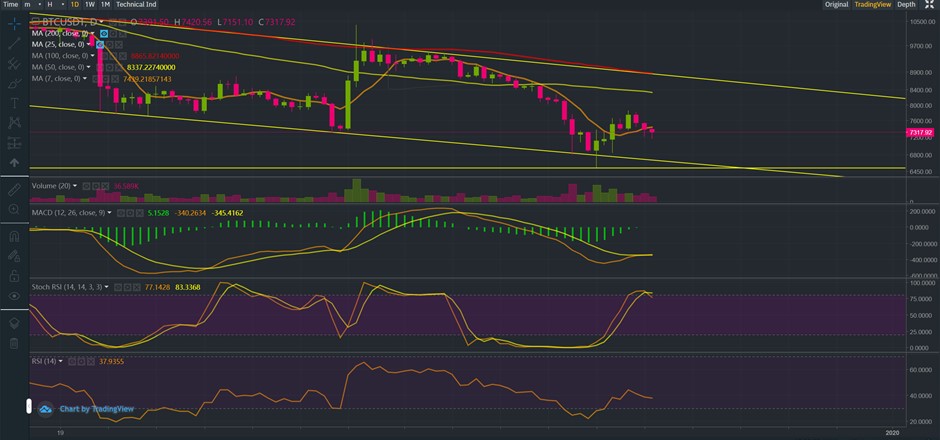 Flash Alert: Monday 2nd December
Bitcoin has staged a minor bounce since our previous update, rising from a price of $7,150 to a high of $7,850 on Friday before retreating all the way back to $7,317 at the time of writing today.
The conditions for a good bounce were ripe last week as the RSI indicators were in deep oversold territory at the time. However, that scenario has changed, and the indicators show some divergence taking place.
We are now seeing the 14-day RSI in netural territory whilst the stochastic RSI is overbought, suggesting Bitcoin may succumb to further selling pressure. In contrast, nevertheless, the MACD is currently showing a bullish crossover, suggesting the complete opposite may occur.
If we take a step back to assess the facts, we see the following:
BTCUSDT continues to trade in a bearish descending channel;
The death cross is real and it has historically been very bearish ( the short-term 50-day simple moving average has crossed through the long-term 200-day simple moving average from above towards the downside – a condition that has now been present for around five weeks);
There was insufficient momentum carrying the recent bounce higher;
The price of BTCUSDT is currently encountering resistance at the short-term 7-day moving average of $7,440 (the intra-day high today was $7,420).
When these conditions are present, there is a tendency for Bitcoin to trade sideways for a while although in the greater scheme of things the overarching theme remains skewed to the downside.
We continue to see even sharper declines in the horizon although our research indicates Bitcoin could bottom somewhere between $6,000 and $5,000, which raises some questions over the risk/reward tradeoff of being trader versus HODLER at the moment.
This debate was expressed more clearly in the previous update, which you may read here.
In the meantime, the bearishness barometer for Bitcoin appears to be rising, with certain analysts claiming that Bitcoin could even fall below $2,000 this time around due to the introduction of energy efficient mining equipment, which decreases the break-even price of Bitcoin.
As per our previous updates, we remind our audience that we do not have a crystal ball. We attempt to apply a combination of mathematics, fundamental and technical analysis to our updates to provide you with fresh and unique insights although at the end of the day there are no guarantees.
We reiterate that our derived price scenarios for Bitcoin may not pan out and therefore we warn our growing audience to tread very carefully and their own risk. Bitcoin is very risky (as you must all know by now) and past performance is not always indicative of the future.
If you enjoy reading our updates and analysis then start following us on Twitter now join our new Reddit Community.
A follow up commentary is available here.
Anyone interested in reading our previous updates may do so here as they remain valid and provide a good trail for anyone wanting to catch up.
Develop your understanding of trading with our free educational guide that walks you through the five rules you need to master before trading crypto.